For years in Philadelphia, Donovan McNabb absorbed public criticism from media, fans, and even teammates.
Turns out that McNabb, the Redskins' new quarterback, may be his harshest critic.
After the Redskins' 13-7 season-opening win over the Dallas Cowboys on Sunday night, McNabb said the offense still had a lot of room for improvement.
Stats back that assessment. Against a tough Dallas defense, the Redskins produced just 250 total yards of offense and McNabb was 15-of-32 for 171 yards.
On the scoreboard, the Redskins managed just two Graham Gano field goals. DeAngelo Hall's 32-yard fumble return for a touchdown proved to be the decisive score.
"We scored 13 points and the defense scored seven," McNabb said. "I would just say we have to be hard on ourselves and say that offensively we just didn't get the job done."
McNabb knows expectations are high, given his 11 years of NFL experience.
And no one wants to temper expectations.
But cohesion on offense is going to take some time.
"There's a new offensive scheme, new personnel, new coaching staff and just different concepts," McNabb said. "That was a change for me. I had to really focus, sit down and really put my nose to the playbook and make sure I knew what I was doing."
Said head coach Mike Shanahan: "I think as time goes on with our system, he will be more comfortable with the system, more comfortable with the terminology. It just comes with playing the position.
"Obviously, he's got a lot of game experience, but there is nothing like calling the plays and executing a different offense in the heat of battle."
Playing in Philadelphia since 1999, McNabb knew the Eagles' offense like the back of his hand.
In Washington, he has had to learn a new offense and he has had to develop an on-field rapport with his playmakers. It didn't help that he missed the last two weeks of preseason with an ankle injury.
"I'm trying to forget some of the plays I've had in the last 11 years and focus on the ones that I have now," he said. "Some things are different, some things are the same. Obviously it's a new group...and you just have to get the chemistry and spend time with them."
Despite the inconsistency on offense, there were some positives.
On the Redskins' opening drive of the Dallas game, McNabb converted two third downs, one on a 16-yard pass to wide receiver Santana Moss and the other on a 17-yard scramble.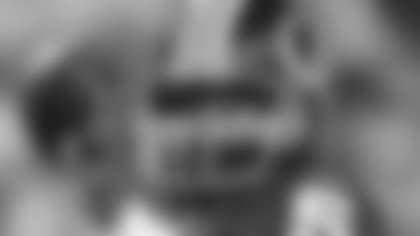 He also connected with tight end Chris Cooley for a 14-yard pass play. The drive stalled at the Cowboys' 11-yard line and the Redskins settled for a field goal.
Moss finished the game with six catches for 77 yards and Cooley posted six catches for 80 yards.
They accounted for 80 percent of McNabb's completions, though.
"You try to continue to spread the ball around," McNabb said. "I just threw where the defense dictated it. Santana and Cooley -- it was their day. I take a lot of pride in it, that's obviously something that's me. I make sure the guys get an opportunity to make plays for you. But next week it could be Fred [Davis] and Joey [Galloway]. It's whatever the defense dictates."
Added head coach Mike Shanahan: "As you saw in preseason, everybody will catch some. Other games, it changes depending on the coverage, depending on what their defensive scheme is, depending on what our philosophy is, relative to the game plan.
"The one thing we didn't want to do against the excellent defensive football team was turn the football over. We accomplished that. You don't want to give them cheap field position because Dallas is a team that's hard to score a lot of points on."
For the offense, red zone work will likely be an emphasis in upcoming practices.
Twice the Redskins drove the ball inside the Cowboys 10-yard line and came away with just three points from those drives.
"We made enough plays, we drove the ball and that changed when we got into the red zone," McNabb said. "We just need to finish. That's discouraging for us because we had been progressing all throughout the preseason and we had a great week of practice as well.
"We have to be very critical of ourselves on the offensive side and be able to make sure that we concentrate on making corrections."