It was a steamy Wednesday morning at Redskins training camp, and Jason Campbell was struggling.
He threw one pass that was tipped by a defensive lineman and fluttered incomplete. His next pass, to Rock Cartwright across the middle, was off target.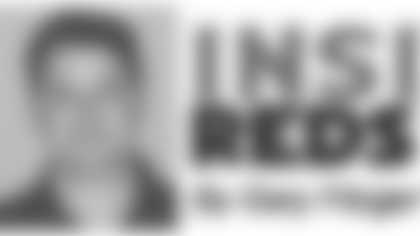 Campbell walked over and huddled with head coach Jim Zorn.
Later, Campbell was under center again. This time, he looked sharp. Every pass was crisp, on time and accurate.
He tossed passes to James Thrash and Santana Moss running out patterns. He connected with Fred Davis across the middle. He found Horace Gant running a slant downfield.
It's only practice, to be sure, but Campbell is showing progress in learning the Redskins' new offense.
On Tuesday, Zorn praised Campbell and indicated he had turned a corner in his decision-making.
He pointed to a play in which Campbell turned down an opportunity to throw deep for a shorter route.
"Everybody got on him about that, but what I saw was what I've been really looking for from him, and that's a confidence in making decisions to throw the ball even when the receiver is open just a little bit," Zorn said.
"It was the first time that he got it in his mind and said, 'I'm going for it.' He went with a lot of decisions that he might have turned down three or four days ago.
"He's working on trying to use new techniques and he's making progress. He made a big leap and now he has to string those together."
Zorn doesn't want Campbell making what he calls "vicinity throws," or basically passes that are in the general area of a receiver.
Zorn wants Campbell to be precise with his passes.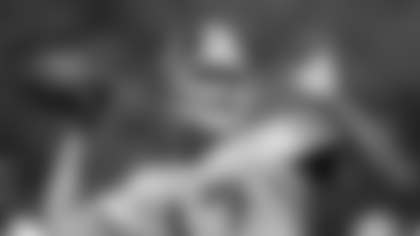 Jason Campbell (AP Photo)
"One of the ways to be successful in this game is allowing the receivers to run after the catch, and the only way to do that is if the ball is thrown well," Zorn said.
Campbell is in his fourth season with the Redskins, but he is in his third NFL offense. He has previously worked in offenses designed by Joe Gibbs and Al Saunders.
He has had success in the West Coast system, though. During his senior year at Auburn, he excelled in the West Coast offense, leading the Tigers to a 13-0 record and a claim of the NCAA National Championship.
Not all West Coast offenses are the same, though. So Campbell still has a significant learning curve, from mastering new technique to understanding new pass routes.
"My approach every day is to come out here and find something to get better at," Campbell said. "You have to continue to keep working. My objective is to complete the passes that are routine, and if there's a hand play, try to make it a routine play, also."
He added: "You can't make things more stressful on yourself. You have to keep things on an even keel and go out and play."
Campbell said he is getting past over-thinking on the field and trusting his instincts more.
"A lot of the plays we put in early in camp, we're running them now and I'm not even thinking about it," he said. "I can just go out there and perform and play."
Campbell is expected to play at least one offensive series in Sunday night's Hall of Fame Game against the Indianapolis Colts in Canton, Ohio.
"It's a preseason game, so it's an opportunity for us to go out there and continue to build on what we're trying to accomplish this season," Campbell said. "Each week [of preseason] is going to be different. Everybody is going to have an opportunity to play and have fun. I think the guys are looking forward to it."
It is his first action since injuring his knee in Week 13 last year. He suffered a dislocated kneecap injury that sidelined him for the rest of the season.
Entering the 2008 campaign, Campbell is fully healthy.
Campbell makes his 21st NFL start when the Redskins take on the New York Giants in the NFL regular season opener on Sept. 4 at the Meadowlands.
For his career, Campbell has completed 57.8 percent of his passes for 3,997 yards, 22 touchdowns and 17 interceptions. His QB rating is 77.3.