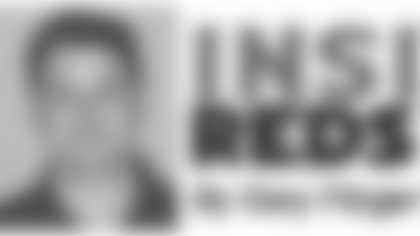 Redskins.com's mini-camp practice reports come to you with news and updates as action happens on the Redskins Park practice fields:
At Redskins Park on Friday, the practice fields were swarming with players on Friday.
The total count was 116, which is about 54 more than during the regular season.
Along with returning veterans and newcomers such as Albert Haynesworth, there were six draft picks, 13 undrafted rookies and about 25 roster hopefuls trying out for the team.
Among the roster hopefuls were free agent wide receivers D.J. Hackett and Kelley Washington and offensive lineman Jeremy Bridges, NFL veterans hoping for another chance in the league.
Also on hand was newly re-signed defensive tackle Vaka Manapuna, the 609, 300-pounder who had stints with the Redskins in 2006 and 2007.
It was an overcast morning practice and later a steady rain began to fall.
That didn't put a damper on the first action of Redskins football in 2009.
"I thought it turned out very well," Jim Zorn said. "Our veteran players took leadership roles and kept the tempo up. What was different was everybody kind of knew the pace and knew a majority of what we were doing.
"We didn't have to teach the snap count, teach how to get in and out of the huddle, like we did last year. So we are that much further along. We just worked on our plays and worked our drills. Everybody did a great job."
The afternoon practice was more workmanlike, as the heat turned up a notch.
Here's Friday's practice recaps from the morning and afternoon sessions:
11 a.m. ET
It's the first Redskins practice of 2009. First thing I notice is Mike Williams in the stretching line.
He is about 410 pounds, according to Jim Zorn, and the goal is to get him down to about 370 before he sees practice time.
Can't miss Williams. He's a wide body out there.
Albert Haynesworth. He's less of a wide body than Williams, but at 6-6 and 330 pounds, he is an obvious physical presence.
11:05 a.m. ET
With inevitable player turnover this offseason, we need to start associating new players with their numbers.
For example, No. 24 is no longer Shawn Springs. (He's in New England now.)
No. 24 is cornerback Doug Dutch, an undrafted rookie out of Michigan. He is a local product--he hails from Bowie, Md.
Also, No. 55 belongs to new linebacker Robert Thomas, not Jason Taylor anymore.
And No. 53 is undrafted rookie linebacker Ronnie Palmer. That still feels like Marcus Washington's jersey number.
Good to see Renaldo Wynn back in his familiar No. 97, though.
11:10 a.m. ET
It's often said that the biggest difference in young players occurs when they go from their rookie season into their sophomore campaign.
Those players have had a year in the Redskins' strength and conditioning program and their bodies are more physically prepared for the NFL.
Certainly, this applies to defensive end Rob Jackson.
He is 6-4 and 269 pound now, about 10 pounds heavier than last year.
He ran through drills more aggressively and with a purpose.
Jackson is a quiet guy who had a quiet season last year, playing in just three games. He hopes to make some noise in his second NFL season.
11:16 a.m. ET
Things are moving fast. That's the Jim Zorn practice tempo for you.
After stretching, Danny Smith's special teams units were on the field.
You could Smith barking out instructions before each punt, in order to set up a return.
And you could hear Fred Smoot, one of the punt returners, chattering away.
For the record, Smoot was joined by Antwaan Randle El, DeAngelo Hall, Dominique Dorsey and Anthony Alridge in returning punts during the special teams work.
11:20 a.m. ET
First bit of news to come out of mini-camp: Brian Orakpo is working with linebackers.
Before this news hits the national airwaves, there's no need to read anything into that for now.
Orakpo is in learning mode and the team drafted him in the first round because of his versatility.
And coaches are still learning about him and what he is capable of on the football field.
During one drill, Orakpo looked the part of an NFL strong-side linebacker.
The 6-3, 260-pounder cut left and flashed impressive speed in a pass rush drill.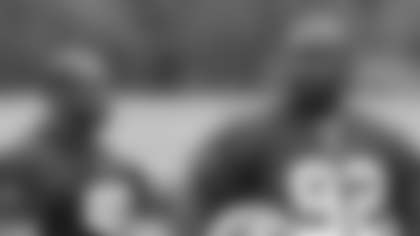 11:22 a.m. ET
Just noticed that the punt returners are all wearing yellow flags around their waist.
Has the NFL turned to flag football?
This is non-contact work, so this is an odd sight.
11:24 a.m. ET
Wide receivers Santana Moss and James Thrash and linebacker Rocky McIntosh are not participating in practice.
Moss has shin splints that developed during his off-season workout regimen.
Thrash has a sore neck that has bothered him off and on since the end of the season.
Finally, Rocky McIntosh has been excused from practice to attend a funeral.
11:28 a.m. ET
Always have to check out who is working with Redskins physical therapist Larry Hess.
On day one of mini-camp, Malcolm Kelly and seventh-round draft pick Eddie Williams are running through drills under the watchful eye of Hess.
Kelly continues to rehab after a knee scope earlier this offseason.
And Williams is rehabbing a knee ligament injury suffered last season at Idaho.
11:35 a.m. ET
Just noticed that the rookies have the Indian head logo on their helmets this year.
Last year, Jim Zorn made a point to tell the rookies they would have to earn their helmet logo once the regular season ended.
So Devin Thomas, Fred Davis and Malcolm Kelly went all through preseason wearing a burgundy helmet during practice.
This year, it appears the rookies won't have to wait for that honor.
11:40 a.m. ET
So far, the one rookie who has impressed is seventh-round draft pick Marko Mitchell.
The 6-4, 218-pound wide receiver out of Nevada has caught everything coming his way in the early going.
Sure, this is only wide receiver drills, catching uncontested passes from quarterbacks.
But Mitchell looks the part of an NFL wide receiver. Keep an eye on him.
11:45 a.m. ET
Defensive line coach John Palermo is working closely on the fundamentals with the young linemen.
As he spends extra time with the rookies and roster hopefuls, veterans Albert Haynesworth, Phillip Daniels, Cornelius Griffin and Andre Carter stand off to the side, talking amongst each other.
These guys don't need a refresher course on the fundamentals.
Palermo is relying on Renaldo Wynn to offer a helping hand.
Wynn is lining up across from undrafted rookie Derek Walker, helping him to get set in proper position for a pass rush.
11:50 a.m. ET
It's a simple passing drill: Four wide receiver set, quarterback drops back and throws to one of them. No defenders.
Here's a recap of the notable moments:
Jason Campbell threw a tad high on a pass to Marko Mitchell, but Mitchell had the height to leap up and pull the pass in for a nice catch.
Campbell threw a deep pass to Devin Thomas in stride for another nice play.
Marko Mitchell pulled in another pass. "Gotta go," a coach yelled, instructing the rookie to turn up-field after every reception.
Call it15-to-15: Todd Collins connected with tryout receiver D.J. Hackett on a slant pass. Hackett, like Collins, is wearing jersey No. 15 for practice.
Not an auspicious mini-camp start for Colt Brennan: his short pass to Todd Yoder was low, but Yoder was able to lean down and make the grab. Brennan clapped his hand in frustration.
Rookie Joe Ganz of Nebraska threw a high-arching pass to Fred Davis downfield. Davis had to make a difficult over-the-shoulder catch, but the ball slipped through his hands.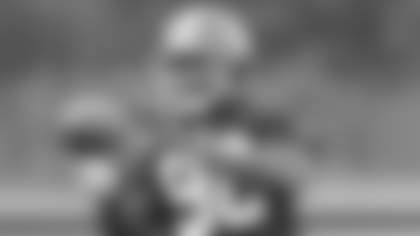 11:55 a.m. ET
On an opposite field, cornerbacks gathered for interception drills, tossed up into the air by secondary-cornerbacks coach Jerry Gray.
Carlos Rogers made a nice grab on a throw. Later, Rogers let a pass slip through his fingers--it was a high throw, so you can't be too hard on him.
No problems for DeAngelo Hall. He showed nice fluidity in pulling in one of Gray's passes.
12:20 a.m. ET
Perhaps the best action of mini-camp practice occurred during wide receiver vs. cornerback drills.
It's man coverage, one on one. Good stuff.
Here's a recap of the notable moments:
Devin Thomas raced straight downfield and got two steps on DeAngelo Hall, who was obviously not running full speed.
Later, DeAngelo Hall gave great effort as he tried to make a diving interception on a deep pass to Marques Hagans. Hall could not hold on to the ball, though.
J.T. Tryon made several nice plays, breaking up slant passes to D.J. Hackett and Antwaan Randle El.
Keith Eloi, a tryout wide receiver out of Nebraska-Omaha, impressed with several nice grabs. He caught three deep passes--two vs. rookie draft pick Kevin Barnes and one against Byron Westbrook.
Fred Smoot broke a pass to Kelley Washington, getting a hand inside to swat away the ball.
The Smoot-Washington rivalry continued, and it's apparent that some trash talking was occurring between the two veterans. Smoot had great coverage on a deep pass, but Washington was able to haul in the pass as Smoot over-ran the play. For a moment, Washington stood in the end zone and appeared to stare down Smoot. It was perhaps the best moment of the practice.
Devin Thomas continued to impress, cutting in front of a defender to make a grab. Thomas cut away and raced downfield.
12:35 p.m. ET
12:45 p.m. ET
Practice wrapped with some 7-on-7 work, non-contact of course.
Andre Carter appeared to get some good pressure, racing around the edge on Stephon Heyer.
The play didn't go his way, but LaRon Landry showed great reaction in getting over in coverage on Kelley Washington running a sideline route.
Alfred Fincher nearly posted an interception on a pass across the middle.
Two plays later, Robert Thomas was not to be outdone. He broke up a pass to Fred Davis across the middle.
A sight Redskins fans hope to see plenty of in 2009: Jason Campbell tossed a quick, short pass to Clinton Portis across the middle. Portis was wide open and raced straight ahead for a long gain.
12:40 p.m. ET
As 7-on-7 work continues, special teams coordinator Danny Smith passed by reporters and had this to say:
"I'm just glad we don't have a game tomorrow," he said, drawing laughter.
Friday's second practice resumes at 3:30 p.m. ET.
3:40 p.m. ET
The afternoon practice is underway.
These mini-camp practices have a different flow from training camp. They are heavy on drills so that coaches and scouts can get a feel for some of the younger talent on hand.
The focus is on technique.
You often hear coaches shout out instructions during and after plays.
After one drill, Stump Mitchell shouted to Marcus Mason, "Keep your shoulders square!"
3:50 p.m. ET
Watching the quarterbacks during passing drills, it's evident how footwork is so important.
During the drills, two quarterbacks would drop back simultaneously and throw to receivers running out patterns.
Jason Campbell and Todd Collins had perfect footwork as they dropped back.
Colt Brennan, Chase Daniel and Joe Ganz were less fluid, with Daniel and Ganz often taking an extra step or stutterstep.
Jim Zorn spent extra time with Daniel, the undrafted rookie out of Missouri, to talk about technique.
3:55 p.m. ET
Breaux--No Relation to Don
I've received a few fan emails about Thomas Breaux, a tryout rookie out of Towson.
(He is no relation to former Redskins assistant coach Don Breaux, by the way.)
Breaux, 6-6 and 198 pounds, is tall and lanky--and he does not really look like a football player. He looks like a basketball player.
Still, he impressed with several nice catches during both practice sessions.
At Towson, Breaux caught 35 passes for 514 yards and six touchdowns last year.
4:10 p.m. ET
Alex Buzbee is coming off an Achilles injury that he suffered on the first day of training camp last year.
In mini-camp, he is showing no ill effects from the surgery.
Buzbee is a young player who still needs to refine his game.
During run-blocking drills, defensive line coach John Palermo shouted, "Come on '90,' you've got to get off that block."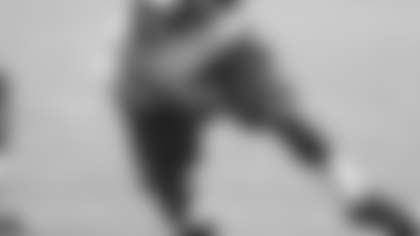 4:25 p.m. ET
Best part of the first Friday practice returned for an encore in the afternoon.
Marko Mitchell made a nice catch in front tryout cornerback Corey Small (from Florida Atlantic). Responded cornerbacks coach Jerry Gray: "You've got to get your hands up!"
Doug Dutch recorded an interception, drawing shouts from chatterbox Fred Smoot.
The Devin Thomas-DeAngelo Hall matchup was back, and this time Hall broke up a deep pass in the end zone.
4:55 p.m. ET
The first day of mini-camp closed with another 7-on-7 drill.
Here's a recap of the notable plays:
Todd Yoder found a seam between two defenders and caught a Todd Collins pass. He eluded Corey Small to break free for more yards.
Kelley Washington made a leaping grab of a sideline pass despite solid coverage from J.T. Tryon and Reed Doughty.
Anthony Alridge took a handoff and raced around right end. He flashed impressive cutback ability as he eluded tacklers downfield.
Byron Westbrook turned in the best play of the afternoon practice, cutting in front of Kelley Washington to intercept a pass. As he was falling out of bounds, he tossed a lateral to Kareem Moore who had open field ahead down the sideline.