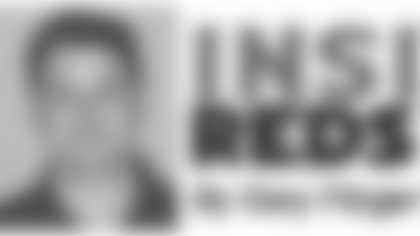 Redskins.com's mini-camp practice reports come to you with news and updates as action happens on the Redskins Park practice fields:
It's Day 2 of Redskins mini-camp, and there's a workmanlike feel starting to settle in already. Feels a little like training camp, without the heat.
Veterans have been through this before and they know the drills inside and out, but rookies and tryout players are wide-eyed and going full speed.
At least one tryout player was not invited back after Friday. Some players can hurt themselves and others if they practice with poor technique.
It was overcast most of the day and there was a periodic raindrop, but the weather held up into the afternoon session.
After an impressive Friday practice, Devin Thomas watched Saturday's session from the sidelines. He tweaked his hamstring, according to head coach Jim Zorn.
"I don't think it's a pulled hamstring, I just think it's irritated," Zorn said. "We're just going to give him rest. I don't want him to have a setback. This is a minor one."
Thomas could be sidelined for part of next week's OTA sessions, Zorn added.
With Thomas out, Malcolm Kelly rehabbing from knee surgery, Santana Moss sidelined with shin splints and James Thrash experiencing neck soreness, coaches are getting a close look at the young receivers and tryout veterans.
Zorn mentioned D.J. Hackett and Kelley Washington as well as seventh-round draft pick Marko Mitchell in his post-practice media session.
"Those guys are doing a great job, and Hackett is showing his experience in this offense as well," Zorn said. "We can move him around at any position. Some of the other guys who have no names on their jerseys are doing pretty well, also. It's given them a chance to get more reps and get a look."
On Mitchell, Zorn said: "He's learning. What I like about his is that he has some speed and he has a knack on the things he's really familiar with. The things he did in college--you can see how comfortable he is doing those [at mini-camp].
"The new techniques were teaching him, you can see him thinking those through. He'll get more comfortable as we go along."
The Saturday morning practice included Zorn's famous dodge ball drill with the quarterbacks, as well as a brief session of 11-on-11 work.
"We hammered [the quarterbacks] today," Zorn said of the dodge ball drill. "It's hard for some of them because they don't have a feel for it. Our quarterbacks like it because you just get to drill them.
"They'll learn. That's the idea of these drills. It's the pocket movement that makes such a difference."
Here's Saturday's practice recaps:
10:40 a.m. ET
I spent time early in practice focusing on the offensive line, working on the far end of the field.
The linemen spent a good 10 minutes pushing around the blocking sled. When they are all synchronized, it's always a dramatic sight to see them push the sled high into the air.
Then the linemen compete against each other with blocking pads in their hands.
Joe Bugel, back for another season as offensive line guru, positioned Isaiah Ross and tryout player Terrence Apted, focusing on their hip movement at the point of attack.
The Redskins' offensive line is sure to be a focus during mini-camp and OTA work.
The team did not draft any offensive linemen. Apart from the re-signing of Derrick Dockery to replace Pete Kendall, the only marquee addition is veteran Mike Williams who has not played in an NFL game since 2005.
Bugel and the coaches are high on several young linemen, including Chad Rinehart, D'Anthony Batiste and Devin Clark Undrafted rookie pickups Edwin Williams and Scott Burley are getting a close look, too.
10:45 a.m. ET
Devin Thomas is not participating in practice on Saturday. He is watching practice from the sidelines.
Just learned that Thomas may have tweaked his hamstring.
Too bad. Thomas was among the young players who really impressed in Friday's mini-camp session.
10:55 a.m. ET
Top draft pick Brian Orakpo continues to see playing time at strong-side linebacker.
As mentioned Friday, this should not be interpreted as a permanent position for the rookie. He was listed as a defensive end in the draft, but some scouts projected him as a linebacker as well.
Orakpo spent limited time playing linebacker at the University of Texas.
You can see the learning curve during practice, albeit subtly.
In one set of drills, Orakpo lined up at linebacker. Then Kareem Moore shouted out an alignment change, and Orakpo shifted all the way over to the opposite side of the line.
There was some hesitation in Orakpo's steps, but he was doing the right thing. It's clear he's thinking his way through mini-camp.
11:02 a.m. ET
Special teams players went through a fumble drill in which they had to jar the ball loose from the hand of punter Zac Atterberry, quickly scoop the fumble up on one bounce and then run into the end zone.
This was a surprisingly tough drill because the ball would usually take a crazy hop once it hit the ground.
Give credit to rookie Kevin Barnes for scooping up one ball seamlessly.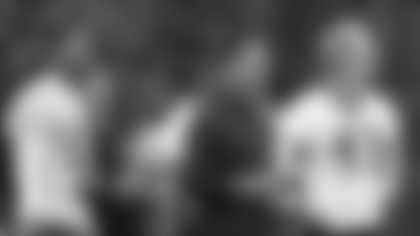 Marques Hagans and tryout rookie Thomas Breaux also did well in the drill.
The ball bounced high and wide for undrafted rookie Jaison Williams, but the 6-5, 227-pounder reached out with his long arms to gather it in.
11:10 a.m. ET
Jim Zorn's wacky drills make their return: it's Dodge Ball with Redskins quarterbacks.
Basically, a quarterback stands in a circle and his fellow QBs throw giant rubber balls at him. The drill tests the quarterback's mobility in the pocket.
Colt Brennan showed some good movement in avoiding the dodge balls--only one of Jason Campbell's tosses struck him lightly.
Undrafted rookie Chase Daniel appeared to struggle at the drill. He was hit three times, twice in the back and once on the right leg.
Tryout QB Joe Ganz did fine until Campbell's throw nailed him on the shoulder.
Even Todd Collins got hit several times, so it wasn't just an issue of experience.
Try as they might, the backup quarterbacks could not touch Campbell with a dodge ball. He showed great movement and even maintained proper footwork.
11:20 a.m. ET
Defensive linemen charged onto the practice field being used by special teams players working on field goals.
This annoyed Kedric Golston, apparently.
"Come on, we've got work to do here and you all are kicking balls," Golston said.
Later, Golston shouted out to Ethan Albright, "Hey Ethan, get over here and give me some reps."
11:25 a.m. ET
In Friday's practice, this session provided some of the day's best highlights.
Just a couple on Saturday, though.
Fred Smoot stepped inside as the wide receiver slipped and he had an easy interception. He could not hold on, though. Yelled Santana Moss: "You've got to catch that, fool!"
Byron Westbrook got a hand up and swatted away a downfield pass to undrafted rookie John Halman.
Kelley Washington found himself in double coverage against Fred Smoot and LaRon Landry coming over the top. Jason Campbell's pass was perfect as Washington pulled away from the coverage. Washington did a little celebration in the end zone, pumping his fist.
Tryout rookie Keith Eloi continues to make a strong case for himself, pulling in a deep pass against Kevin Barnes. He impressed on making body adjustments as he pulled in the pass.
11:40 a.m. ET
It was noticed that Jon Jansen was taking some snaps at center during 7-on-7 session.
Jansen provides a bigger body for Jason Campbell, allowing the quarterback to kneel less as he takes the snap.
Here are a few notable plays during 7-on-7 action:
Fred Davis made a nice catch in traffic, pulling in a pass with two receivers around him. One play later, Davis made another nice grab, and then turned up-field before tryout safety Lionel Mitchell could tackle him.
Undrafted rookie Doug Dutch continued to impress. He leaped high to break up a pass across the middle to D.J. Hackett.
Kareem Moore broke up pass to Jaison Williams, stepping in front of the 6-5, 237-pound receiver to make the stop.
It was a mundane play, but undrafted rookie tight end Devin Frischknecht ran an out pattern and was in perfect position to catch a Todd Collins pass in stride.
12:05 p.m. ET
The Redskins closed practice with a brief 11-on-11 session.
It's the first time this mini-camp that veterans took part in 11-on-11 work.
Here is a sampling of some notable plays:
Antwaan Randle El looks like he's in midseason form, pulling in a deep pass across the middle. He twisted his body around and skipped right, avoiding several tacklers.
Cody Glenn fought off a block to get in position for a tackle on Ladell Betts.
Kevin Barnes got in position to make a tackle on Rock Cartwright on a screen pass.
Marko Mitchell continues to impress, as he made a catch on a deep pass by pulling up ahead of Byron Westbrook.
Jason Campbell rolled right--not his natural progression--and threw a 10-yard pass over two defenders to Fred Davis near the sideline. Davis pulled in the pass before he went out of bounds.
3:02 p.m. ET
After a lunch break and meetings, players and coaches are back on the practice fields.
About 50 FedExField suite holders were on hand to watch the afternoon session.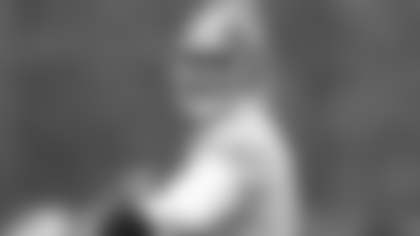 It remains overcast, but there's no rain--which is good news for players, fans and media alike.
3:20 p.m. ET
Long snapping is a job that is often overlooked, but so is the holder on field goal attempts.
Most NFL teams ask their punter to serve as the holder, and the Redskins plan to use Hunter Smith and Zac Atterberry at the position.
During drills, Danny Smith spent extra time working with Atterberry as he learns the craft. (Hunter Smith has served as holder with Indianapolis the last 10 years.)
It's a tougher task than you might think.
The holder must catch the ball, and as it flies back it must be positioned with the laces out and away from the kicker. So the holder must actually spin the ball just as the kicker is on his approach.
It all happens within a matter of seconds.
3:30 p.m. ET
Tryout rookie Keith Eloi, a wide receiver out Nebraska-Omaha, has made several impressive catches during mini-camp.
Even Carlos Rogers mentioned Eloi as a receiver who impressed him.
Midway through wide receiver drills, Jim Zorn pulled aside Eloi and gave him some pointers on a pass route.
Keep an eye on Eloi as a possible pickup after mini-camp. He faces tough competition against tryout veterans Kelley Washington and D.J. Hackett, though.
3:35 p.m. ET
The offense put a focus on run-blocking during drills.
On one play, Devin Clark and Isaiah Ross showed good form in blocking their defenders, allowing Rock Cartwright to slip free for a gain.
Tryout fullback Dan Lawlor out of Penn State had a good block as well.
3:45 p.m. ET
Defensive line coach John Palermo worked his charges through a drill in which they had to race around a blocking dummy and pick up a cone.
For 6-6, 320-pound Haynesworth, that's a tough task.
He made it past the dummy with ease, but he leaned down awkwardly to grab the cone--and fell on his side.
"I'm 6-6, not 3-3," he said with a laugh.
4:20 p.m. ET
I'll put the focus of the afternoon session on the 7-on-7 work.
Here are some notable moments, coming at you fast and furious:
Casey Rabach and Derrick Dockery teamed up for a block on rookie Brian Orakpo, as Jason Campbell tossed a short pass across the middle to Clinton Portis. Orakpo turned and chased after Portis, to no avail.
Marko Mitchell had caught everything thrown his way, but he dropped an easy throw from Campbell on a short route across the middle.
Kevin Barnes made a fast read on a slant pass to Thomas Breaux and leaped in front of the lanky receiver to break it up.
Kelley Washington continues to shine, pulling in a pass from Campbell. Reed Doughty was in position to level a hard hit on him, though.
Undrafted rookie Ronnie Palmer held firm at middle linebacker, watching the play develop. He drifted right to cover the running back, but he was too late as Rock Cartwright caught the swing pass and burst past Palmer for a nice play.
Tryout wide receiver Cary Koch of Virginia fended off tight coverage from Barnes and pulled in a pass along the sidelines.
Antwaan Randle El flashed his speed and cut-back ability when he grabbed a quick pass, cut right to avoid a tackler, cut left to avoid another tackler and cut right again to leave them both behind.
Chad Rinehart, lining up at right guard this mini-camp, slipped past a defensive lineman and leveled a block on a linebacker as part of a screen pass. He did his job well, as Marcus Mason caught the pass and weaved his way downfield.
Mason made another nice catch across the middle of the field, grabbing a Colt Brennan pass after the ball had bounced off the helmet of a defensive lineman.
On a run play, Mason found a slim hole to the left and burst through it for a solid gain.
Day 2 of Mini-camp came to an end with coaches making rookies and tryout players run sprints.
Mini-camp resumes on Sunday morning, bright and early.