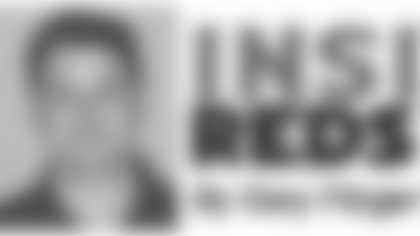 Redskins.com's mini-camp practice reports come to you with news and updates as action happens on the Redskins Park practice fields:
About a half-hour before the start of Sunday morning's mini-camp practice, at about 9 a.m. ET, the tarps were rolled off the Redskins Park fields amid a steady rainfall.
This was the final mini-camp session of the weekend. Given the rainy, overcast conditions, the practice was scheduled for 90 minutes in length.
"We took it right to the field and got our work done," Jim Zorn said. "We cut out the 1-on-1 and one review [session], but we got all of our scripts in."
Zorn said the Redskins' six rookie draft choices were among "bright spots" in the three-day mini-camp.
"Each one of those draft choices who participated, they were a bright spot, just seeing the speed with which they were working and how they picked things up," Zorn said.
"When [defensive line coach] John Palermo would tell Brian Orakpo to make a correction, the next play Brian would make that correction.
"[Linebackers coach] Kirk Olivadotti liked what he saw of Orakpo at that strong-side linebacker position and he felt like that was a pretty good position for him as well. So [Orakpo] is going to be a real versatile athlete."
Zorn also praised the veterans, saying they are "much further ahead than they were last year."
Time for some breaking news coming out of Sunday's practice.
The Redskins are close to signing free agent offensive lineman Jeremy Bridges, who participated in mini-camp on a tryout basis.
Bridges, 6-4 and 326 pounds, is a 6-year NFL veteran who played for the Carolina Panthers the last three years. He has started 39-of-62 games in his career, mostly at guard.
"We're trying to get things done with Bridges," Zorn said. "He was one of the bright spots in these tryouts."
The Redskins are also exploring the possibility of signing free agent wide receivers Kelley Washington and D.J. Hackett, who participated as tryouts in mini-camp.
Meantime, fifth-round draft pick Cody Glenn suffered a mild hamstring injury during mini-camp and he sat out the Sunday session, Zorn said.
"He pulled up a little bit as he was making an adjustment and slipped," Zorn said. "We thought it was his groin, but it was his hamstring. He'll be fine."
Sunday's practice was heavy on drills, except for the abbreviated 7-on-7 work which started about 45 minutes into the hour-long session.
No need to risk injury on a wet field.
Besides, veterans return on Monday for the first of four consecutive Organized Team Activity sessions, commonly known as OTAs.
Here's Sunday's practice recap:
9:45 a.m. ET
Even amid wet conditions, players had energy as they worked through the early part of practice.
Soon after stretches ended, a player--I believe it was Mike Sellers, but it could have been Fred Smoot--shouted out "Woooooo!"
That's one way to get everyone motivated for practice.
9:55 a.m. ET
A Look At the Running Backs
Focusing on the running backs, this is where the little guys can shine.
Rock Cartwright, of course, is 5-8 in height, Dominique Dorsey is listed at 5-7 and Anthony Alridge and Marcus Mason are 5-9.
Clinton Portis and Ladell Betts tower over them--at 5-11 in height.
Vinny Cerrato made a point of praising Dorsey and Alridge this offseason, comparing them to San Diego's fireplug running back Darren Sproles.
Look for all four of the Redskins' little guys to serve on kick returns in preseason.
10:05 a.m. ET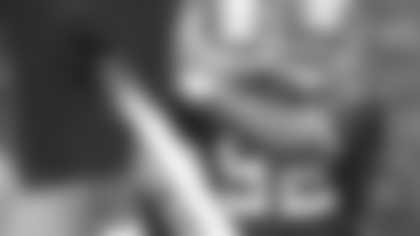 Despite a wet field and wet balls, quarterbacks and wide receivers had work to do.
Jim Zorn wanted to focus on route-running and he stood about 10 yards away instructing the receivers.
Quarterbacks looked crisp as they dropped back and threw the ball.
But the wide receivers looked a little tentative in their routes.
That's understandable given the conditions. They have to focus on maintaining their footing as they run and cut on the field.
10:20 a.m. ET
Practice moved quickly into the 7-on-7 work. Amid the steady rainfall, it appears likely that coaches could end practice early.
Here are some notable plays:
Jason Campbell tossed a sideline pass to tryout rookie Thomas Breaux, who continues to impress in mini-camp despite his lanky frame. Breaux found an opening in coverage along the left sideline.
Campbell rolled right but had to throw away the ball because he could not find an open receiver. From a distance, it appeared Mike Sellers was open as he crossed field, but Campbell would have had to throw across his body to complete a pass to Sellers.
Another example of the wet conditions: Campbell's short pass to Anthony Alridge sailed on him.
Alridge flashed some good cut-back ability, breaking past a tackler and into the secondary on a running play.
Colt Brennan competed against the Redskins' first-team defense in his practice reps and Fred Smoot was able to swat away a pass on one throw.
Brennan, using the fast sidearm release that he has used his entire career, completed a touch pass to undrafted rookie tight end Robert Agnone.
Later, Brennan rolled left and tossed a pass to Fred Davis along the sideline. Tough play--rolling left and passing on the run is not Brennan's natural throwing motion. Davis was open enough--ahead of Kevin Barnes--to make the catch.
With that, practice was called. Mini-camp 2009 had come to a soggy end.
10:40 a.m. ET
Jim Zorn was asked about Colt Brennan's progress during mini-camp.
"He's moving better and he's throwing harder than he did when he first got here last year," Zorn replied. "He's learning the offense. He didn't have a lot of reps last year, so now he's actually under fire."
What does Brennan need to improve on this year?
"Accuracy. And just the knowledge of the offense. As he gets to know our offense better, he'll become a better player."
10:45 a.m. ET
Jim Zorn mentioned after practice that the Redskins are close to signing free agent offensive lineman Jeremy Bridges.
Bridges could play some tackle or guard for the Redskins, Zorn said.
Add him to the mix at right tackle with Stephon Heyer, Jon Jansen and Mike Williams.
The competition for the starting job begins in training camp.
"We haven't put pads on yet," Zorn said. "The competition will start at training camp. We're just out here trying to get better and work on technique."
Regarding Jansen, Zorn said: "He was working at right tackle [in mini-camp], but he also helped out at center and he can play guard. He did a lot of work at center in this mini-camp."
10:55 a.m. ET
Jim Zorn teased massive Mike Williams, who did not take any practice reps during mini-camp.
Williams, who is trying to lose 30-40 pounds from his 410-pound frame, watched practice from the sidelines and had to spend time on his own working with the blocking sled.
Coaches won't allow him to practice until he is in playing shape.
Said Zorn: "I kind of messed with him a little bit--he was over there by himself hitting the sled and it actually created some major noise with him hitting it. He has a major punch.
"I referred to him as being in jail, in solitary confinement, as he tries to get up to speed. He's not only trying to lose weight, but he's also making sure he's in the right kind of shape so that when he participates he can last.
"When you watch him move, he has really good [footwork]. He can do a lot of things athletically even weighing that much. We just have to get his weight down so he can last 60 plays in a game--and then 16 regular season games."
11:04 a.m. ET
Still a steady rainfall at Redskins Park--at right about the time when mini-camp practice was supposed to end.
All this rain makes one wish for a practice bubble.
Of course, any talk about a practice bubble right now and you have to think about what happened at the Dallas Cowboys' training facility on Saturday afternoon.
Heavy rain and winds destroyed the Cowboys' practice bubble and several coaches and scouts were injured.
"I asked our guys, 'If you're a praying man, really remember those guys,'" Zorn said. "What a tragedy that is. How unpredictable that must be.
"Fortunately, they didn't have 115 guys in that bubble at that time because there might have been a lot more injuries. So we're thankful that there were very few."
The Redskins have periodically discussed adding a practice bubble to the Redskins Park grounds, but there are no immediate plans to build one at this time.