Brian Mitchell played for the Redskins. And against the Redskins.
Forget the second part. He's still all about the Redskins.
On Monday night, the Redskins will be all about him. Mitchell will be honored before the game against the Philadelphia Eagles, his name to be etched on the FedExField façade in the Redskins Ring of Fame.
Holder of numerous NFL records for punt and kickoff returns, sparkplug, Pro Bowl selection, All Pro pick, Mitchell's accomplishments over a 14-year career stand without equal among special teams standouts.
Still a visible part of Washington, D.C. community as a media personality, Mitchell eagerly awaits the ceremony that will commemorate his contributions to this football team.
"It's one of those shocking things that I didn't expect to happen any time soon. It's rewarding," Mitchell said during a visit to Redskins Park this week.
"Coming to the Washington Redskins, I never thought about being in the Ring of Fame or having all the accolades I did. I just thought about coming in here trying to make a football team, play four years, make some money and go home.
"But things worked out well for me and I've been here now almost 20 years and the fans have been constantly supporting me. So this is an opportunity for me to say thank you and I chose the Eagles game so I can say thank you to two teams."
Mitchell played for the Redskins from 1990-99, put in three more years with the Eagles and one with the New York Giants.
When the Redskins came to him about the Ring of Fame, he asked to stage the event when they played the Eagles.
"Yes, I'm a Redskin, and an Eagles fan. The Eagles knew that. They would tell me that I had to go back to Washington to retire because I did 10 years of my career there," he said.
When the Giants released him, he signed a one-day contract with the Redskins so he could retire as a member of the burgundy and gold.
During his playing career, Mitchell's achievements in a specialized role energized the Redskins, which won the Super Bowl in his second season.
"I didn't think Mike Nelms could ever be equaled but he took it up another notch. I didn't get a chance to block for Brian but I blocked for Mike and you know with guys like that that they are a threat to score or they will get you good field position," said Rick "Doc" Walker, a Redskins tight end from 1980-85, a friend of Mitchell's and the person who will present him on Monday night.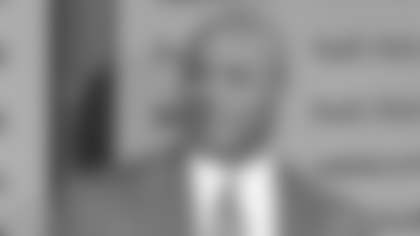 Brian Mitchell at his 2005 retirement
press conference. (Gary Fitzgerald Photo)


Open the NFL record book and Mitchell's name appears endlessly as a career leader among punt and kickoff returners. Most career touchdowns (13). Most punt returns (463). Career yards gained (4,999). Most kickoff returns (607). Most yards gained on kickoff returns ((14,014).
"He played for 14 years doing things you can't just get up in the morning and do," said Santana Moss, an occasional punt returner for the Redskins. "He was a phenomenal specialist and he had a great career doing what he did."
Not bad for a guy who was a quarterback in high school and college.
"I was one of the pampered dudes," Mitchell said. "I was a quarterback from eighth grade on. My goal was to play in the NFL, not a certain position, and I tried to be good in that position. I never returned a ball in my life until that day in Chapel Hill, N.C., in preseason against the Atlanta Falcons."
Rock Cartwright, the Redskins current kick returner, often turns to Mitchell for advice.
"B-Mitch is a guy I always heard about and I talk to him on a continuous basis. I'm honored to be around a guy like that," he said.
If special teams were more valued, Cartwright added, Mitchell's true value to his teams over the years would earn the full respect they are due.
"Special teams is an equal part of that triangle with offense and defense," he said. "When you are on special teams, like I am or like Brian, you don't have four downs to make a play. You have one."
Mitchell cherishes the thought of his name up in the stadium but he also wonders why the Pro Football Hall of Fame pays so little attention to specialists.
One kicker, Jan Stenerud, is in the Hall. Punter Ray Guy gets very little support despite his outstanding career.
"Was Steve Tasker the best cover guy ever? Hell, yeah. Does he belong in the Hall of Fame? I think so," Mitchell said. "Ray Guy? Why isn't he in there? If you want to compare my career to the career of Dan Marino, that's stupid. Dan Marino was a great quarterback. But I shouldn't not be in there because I wasn't a great quarterback. I was a great return man. Ray Guy was the best to ever punt a ball. If you want to call it the Partial Hall of Fame, keep doing like you're doing. The Pro Football Hall of Fame should represent everybody."
That, of course, is for the Hall of Fame voters to consider. Those whose opinions mattered most to Mitchell have no argument with him or his legacy.
"I played for family and fans," Mitchell said. "If you impress those people, who are the toughest critics out there, everything else falls in place."
---
Larry Weisman covered professional football for USA TODAY for 25 years and now joins the Redskins Broadcast Network and Redskins.com to bring his unique viewpoint and experience to Redskins fans. Go to Redskins.com for the Redskins Blitz column and NFL Blitz on Friday. Larry also appears on The Jim Zorn Show on WRC-TV on Saturday night, on Redskins Nation, airing twice nightly on Comcast SportsNet, and on ESPN 980 AM radio, all in the Washington, D.C. area. Read his blog at redskinsrule.com and follow him on Twitter.com/LarryWeisman.