Redskins great Brian Mitchell, one of the most feared kick return specialists in NFL history, will be inducted into the Redskins Ring of Fame at FedExField during Monday Night's game against Philadelphia.
Mitchell becomes the 44th player, coach or administrator to be inducted into the Ring of Fame. (Sean Taylor was inducted in 2008 and Gary Clark was inducted in 2007.)
The team is planning a pre-game ceremony to honor Mitchell, including video highlights on the JumboTron and the unveiling of his plaque on the Ring of Fame.
Mitchell played 14 years in the NFL, including 10 memorable seasons in Washington from 1990-99. He left the franchise in 1999 and played three seasons with the Philadelphia Eagles and one season with the New York Giants.
Mitchell retired from the NFL following the 2004 season. He signed a one-day contract with the Redskins so that he could officially retire with the team he started with in 1990.
The 5-10, 221-pound Mitchell was a fifth-round draft choice (130th overall) by the Redskins in 1990. He quickly became one of the more popular players in franchise history and helped the Redskins win Super Bowl XXVI.
In 223 career NFL games, Mitchell averaged 23.1 yards on kickoff returns and 10.8 yards on punt returns. He earned his only Pro Bowl nod in 1995.
Mitchell holds a host of NFL records, most notably combined kick returns (1,070), combined kick return yards (19,013), combined kick returns for a touchdown (13), kickoff returns (607), kickoff return yards (14,014), punt returns (463), punt return yards (4,999) and fair catches (231).
Mitchell was a versatile threat throughout his career. While serving primarily as a kickoff and punt return specialist, he occasionally lined up as a running back, wide receiver and quarterback. He also aided kickoff and punt coverage units on special teams.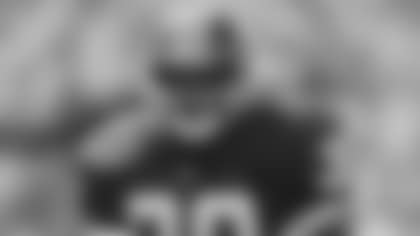 Mitchell finished his career ranked second all-time in all-purpose yards with 23,300, trailing only legendary wide receiver Jerry Rice, who has 23,546.
Mitchell is also second in most seasons leading the league in all-purpose yards with four in 1994-96 and 1998. Legendary running back Jim Brown holds the NFL record with five.
A native of Plaquemine, La., Mitchell starred as a quarterback at Southwestern Louisiana, becoming the first player in NCAA history to pass for more than 5,000 yards (5,447) and run for more than 3,000 yards (3,335).
In his rookie season in Washington, Mitchell saw action as a kick returner, running back and quarterback.
When quarterbacks Jeff Rutledge and Stan Humphries went down with injuries in a Monday night contest at Philadelphia, Mitchell took over as the signal caller and, in his only series, led the Redskins to a touchdown.
In 1991, Mitchell finished second in the NFL in punt returns with a 13.3-yard average.
Mitchell had many memorable games as a Redskin:
-- On Jan. 2, 1993, in a Wild Card playoff win over the Minnesota Vikings. Mitchell ran 38 yards on a fake punt to set up his own 8-yard touchdown run. He also rushed for 109 yards on 16 carries and caught three passes for 16 yards.
-- On Sept. 6, 1993, in a season opener against the Dallas Cowboys on Monday Night Football, Mitchell recorded a career-high 116 rushing yards, including a game-clinching 29-yard touchdown run.
-- On Oct. 10, 1993, in a game against the New York Giants, Mitchell recorded a career-high seven receptions, ran back a kickoff 68 yards and threw a 50-yard touchdown pass to Ricky Sanders.
-- Mitchell was named NFC Special Teams Player of the Week on Sept. 11, 1994, with a 74-yard punt return for a touchdown and an 86-yard kickoff return that set up another touchdown in a 38-24 win over the New Orleans Saints.
-- On Jan. 15, 2000, Mitchell returned a kickoff 100 yards for a touchdown in the Redskins' NFC Divisional Playoff game at Tampa Bay. It was the longest kickoff return in NFL playoff history.