For Art Monk and Darrell Green--and most importantly, the fans--it was one more chance to celebrate their Hall of Fame accomplishments.
Monk and Green, the Redskins' two newest Hall of Fame inductees, received their Hall of Fame rings in a ceremony prior to the Redskins-Cowboys game at FedExField on Sunday.
They walked onto FedExField wearing their gold Hall of Fame jackets, to the roar of the thousands of Redskins fans in attendance.
Surrounded by friends, family and the Redskins Marching Band, Monk and Green slipped their new jumbo-sized rings on their fingers.
In a brief media session an hour before the ceremony, Monk and Green said they relished an opportunity to be at FedExField with Redskins fans.
"It's great to share in this moment with those who could not make it to Canton," Monk said. "This caps everything--it's sort of the last Hall of Fame acknowledgement. It gives us a chance to speak to the people who supported us."
Added Green: "My induction into the Pro Football Hall of Fame was a humbling celebration of not only my professional career, but a time to rejoice over the sum of my life's blessings. I am so excited to get my ring before the Dallas game and share this honor with all the fans that supported me my entire career.
Asked to reflect on what it has meant to be in the Hall of Fame, Green replied: "It has been pretty special. The Hall of Fame is uncharted waters. It's not something you can have an experience to compare with, so it's unique.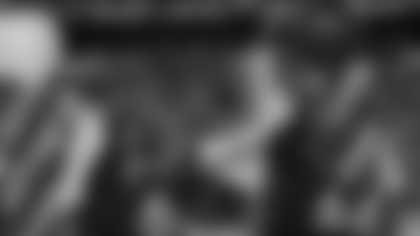 At FedExField](/media-gallery/photos/monk-green-honored-at-fedexfield/E05ECFDA-3F79-42BA-A1B6-AD689BD9D6B5)

"It transcends. You can't be cut. You can't be traded. It's synonymous with the greatest ever."
Monk admitted that being in the Hall of Fame still hasn't completely sunk in. He waited eight years to be inducted into the Hall, an injustice for many fans who thought he should have been in on the first ballot.
Monk and Green were inducted into the Pro Football Hall of Fame on Aug. 2 in Canton, Ohio.
"Art and Darrell are very deserving of this honor and it will be special for them to receive their rings and share this experience with Redskins fans," Redskins owner Daniel M. Snyder said prior to the ceremony. "This will be a wonderful and memorable evening to celebrate the significant accomplishments of these two great Redskins."
Monk was the Redskins' first-round draft pick in 1980. The lanky wide receiver played 14 of his 16 seasons with the Redskins and helped lead the team to three Super Bowl championships. He recorded 940 career receptions and 68 touchdowns in 224 games.
Monk remains active in the community, working with the Good Samaritan Foundation he launched in 1993 with former Redskins Charles Mann, Tim Johnson and Earnest Byner. The foundation helps young people with skills and training to succeed in society.
Green, a 5-9, 185-pound cornerback, was the Redskins' first-round draft pick in 1983. He played 20 seasons in the NFL--all with the Redskins--and earned seven Pro Bowl berths, a franchise record. He established an NFL record by recording an interception in 19 consecutive seasons.
Since his retirement in 2002, Green has been involved with operating the Darrell Green Youth Life Foundation, which he started in 1988 to help children develop into leaders and positively influence their families and communities.