The Redskins have released defensive tackle Anthony Montgomery, wide receivers Marko Mitchell and James Robinson and running backs Anthony Alridge and P.J. Hill, the team announced on Monday.
The Redskins loaded up with veteran players at defensive tackle, wide receiver and running back this offseason and roster space was needed after the Redskins signed undrafted rookie free agents following the NFL Draft.
Montgomery is the most notable name of the Redskins released.
Montgomery joined the Redskins as a fifth-round draft choice in 2006 and played in 41 games, with 22 starts, the last four years. He posted 93 tackles, three sacks and two fumble recoveries.
His playing time decreased in recent years, though. He played in just six games in 2009, serving as a backup.
Mitchell was a 2009 seventh-round draft choice of the Redskins.
As a rookie, Mitchell led the Redskins in preseason with 11 catches for 113 yards and three touchdowns. He earned a roster spot and played in nine games in a reserve role, catching four passes for 32 yards.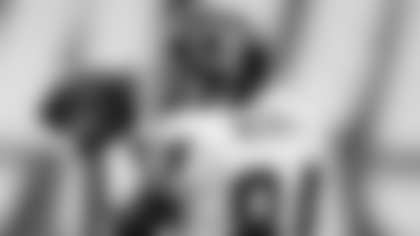 Alridge was thought to have a legitimate shot at competing for a roster spot given that he played for head coach Mike Shanahan in Denver in 2008.
He flashed impressive speed in preseason with the Redskins last year, but he did not see any regular season action.
Robinson spent time on the Redskins' practice squad last season.
Hill, a rookie last year, signed with the Redskins' roster on Dec. 30, 20009 but he was deactivated for the team's season finale in San Diego. He also had roster and practice squad stints with the New Orleans Saints and Philadelphia Eagles.