Santana Moss lines up and scans the defensive alignment.
Yep, he says. Another double team coming.
Imagine his surprise in the third quarter of Sunday's game against the Tampa Bay Buccaneers as he streaked down the right sideline in the third quarter and found himself in one-on-one coverage.
Jason Campbell had faked a handoff to Clinton Portis and the play-action kept the safety inside.
Outside, Moss had a couple steps on cornerback Aqib Talib.
Campbell threw--and his pass was right on target.
Moss pulled in the pass in stride for a 59-yard touchdown catch to give the Redskins a 16-10 lead. The Redskins held on to win 16-13 at FedExField.
"Every team plays me the same--they're going to double me," Moss said. "I'm looking for that one play where they don't double me and Jason can get the ball in my hand."
Said Jim Zorn: "They were all over Santana early in the game with double coverage. The play action pass held the safety inside and Santana had his way with [Talib]. It was a great throw. I don't think Santana had to move. That ball was right on the money. It was fun to watch."
Campbell said the Redskins had been working on that play for several weeks.
The key? Selling the play fake.
Said Campbell: "When I came out in the play fake, the one thing I try to do is find out where the safety is. I trust Santana to beat the corner. I just try to find out where the safety is to keep him from getting over to make a play on the ball.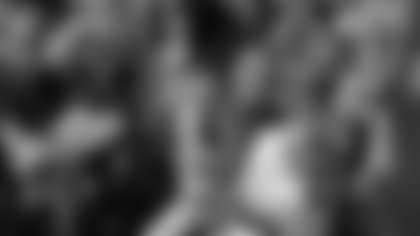 "Clinton did a good job selling the play fake--we were running the ball successfully--and I think it got the safety to come up."
For Moss, the key may have been the double move he put on Talib as he got off on his route.
Buccaneers head coach Raheem Morris noticed it.
"He made a nice little move," Morris said. "Santana seems to get everybody to do those types of moves and those types of big plays, the ones that hurt you. We knew that coming in and that he would be a factor."
The touchdown was the 18th catch of Moss's career to go at least 50 yards. Thirteen of those catches have gone for touchdowns, including one last week when he caught a 57-yarder against the Detroit Lions.
It was the first time that a Redskins wide receiver had caught two TD passes of 50 yards or more in consecutive weeks since Gary Clark did it in Dec. 6-13 in 1987.
Moss, who finished Sunday's game with two catches for 74 yards, said he has faced more double teams this year than he has in years past.
He views the constant double teams as a challenge, but a part of him wishes for different coverage.
"I appreciate [defenses] respecting me, but at the same time I wish and pray I could get some one on one every now and then," he said. "That would allow me to be me."
Moss's big play capped a remarkable third quarter comeback by the Redskins.
Washington was sluggish on offense most of the game but scored 16 points in the third quarter.
The Redskins needed a win to even their record at 2-2--and Moss came through with what proved to be the game-winning score.