The Redskins have overhauled their wide receiver corps in the last year.
First, Antwaan Randle El was released last offseason. Then veterans Joey Galloway and Roydell Williams were brought on board.
Change continued into the regular season. On Oct. 9, Devin Thomas -- the Redskins' 2008 top draft pick -- was released. Then first-year receiver Anthony Armstrong emerged as a starter last Sunday vs. Indianapolis.
Even 5-9, 150-pound rookie Brandon Banks has been involved, running a deep route late in the Redskins' 27-24 loss to the Colts.
Through it all, there has been one constant.
Santana Moss remains the Redskins' No. 1 receiver.
And it seems Moss is re-establishing and even redefining himself in his 10th NFL season.
Moss, 31, is on pace for his best season in terms of receptions.
Through six games, he has 37 receptions for 485 yards. That translates to 98 catches for 1,290 yards in a 16-game regular season.
With his 37 catches, Moss is ranked fourth in the NFL and second in the NFC.
His previous best season was 2005, his first in Washington. That year, he posted 84 catches for 1,483 yards – a Redskins franchise record – and nine touchdowns. He earned his only Pro Bowl berth following that season.
To hear Moss tell it, hard work has always been the key to his success.
As he has gotten older, he varied his workouts to include martial arts such as kick boxing. He eats smart to fuel his body correctly.
He wants to be able to focus on his job – playing football – knowing that his body won't break down.
Hard work has been especially important this year as the Redskins learn a new offense under head coach Mike Shanahan and offensive coordinator Kyle Shanahan.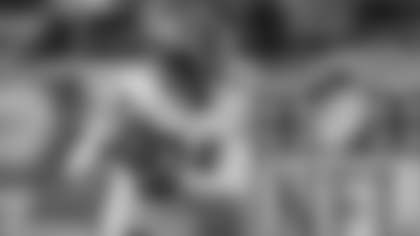 "You can't always live on the high road," he said earlier this season. "You can't always feel like it's going to come together on game day. You have to put that time in to get better. And that's how you get better as a team. As a new team together, we have to really focus on some of the little things."
Coaches have put 5-10, 205-pound Moss more in the slot instead of solely on the outside.
In the middle of the field, Moss can run crossing patterns and downfield routes. He is finding more open space than he did running along the sideline.
And he has established a great rapport with quarterback Donovan McNabb, the 11-year veteran who arrived in Washington from Philadelphia last offseason.
It seems like Moss and McNabb have been playing together for years.
"I love him," Moss said of McNabb. "Just knowing that we have him, it changed my whole mentality of who I can now, who I can go out there and be as far as being a receiver. You just see him out there time after time, even when he is pressured, and you feel like there is nothing that he can't do. He just finds a way."
Added McNabb: "We definitely have a good chemistry going."
Moss's new role in the offense and his rapport with McNabb has allowed him to become more versatile.
Of course, he remains a presence in the deep passing game – his only touchdown of the season has been a 21-yarder in Week 3 vs. St. Louis – be now he is more effective as a mid-range receiving option as well.
"In my years of playing receiver, I've had to work for everything," Moss said. "Usually if I'm getting a touchdown, it has to be from 60 yards, or 40 yards, or I have to run a long way. As a receiver, honestly, you get tired of that.
"Let me get some easy ones. I see receivers running into the end zone five yards and getting little freebies. When you get scores like that, from Donovan finding you, it just shows you his eyes are everywhere and you know to stay alert out there because he's going to look for you."
For his career, which includes four seasons with the New York Jets, Moss owns 537 catches for 7,928 yards and 47 touchdowns.
Moss has 386 catches in a Redskins uniform. He is just seven catches behind Hall of Famer Bobby Mitchell for sixth place in franchise history.
You won't hear Moss lobby for the ball from McNabb, but he does want to be a sparkplug for the Redskins' offense.
"I'm a guy who's trying to make a difference every time I'm out there because I know one or two plays can change a game," he said.
His accomplishments have made him a leader in the locker room and on the football field.
Even if he goes about it in a quiet, subtle way.
"I'm not the guy to go around and talk," he said. "I talk when I need to talk. I might say something in the huddle or on the sidelines, but I've been a guy who leads by example. The way I work, if you watch me, then you realize how much the game means to me."