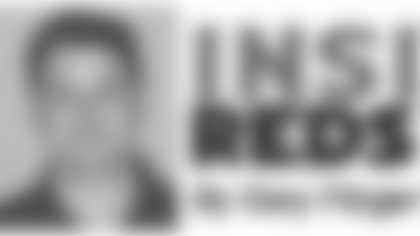 Washington had settled for field goals in the first 40 minutes of the Redskins' game against the Detroit Lions on Sunday at Ford Field.
The Redskins needed a big play to punch the ball in the end zone.
Leave it to Santana Moss to get the job done--twice.
In the Redskins' 25-17 win over the Lions, Moss caught a 50-yard touchdown pass from Jason Campbell in the third quarter to give the Redskins the lead midway through the third quarter.
Later, Moss returned a punt 80 yards for another touchdown.
"Coach [Zorn] asked me if I had [a punt return] in me, and I just said, 'Yeah,'" Moss said. "When the time is needed, I am more than happy to go out and do it. One sudden move here and there can make them stop, and then you can burst again."
Moss's first score came just after the Redskins moved the ball to midfield.
Moss lined up in the slot. He put a quick move on safety Kalvin Pearson and picked up a step on the defender.
Meanwhile, Campbell averted disaster when he sidestepped a Lions blitzer.
Campbell stepped up in the pocket and fired a perfect pass to Moss downfield.
It appeared Moss would be pulled down by Pearson and safety Daniel Bullocks at the 12-yard line, but he broke a tackle along the right sideline and raced into the end zone for a 50-yard touchdown.
Finally, the Redskins had punched the ball into the end zone.
"Santana was going on reads on that play," Campbell said. "Santana did a good job of running the route. You know he's so electric after the catch. He caught the ball and he was still able to stay in bounds, get up the sideline and score."
Asked if he anticipated Detroit's blitz, Campbell replied: "Yes, I did anticipate it. We were trying to get out to it. That's why I was able to avoid him, because I expected it. We work on drills every day where you have to move and avoid and reset your feet. It's a testimony to what we do every day in practice."
Moss finished the game with a team-high nine catches for 140 yards.
Moss would score again--in equally dramatic fashion--early in the fourth quarter.
Moss went back to return a Lions punt and he fielded it at the 20-yard line. He bounced off of Devin Thomas and sidestepped a tackler.
Suddenly he found a seam up the middle. He followed a block by Leigh Torrence to speed into open field.
No one catches Moss in open field.
Moss sped into the end zone for an 80-yard punt return for a touchdown. It was his third career punt return for a touchdown and first as a Redskin.
Campbell was on the sidelines looking to see if there were any penalty flags. There were none, so he raised his arms high to celebrate a critical score.
Said Jim Zorn: "I was telling everybody--it was just an unbelievable heroic effort by Santana to even stay on his feet because they had him right there. And once he got open, he's tough to catch in the open field, and he ended up breaking it."