Santana Moss prefers to spend his offseasons at his home in Miami.
Moss, like many former University of Miami standouts in the NFL, feels a strong connection to his hometown.
This offseason is different, though.
Even in mid-March, he feels an obligation to be at Redskins Park in Ashburn, Va., learning the new offense and working out with teammates.
"I might stay down [in Miami] one year, I might not, but this was a year that I felt like I needed to be around with the new staff and new coaches," Moss said after wrapping up the second week of off-season workouts. "You want to learn everything.
"I don't want to be away from the learning sessions that we have as far as the receivers, picking up the plays and learning the new formations and stuff like that. I just wanted to be here just so I can get ahead on some of the stuff that I might miss out on if I wasn't here."
Moss turns 31 on June 1, and he is entering into a new chapter in his career.
He remains the Redskins' top wide receiver--as he has since he joined the team in 2005--and a threat to score every time he touches the football. Last season, he led the Redskins in receptions with 70 for 902 yards and three touchdowns.
Prior to the start of off-season workouts on March 15, Moss talked with Houston Texans wide receiver Andre Johnson about new Redskins offensive coordinator Kyle Shanahan.
Moss and Johnson were teammates at the University of Miami and remain close friends.
Shanahan coached Johnson, a four-time Pro Bowler, in Houston the last four years.
Moss said he is "thrilled" to work with Shanahan, the son of Redskins head coach Mike Shanahan.
Moss has worked in a variety of offenses, including the West Coast-based system that Kyle Shanahan employs.
"Andre said [Shanahan and his coaches] watch the game very closely and when it comes to being one of the best receivers, or being that receiver that's going to get a lot of attention, they know how to move you around and get you to the point to where you don't have to always worry about being on that island," Moss said.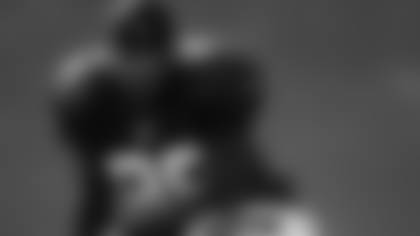 "I used to be out there sometimes just saying, 'Help.' I'd get a Cover 2 shell or something, and there was no way out of it. I'd just have to do my part, and do what was best for the team, and that was take the [defensive backs] away and hope somebody else makes a play.
"He just told me they're very creative. They're creative with some of the things that they did offensively to help him to find a way to get open and get the ball. I just look forward to seeing some of those things around here."
Moss has a new position coach this year, but it's a familiar face.
His thoughts on playing for Keenan McCardell, the 17-year NFL veteran who was his teammate in 2007?
"I think it's a plus for us as receivers to have Keenan be our coach," Moss said. "He's going to be that guy that is able to give it to us raw. He played the game, he knows how to be the best in the game, and he played the game for a long time.
"Knowing that he has seen some of the things that I can do, and some of the things that these other guys can do, he's already drilling us now telling us what we need to do better, what he wants to see from us, and that's great."