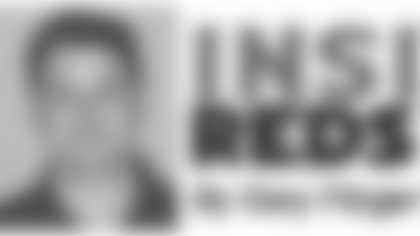 Chris Samuels has made the trip to Hawaii five times for the Pro Bowl.
He views it as a reward, for meeting expectations of a long season and performing at a high level.
Next season, the NFL has decided to host the Pro Bowl in Miami and play the game on the Sunday before Super Bowl XLIV, also in Miami.
League officials hope that this will bring more fans to the Super Bowl host city and create a greater sense of excitement for both games.
However, the change in venue is a disappointment to most Redskins, including Samuels.
The game has been held in Hawaii every year since 1979.
"I understand why the NFL is doing it," Samuels said. "I think it'll generate more money and more people will come to the game. But I don't think the Pro Bowl will be the same if it's not in Hawaii.
"It's a lovely place. It's just a great trip. I think some guys might actually turn it down if it's not in Hawaii. I think it would be a letdown for a lot of guys not being able to go."
Portis was back at the Pro Bowl this year for the first time since 2003 when he was with the Denver Broncos.
Portis grew up in Miami and, like many NFL players, makes his year-round home there.
So playing the Pro Bowl in his hometown does not have the same appeal.
"[Being in Miami], I don't think it will have the same feel," Portis told the Associated Press. "Hawaii is much better. You can go to Miami any time.
Besides, Portis added with a smile, there aren't "any leis in Miami. They don't have flower shorts to walk around in."
NFL Commissioner Roger Goodell said during Super Bowl week that he expected Hawaii would still be in the mix to host the Pro Bowl, perhaps on a rotating basis.
"The entire premise of shifting the Pro Bowl was to make our event bigger and better than it is right now," Goodell said. "We've had a great experience in Hawaii. We expect to continue to be in Hawaii. We expect it will be in the rotation.
"What we thought would be a very interesting alternative would be to play the game as part of the lead-up to the Super Bowl. That will bring more interest, clearly. It will bring more exposure for our great players, and we think be a positive."
Players on teams in the Super Bowl would not be able to play in the Pro Bowl, though.
And that's fine with Goodell.
"While we'll miss the Super Bowl guys, it really puts an emphasis on team accomplishment," Goodell said. "Make it to the Super Bowl--that's the crowning achievement."
Stephon Heyer agrees that Hawaii is the best location for the Pro Bowl, but he does see a positive in moving the game back to the U.S. mainland.
"Miami makes it accessible to more fans," he said. "It makes it a place where everyone gets a chance to enjoy it."
Rock Cartwright said he doesn't want to go to Hawaii until he makes the Pro Bowl.
Tough to do for a special teams player like Cartwright. But with the game moving, Hawaii becomes more of a dream now.
"I think guys look forward to it at the end of the season," he said. "It's a treat to go to Hawaii, and I think it should stay there."