A year in the NFL is a very long time, indeed.
In August, 2012, nose tackle Chris Neild tore his anterior cruciate ligament (ACL) in preseason action and saw a promising start to his NFL career put in jeopardy.
One year later, Neild says he feels better than ever, fully recovered from offseason surgery and ready to get back in action.
"I feel great. I'll be honest with you. I feel like I'm in really good condition," he said after Monday Night's game. "My legs are back to full strength, knee feels fine, I mean just regular wear and tear and that kind of thing.
"I don't even think about it."
He said he was uncertain whether or not he would be able to return before OTA's, but got medical clearance and hasn't looked back.
Oddly enough, the time away from the field may have helped No. 95, even if he is still knocking off the rust.
"Physically, when you work out for eight-straight months you get to strengthen muscles that you didn't have time to before and when you have a year off, that's the opportunity that you have to take advantage of," Neild explained. "Mentally, sitting back on the sidelines last year watching, getting that perspective of the game, gave me the urge to push a little harder and want to be out there.
"Obviously, I'm here now and I've just got to keep working. The only thing that reminds me of my knee injury is the knee brace that I have on."
Like Robert Griffin III and many other players recovering from ACL injuries, Neild said he intends to wear the brace through the 2013 season.
As far as he is concerned, not wearing a knee brace would feel strange.
"I wear the knee brace strictly for the mental side of things. I wore two knee braces in college when it was required, so it's not going to affect me out there.
"You never want to think about it. You never want to think about getting injured because then you will get injured. That's for anybody, that's not just for me."
And yet injury could be what gets Chris Neild back onto the field.
During Monday Night's game, starting nose tackle Barry Cofield broke his hand while chasing down Steelers quarterback Ben Roethlisberger.
Cofield and head coach Mike Shanahan told the media they had confidence that he would be able to play with a cast on his hand, but that the team would be cautious with an eye toward the regular season.
With Cofield listed as a "long shot" for the final preseason games and Chris Baker sliding to defensive end to fill in for Jarvis Jenkins, Neild remains one of two healthy nose tackles on the team.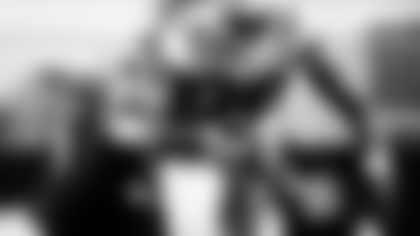 While he would never call the sitatuation fortunate, Neild said he owed it to his teammates to be ready to fill in as needed.
"You never want to see somebody get injured, especially Barry. He's a heck of a nose tackle," Neild said, shaking his head. "But, I mean, you do the math; I've got to step it up. That's what it is.
"Injuries are bound to happen. That's just part of the game. You've got to be ready to step up and you've just got to play ball.
"I've got to step it up now."
In college at West Virginia, Neild was the nose tackle for one of the best rush defenses in the country.
Since being drafted in the seventh round of the 2011 NFL Draft, Neild has worked closely with the coaching staff and Cofield to become a more complete player, honing his technique to step in on any down.
"I've always said I want to put the confidence in the coaches and my teammates that when they put me out there, that there won't be any difference in talent," he explained. "I don't want them to worry about me being out there and giving up a big run or leaving a gap open"
This next-man-up mentality is a hallmark of any great defense, and Cofield believes Neild has the tools to carry out the defensive gameplan in his absence.
"Chris just bounced back from his knee injury better than we could have hoped for," Cofield said. "We've got a lot of depth, and we've already taken some losses up front...so far, I think we've been pretty solid."
Looking ahead to the Buffalo Bills on Saturday, Neild said the defense is ready to square off against last year's No. 6 rushing offense.
Bills running backs C.J. Spiller and Fred Jackson pack a dynamic one-two punch that should provide a good litmus test for the Redskins' run defense.
"Running a 3-4 defense, we pride ourselves on stopping the run and last week we obviously didn't do that," Neild said. "I think we definitely did better this week playing against Pittsburgh who just a power running team.
"Looking ahead, we need to just keep getting better and working toward the regular season."