Lorenzo Alexander, the Redskins' very own "One Man Gang," has a new role to add to his repertoire.
Alexander is expected to play some defensive end this year, along with defensive tackle.
And don't be surprised if he lines up on the offensive side and on special teams at some point during the 2009 season.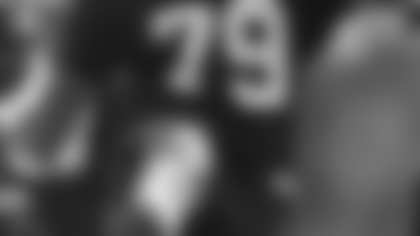 For Alexander, it's always "the more you can do."
With the departure of Demetric Evans to free agency this offseason, the Redskins were looking for a lineman versatile enough to play both defensive end and tackle.
Alexander, at 6-1 and 297 pounds, fit the bill.
He dropped weight this offseason in order to match up better against athletic offensive tackles.
"[Playing defensive end] is a lot different from playing inside," he said. "Things happen a little bit slower because you don't have two big [offensive lineman] standing right over top of you.
"So far, the transition is going well. Just watching Renaldo [Wynn] and Phillip Daniels do their thing helps. I'm trying to fit in where I can and learn from them as fast as possible."
Given his size and strength, Alexander expects to physically battle offensive tackles and try to get a strong push up-field, as opposed to serving as a speed rusher.
"Offensive tackles are a little bit more athletic and a little bit more finesse," Alexander said. "I'm trying to take that mentality of being strong. I feel I'm stronger than most defensive ends, so I'm just trying to use that to my ability to get sacks."
Alexander is focused on playing the defensive line, as well as special teams, for now.
He expects to meet with coaches later in the offseason to determine how he could be used on offense.
Last year, Alexander was used in goal line and short yardage packages on offense.
He would line up as a pass-eligible lineman to help block, although he did go out on a pass route on several occasions.
-- FLETCHER REPORTS TO OTAs
London Fletcher joined teammates at Wednesday's OTA practice after missing the Monday and Tuesday sessions.
Fletcher was in a no-nonsense mood, too. During a down time in practice, he went over to a blocking dummy by himself and took some reps.
With Fletcher on hand, LaRon Landry is the only player not in attendance at OTAs.