So much for the Redskins' quarterback intrigue heading into Thursday night's preseason finale against the Arizona Cardinals.
Turned out to be much ado about nothing.
Richard Bartel drew the start and he alternated series with John Beck.
No Donovan McNabb, who remained sidelined to rest an ankle injury.
And no Rex Grossman, McNabb's top backup.
All last week, there was confusion whether Grossman would play against the Cardinals. Head coach Mike Shanahan, offensive coordinator Kyle Shanahan and Grossman himself gave different answers on his playing status.
In the end, it was all Bartel and Beck, all game long.
The two young quarterbacks entered the game competing for the Redskins' No. 3 quarterback job.
From a statistical standpoint, Bartel turned in a strong performance against the Cardinals. He completed 12-of-14 passes for 125 yards and a touchdown.
Beck had some success as well, completing 11-of-21 passes for 132 yards. He had a red zone interception that appeared to be the result of miscommunication between him and Devin Thomas.
Despite being outperformed by Bartel on Thursday night, Beck appears to have the inside track for the Redskins' No. 3 quarterback job.
It was reported earlier this week that Beck had agreed to a contract extension, although the team has not confirmed the deal.
Beck joined the Redskins in early August as part of a trade with the Baltimore Ravens and picked up the offense quickly enough to run it in three of four preseason games.
Beck finished preseason with 20-of-39 passes for 235 yards and the one interception.
"He's getting used to the system," Mike Shanahan said. "Any time a guy comes in as late as John did, it's a growing process. It's a totally different system. It has been an ongoing challenge for him, like it would be for most quarterbacks.
"He has done a good job picking it up. Sometimes he misses a little bit with terminology, but I thought overall he did okay."
Bartel finished preseason with 15-of-19 pass completions for 169 yards and two touchdowns. He was available for just two preseason games after suffering a hamstring injury during training camp.
---
-- HENSON SHINES, THEN GETS HURT
Inside linebacker Robert Henson was among the standout players on defense in the Redskins-Cardinals preseason finale.
He led the Redskins in tackles with seven and posted a sack of quarterback Matt Leinart in the first quarter. He was also active on special teams kick coverage.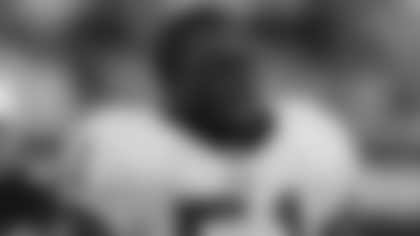 Midway through the third quarter, Henson suffered a knee injury and he did not return.
Henson was seen walking gingerly out of the locker room as he headed to the team buses outside of the stadium.
The team will update Henson's status in the coming days.
Henson has been among the Redskins' bright spots all preseason. He finished with 15 tackles, two sacks and four special teams tackles.
---
-- CAPERS ON THE MOVE
Selvish Capers is learning fast that versatility is the key to earning an NFL job.
Capers, who played right tackle at West Virginia and left tackle in Redskins training camp, saw action at left guard in Thursday's preseason game against the Arizona Cardinals.
"I'm doing whatever I can do to make sure I get a spot on this team," Capers said.
Offensive line coach Chris Foerster spent part of the week working with Capers on technique to help ease the transition. Starters Derrick Dockery and Artis Hicks also offered tips during practice.
"[Playing guard] is a whole lot easier," Capers said. "At tackle you have inside help but you don't have outside help. With guard, you can protect your area. I feel like it's more of an area-defined position."
Capers, 6-4 and 308 pounds, was the Redskins' seventh-round draft pick (231st overall) in last April's NFL Draft. He was a three-year starter at West Virginia.
---
-- BANKS HOPES FOR THE BEST
Brandon Banks, an undrafted rookie wide receiver and kick returner, is among the Redskins' roster hopefuls.
He learns his fate on Saturday when the Redskins must reduce the roster to the league-mandated 53 players.
"Hopefully I don't receive that call because I want to play for the Redskins," Banks said.
In Thursday's preseason game against the Arizona Cardinals, Banks impressed early on with a 40-yard kickoff return to give the offense great starting field position in the first quarter.
Later in the first quarter, Banks muffed a punt, though. He scrambled after the ball and pounced on it for the recovery.
On offense, Banks posted five catches for 65 yards. He had four of those catches on one drive late in the third quarter.
---
-- HAYNESWORTH GOES THE DISTANCE
Defensive lineman Albert Haynesworth played the entire game on Thursday night, lining up at both right defensive end and nose tackle.
For many, it was surprising to see Haynesworth, a 9-year veteran and two-time Pro Bowler, still on the field late in the fourth quarter.
Mike Shanahan explained the decision after the game and said Haynesworth knew he would be playing the whole game.
"We had to get him some playing time to get him in football shape," Shanahan said. "There's only one way to do it and that's to practice and play."