The competition for the Redskins' third quarterback job could come into focus in this Friday's preseason game against the New York Jets.
It's John Beck vs. Richard Bartel.
Not exactly a main event, but this is preseason after all.
The two young quarterbacks are likely to see action in the second half of the Jets game at New Meadowlands Stadium.
Donovan McNabb has been ruled out of the game with an ankle injury. Rex Grossman, McNabb's primary backup, is expected to start and could play at least the first half.
There's no guarantee that coaches will keep a third quarterback on the roster, but Beck and Bartel are going to make their case on Friday night.
Beck, acquired in a trade with the Baltimore Ravens on Aug. 2, has undergone a "crash course" in learning the Redskins' offense.
Beck, 6-2 and 215 pounds, saw action in the Redskins' preseason opener against the Buffalo Bills. He completed 2-of-7 passes for 27 yards in four second-half drives.
"I'm getting better in terms of learning the offense," he said. "In the beginning I was trying to get caught up on all the base stuff. Now I'm trying to build on that. I'm learning some things that I'll do for the first time -- it's kind of a learn-as-you-go deal.
"For me, [studying] film is really big. I watch not only my plays but everybody's plays a number of times. As important as practice is, so is every minute off the field.
"Sometimes there may be a play I run in a game that I haven't repped in practice and I don't have the experience of the OTAs, so I have to get as much experience as I can in the film room."
McNabb, Grossman and Bartel have helped get him up to speed, even if he's still behind in the intricacies of the offense.
Said Beck: "I'll run a play and I'll step back and I'll ask Rex, 'Hey, what about this?' or I'll ask Donovan, 'Hey, what about this?' Sometimes they'll say something to me, 'Hey, this goes here and you can do this.' They understand the situation I'm in. I've been here just a few weeks and I'm still in that crash course mode."
Bartel suffered a hamstring injury midway through training camp and did not play in the Bills preseason game.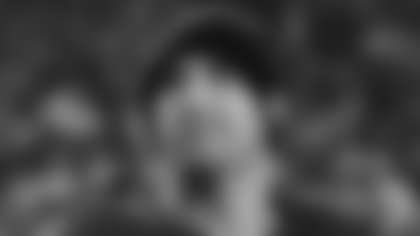 Neither Beck nor Bartel played in the Redskins' second preseason game against the Ravens.
Bartel, 6-3 and 230 pounds, has been with the Redskins since November of last year. He served as the Redskins' third quarterback for the final six regular season games.
In three years in the NFL, Bartel has had practice squad stints with the Jacksonville Jaguars, Cleveland Browns and Dallas Cowboys. He has been with six different offensive systems in the past four years and has learned from each of them.
"Some would see that as a negative, I really see it as a positive," he said. "There's a lot of experience within that time, with the patience and learning the different viewpoints of how an offense runs."
In 2008 preseason with Browns, Bartel played in three games and completed 15-of-18 passes for 177 yards. He compiled a 103.5 passer rating.
He also had a stint with the Cincinnati Reds minor league system before joining the NFL.
In a league where quarterbacks come and go, Bartel says he has developed "kind of a survivor mentality where you do whatever it takes to hang in there, win, and then continue to get better."
In Bartel's eyes, competition with Beck for the No. 3 quarterback job is a steppingstone.
"What are any of us here for if we're not competing to take the job of the guy in front of you?" Bartel said. "Whatever is realistic is what it is. To me, there is no such thing as realistic. Obviously none of us would have gotten here if reality ever hit us.
"This is something I've always dreamed of doing and I definitely don't plan on stopping just because I'm a backup. Those dreams are still realistic to me."
---
-- BROWN'S READY FOR REPS
Right tackle Jammal Brown isn't sure how long he's going to play on Friday night, but he hopes it's for more than a few series.
Brown made his Redskins debut last week in the preseason game against the New York Jets, but he only played one series.
Brown has had hip soreness this offseason and coaches remain cautious with him.
"Jammal hasn't practiced a lot, but he is starting to get into football shape," Mike Shanahan said. "We don't want to overwork him, but we want to get him enough work where he will be ready for the first game."
Said Brown: "I want to play a whole game, so that I can see how I feel after a game. But I'm going to do whatever they ask me to do."
Brown said the offensive line had "a ways to go" to develop cohesion, but that it would come on fast.
"We're still working on things, but each day we're getting better," he said. "That's the thing about the offensive line -- we practice hard and we take coaching to the field."
---
-- FIRST TEAM FOR HAYNESWORTH?
Defensive lineman Albert Haynesworth is expected to play in Friday's preseason game against the New York Jets.
He won't start in the first-team base defense, but he could see action "in certain substitution groups" with the starters, head coach Mike Shanahan said.
"Our game plan is to play [Haynesworth] in a lot of different positions," Shanahan said. "He will play end and he will play nose – more end than nose like last week."
Haynesworth has played in both of the Redskins' preseason games. He has totaled one tackle and one sack playing mostly with the second-team defense.