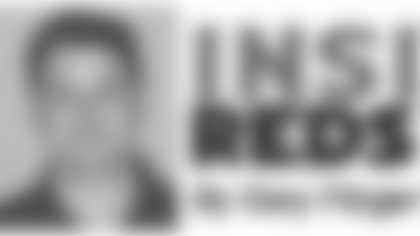 The Redskins return a talented secondary in 2009, but the unit was tested in last Friday's preseason game against the New England Patriots.
DeAngelo Hall and LaRon Landry both yielded touchdown passes to Pro Bowl wide receiver Randy Moss in the Redskins' 27-24 loss to the Patriots.
The Redskins' defense alternated between man coverage and zone. Hall was matched up against Moss most of the first half. Moss finished with six catches for 90 yards.
"No, not at all," Greg Blache said. "DeAngelo has played well for us. He has come up and tackled well. He has competed. He has shown strong leadership.
"Whenever you single things up with Randy Moss, you're going to have some issues. We got a little cocky and we [tested] him. We said, 'Let's go see if we can match up with him,' and he did what he can do to people.
"He runs and he bodies you. The quarterback got in a rhythm, threw it up, and they made plays on us. You live and you learn."
On Monday, Hall was still marveling at the rapport that Moss and Brady have together.
By all accounts, Hall has had a solid training camp and preseason.
Hall said he was disappointed in his play, though.
"I'd like to come out of the preseason with four picks and be ready for the season," Hall said. "But at the end of the day, none of this counts. I'd rather give up touchdowns now and not catch [interceptions] now than in the regular season."
Hall expects the defense to play with more cohesion once there is a game plan in place for regular season games.
"This staff does a great job of scheming things," he said. "I'm excited about implementing a game plan, especially for the Giants when that game comes [on Sept. 13]."
The Redskins re-signed Hall last February because they wanted his play-making skills in the secondary. Hall has 22 career interceptions, including three in seven games with the Redskins last year.
Said Blache of Hall: "I'm very pleased with what DeAngelo has done. He has shown me that he can make plays on the ball. And he can turn games around by making plays on the ball, not just on poorly thrown balls but also on well-thrown balls.
"That adds a dimension to the secondary that we have not had--the ability to catch the ball and create turnovers, which we need."
Meantime, Carlos Rogers, who is expected to start opposite Hall this season, continues to be slowed by a calf injury.
It is uncertain if Rogers will play in this Thursday's preseason finale against Jacksonville.
Rogers said he continues to work on his conditioning, riding a stationary bike and running on the treadmill. He expects to be ready for the regular season opener on Sept. 13.
Jim Zorn called it "very concerning" that Rogers is missing preseason games and practice reps.
"As we bring him back, I can't imagine him being lights out," Zorn said. "I'm hoping for that, but I just can't imagine it. We've got to get him back in.
"Hopefully we'll have a whole practice week for him so he can get a comfort level [before the season opener]. Then he has to go play, because his preseason is gone. He has to get up to speed as quick as he can."
Kareem Moore, another defensive back, is also sidelined due to a hamstring injury.
---
-- HAYNESWORTH 'UNLIKELY' TO PLAY vs. JAGUARS
Albert Haynesworth remained ill on Monday and he was sent home for the second day in a row.
His condition has been described by the team as a stomach ailment.
"It will be unlikely that he plays Thursday [in the preseason finale against the Jaguars]," Jim Zorn said. "He would not have played much anyway, so a series is not going to help us with him."
Haynesworth has played in two preseason games--the Steelers and Patriots contests--and recorded one tackle.
---
-- COMPETITION CONTINUES AT NO. 3 QB
Colt Brennan and Chase Daniel are both expected to play in Thursday's preseason finale vs. Jacksonville.
Brennan and Daniel are competing for the No. 3 job behind Jason Campbell and Todd Collins.
On Monday, Jim Zorn was asked if he was disappointed that Brennan, who has struggled this preseason, did not challenge for the No. 2 job with Collins.
"Early on it was [disappointing], because I thought it was going to happen in mini-camp and OTAs," Zorn replied. "I'm not disappointed with what I see in him now. I just want him to continue to rise up."