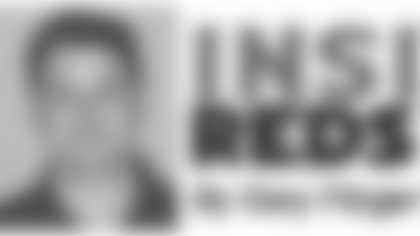 Two weeks into preseason, the Redskins have a full-blown quarterback competition on their hands.
It's for the No. 3 quarterback...and it's between Colt Brennan and Chase Daniel.
Todd Collins has nailed down the No. 2 quarterback job, Jim Zorn after Monday's practice at Redskins Park.
"We saw that Todd was not willing to bow down and give up his No. 2 spot," Zorn said. "So the competition is for the No. 3 spot, and Chase is making a statement about that."
Added Zorn: "There's a real battle going on right there" for the No. 3 quarterback job.
Daniel, an undrafted rookie pickup, had a strong showing in his preseason debut last Saturday night against the Pittsburgh Steelers. He completed 6-of-8 passes for 58 yards and threw two touchdown passes in the Redskins' 17-13 win at FedExField.
Entering preseason, Brennan was thought to be the front-runner for at least the No. 3 job.
He was shaky in the Redskins' preseason opener vs. Baltimore, completing 4-of-12 passes for 43 yards and one interception.
Against the Steelers, he completed 3-of-5 passes for 42 yards, but threw a costly interception in the red zone.
Brennan knows he needs to perform better to solidify a roster spot.
"You only get so many chances in preseason, that's why you've really got to capitalize," the 2008 sixth-round draft pick said. "I've got two more opportunities, two more preseason games, coming up. I've just got to make sure to capitalize on it."
Daniel was a prolific passer at the University of Missouri, but he went undrafted in part because of concerns about his height. He is listed at 6-0 in the Redskins' media guide.
Responds Daniel: "Everyone questions my height, but you can't question my heart, my brains, my arm or my skill. I still have a long way to go, but this is a right step in the direction I want to go."
Added Zorn: "I've never said anything about his height. I don't tell him, 'Stand taller.' He's only as high as he is. It's a God thing. What I do is tell him to play ball and tell him to play at the right level."
---
-- COMPETING AT WIDE RECEIVER
The competition for the No. 2 wide receiver job continues midway through preseason.
Devin Thomas started the first preseason game and Malcolm Kelly started the second, while Antwaan Randle El opened in the slot.
"We're looking at different combinations," Jim Zorn said.
Kelly's start was the result of Jim Zorn wanting to throw deep to him on the game's first play. Steelers' safety Troy Polamalu batted away Jason Campbell deep pass to Kelly.
Randle El continues to make the decision hard, Zorn said.
"Antwaan hasn't missed a beat, so he's in there solid," Zorn said. "He would love to be that starting flanker, but I'm also looking at the other two guys, Devin and Malcolm. They are competing hard for that position as well."
Zorn also mentioned that there are several candidates for the fifth--and possibly sixth--wide receivers on the roster. The group includes rookies Marko Mitchell and Keith Eloi, D.J. Hackett and Marques Hagans.
Zorn indicated the team may assign a wide receiver to the practice squad as well.
---
-- WILLIAMS 'NOT CONCERNED'
Mike Williams sat out practice on Monday as he continues to rest his sprained ankle. He worked with athletic trainers on the sidelines rehabbing the injury.
Williams still hopes to be available to play in this Friday's preseason game vs. New England.
He said he is "not concerned" that he is losing valuable reps as he competes for the right tackle job.
"I know what coaches want to see and I know what I want to prove," he said. "It was unfortunate I couldn't get out there against Pittsburgh, but being smart and knowning what's going on, hopefully I can get out there vs. New England."
---
-- ROGERS SITS OUT PRACTICE
Carlos Rogers did not practice on Monday due to swelling in his calf.
The fifth-year cornerback has been slowed by a sore calf through most of training camp.
"It got sore--it's not a pull--so we just held him back," Jim Zorn said. "I want him to be able to recover and feel like he can go in there and push off it."
Rogers said he did not expect to practice on Tuesday. He said he hopes to be available for Friday's game vs. New England.