Jason Campbell had a career day on Sunday against the New Orleans Saints.
It may have also been his most heart-wrenching defeat.
Campbell completed 30-of-42 passes for a career-high 367 yards, three touchdowns and one interception, but the Redskins surrendered a 10-point fourth quarter lead and lost to the Saints 33-30 in overtime.
It was the third straight game that the Redskins had blown a fourth quarter lead.
"This one stung the most," Campbell said.
Apart from the final score, there's no denying that Campbell played at a high level on Sunday.
"Jason was very sharp," head coach Jim Zorn said. "I thought he really extended himself down the field with his vision. He saw receivers that were wide open.
"In the past, he has missed a couple of those, but he was right on it. We took some shots and he made some big throws."
Campbell was particularly adept on third downs. He completed 6-of-8 passes for 125 yards and two touchdowns. All six of his completions resulted in a first down or a touchdown.
"A lot of it was receivers being in the right place at the right time," Campbell said. "That offensive line did a great job of picking up their stunts and blitzes, giving me an opportunity to see downfield. It was totally a group effort."
Campbell's three touchdown passes--which tied a career high--put him at 50 for his career. He surpassed Gus Frerotte for seventh all-time in Redskins history.
Campbell also moved past Frerotte into seventh all-time in franchise history with 9,966 career passing yards.
He has played so well in recent weeks that it's easy to forget that he was benched by Zorn at halftime in Week 6.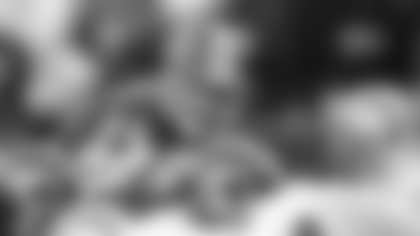 In his last three games, Campbell has completed 76-of-116 passes--a 65.5 completion percentage--for 854 yards, five touchdowns and four interceptions.
For the season, he has completed 65.9 percent of his passes for 2,724 yards, 15 touchdowns and 12 interceptions.
He is ranked 15th in the NFL in passer rating at 87.7.
---
-- KICKERS COMING IN
The Redskins are expected to work out free agent kickers this week in order to find an alternative to Shaun Suisham, if necessary.
Suisham missed a chip shot 23-yard field goal in Sunday's game vs. New Orleans, a critical play that allowed the Saints to come back and beat the Redskins 33-30 in overtime.
Asked if the team was considering a new kicker, Zorn replied: "That's a possibility. We work out a lot of guys during the week, and you can find kickers in there just based on some of the performance.
"That doesn't mean [Suisham] is cleaning out his locker, either. We lost this game, unfortunately, as a team."
Suisham has converted 18-of-21 field goals this season, but two of his misses came in the fourth quarter in situations that would have sealed wins for the Redskins.
---
-- GANTHER TO START?
The Redskins are expected to continue using a committee approach when it comes to playing time for running backs Rock Cartwright, Quinton Ganther and Marcus Mason backing up.
On Monday, Jim Zorn indicated that Ganther could earn a start instead of Cartwright.
Ganther has flashed with great cut-back ability the last two games. He has 13 carries for 78 yards, a lofty 6.0 yards-per-carry average.
"I like the way all the running backs are giving effort," Zorn said. "It's one of those deals by committee. We're doing a pretty good job. Each guy in his own right is going as hard as he can."
---
-- SELLERS UNCERTAIN FOR RAIDERS GAME
Mike Sellers was released from the hospital on Monday morning after undergoing evaluation of a thigh bruise, Jim Zorn said.
Doctors wanted to minimize the chances that the injury would develop into compartmental syndrome, which hindered Jason Taylor last year when he played for the Redskins.
Sellers' status for this Sunday's game in Oakland is in doubt.
"I don't know if he is going to make it back in time for this game or not, so that is something that we watch," Zorn said.
---
-- HAYNESWORTH RE-AGGRAVATES ANKLE
Albert Haynesworth re-injured his ankle in the fourth quarter of Sunday's game vs. New Orleans.
His availability for practice this week is uncertain.
Haynesworth has missed two games due to the injury. He was able to return against the Saints and post two tackles and a batted pass in a strong effort.
"Albert's ankle flared up again during the game," Zorn said. "We held him out towards the end of the game because he was having a hard time with it. We'll wait to see what happens with him and his ankle this week."