Chris Cooley suffered a fracture in his ankle in Monday night's game against Philadelphia.
The Pro Bowl tight end is expected to miss significant time, Jim Zorn said after the game.
"He has a break in his ankle on the inner side of his tibia," Zorn said. "We're quite certain it's broken or fractured in some way, and we'll make a better diagnosis [on Monday]. He will be out for a while until he can heal up. I don't know if it will be a season-ending injury yet."
Cooley suffered the injury while running a route downfield in the second quarter.
He got up and limped off the field. Later, he was carted into the tunnel.
Cooley, who entered the game as the Redskins' leading receiver, finished the game with two catches for 21 yards.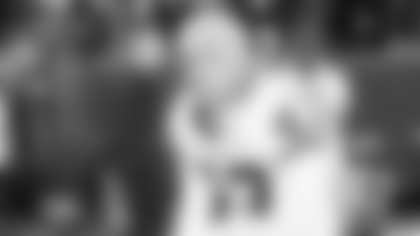 "It's definitely a big loss," Jason Campbell said. "We're going to miss his presence a lot. Chris has such a vast knowledge of the game, and he knows, based on certain coverage, when to break off a route, or take it up the field, or find a soft spot in the zone."
Fred Davis stepped up in Cooley's place and had his best game as a pro. He caught eight passes for 78 yards and one touchdown in the game.
Cooley's injury was one of several suffered by both teams on Monday night.
Cornelius Griffin missed a series to rest an elbow injury, but returned to action.
Byron Westbrook and H.B. Blades left the game with knee injuries.
For the Eagles, running back Brian Westbrook suffered a concussion after his head collided with London Fletcher's knee as he was tackled. He was sidelined the rest of the game.
---
-- PORTIS ACTIVE, SMITH RETURNS
Perhaps no Redskins player is looking forward to the bye next week more than Clinton Portis.
Clinton Portis has struggled with foot injuries this season, but each week he has been able to suit up. For Monday night's game against Philadelphia, he was listed as questionable with an ankle injury.
Portis put the injuries aside once again and played against the Eagles. He logged 14 carries for 43 yards.
Another player returning to action for the Redskins was Hunter Smith.
Smith missed the last two games due to a groin injury. Last Friday, he punted for the first time since the injury and felt no ill effects.
In Sunday's game, Smith had seven punts for a 43.1-yard average.
In fact, Smith was jumping up and down on the practice fields marveling at how well his injury healed.
"It was awesome," Zorn said. "He leaped up in the air to chest-bump our trainer, and I just about lost my breath. I'm going, 'What are you doing'' He felt real good."
The Redskins' complete list of inactives was as follows: Kevin Barnes, Quinton Ganther, Robert Henson, Chris Samuels, Chad Rinehart, Marko Mitchell, Anthony Montgomery and Renaldo Wynn.
---
-- PRIME TIME EXCITEMENT
Playing under the lights, in front of a national audience--it never gets old for most players.
"It just kind of reminds me of high school almost because there is so much anticipation for the game," Doughty said, "Obviously, this is a little bit bigger than high school. But there's so much excitement, everyone is going to be watching--it makes it a lot of fun."
Other players, particularly those on offense, said the extra day of preparation helps given that offensive consultant Sherman Lewis is taking over play calling.
Secondary-cornerbacks coach Jerry Gray views Monday night's prime time game as an opportunity to put aside all of the controversy surrounding the Redskins and show a different side of the team.
"I think Monday Night Football is going to be big for our guys because now you have to go out and everybody is going to be looking and say, 'Okay, what are the Redskins really like? What are they really about? We've heard them, now let's see what they can do.' The thing you want to do is show your best."