The Redskins continue to find inventive ways to end the trend of dropped interceptions.
After Thursday's practice at Redskins Park, the defensive backs gathered at midfield to catch a series of rapid-fire passes from quarterbacks.
The defensive backs had to stand with their backs to the quarterback and then abruptly turn around to catch the ball from 10 yards away.
Defenders had to adjust quickly as each ball came their way at varying speed. Jason Campbell's passes were strong and fast, while Todd Collins's throws had more touch.
In the Redskins' 16-7 loss to the New York Giants on Sept. 4, defensive players had at least three chances to pick off Eli Manning passes. Each time, the ball slipped through their fingers.
Dropped interceptions have plagued the Redskins--and particularly Carlos Rogers--in recent years.
Turnovers can be game-changing plays and the Redskins need to grab these opportunities when they come their way.
"If we don't, then we will be flirting with disaster," defensive coordinator Greg Blache said. "It's rare when quality quarterbacks give you that opportunity. When you pass them up, the football gods go against you.
"If they want to keep the football gods happy--and keep the coaches happy, too--then they better catch those balls."
So how did the defenders do in the drill?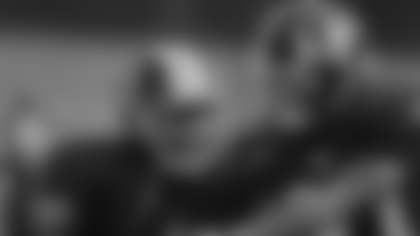 For Shawn Springs, Rogers, LaRon Landry and Leigh Torrence, it was no problem.
But Fred Smoot dropped three--that's right, three--balls.
Smoot took the ribbing from his fellow cornerbacks afterwards. Visibly frustrated, he went to the back of the line to do the drill again.
Second time around, Smoot caught every ball.
Ironically enough, Smoot was the only Redskin to record an interception in the Redskins-Giants game.
"It was interesting to see how they competed with each other," head coach Jim Zorn said. "They didn't want to drop anything in front of their peers."
He added: "I think it's a pretty realistic drill. When they turn their backs, and then have to turn around and catch the ball when it's right on you, those are the realistic things that happen to you."
Regarding Smoot, Zorn said: "He loves to win and he gets mad. But he didn't walk away. He came back and caught every one."
WASHINGTON'S STATUS UNCERTAIN
Marcus Washington sat out practice for the second day in a row on Thursday due to a hamstring injury. His status for this Sunday's game against the New Orleans Saints is uncertain.
Jim Zorn indicated that Washington's availability could be a game time decision.
"He's working his way back," Zorn said. "I'm hoping he plays, so we'll see. I suspect he's going to be there, but it's going to be wait-and-see up until the end."
Washington missed four games last season due to a hamstring injury.
If he is unable to play against the Saints, then Alfred Fincher or H.B. Blades could draw the start.
Khary Campbell has a thigh injury and his availability for Sunday's game is also uncertain.
"I'm expecting Khary to step up, but it's all going to be about his [thigh] and whether he can play or not," Zorn said. "I'm always the ultimate optimist about our guys, I really am."
Zorn said there were no immediate plans to call up rookie linebacker Curtis Gatewood from the practice squad.
He signed with the Redskins as an unrestricted free agent in 2005 and spent two injury plagued seasons in Washington.
In 14 games, Patten caught 23 passes for 242 yards with the Redskins.
Patten, a 12-year NFL veteran who won three Super Bowl titles with the New England Patriots from 2001-04, moved on to New Orleans and has re-emerged as a force in the Saints' offense.
He caught 54 passes for792 yards and three touchdowns for the Saints last year.
"He has become a home run guy for them," Greg Blache said. "He has great speed and the knee injury that was bothering him here is well. He is playing with confidence and is one of the top deep threats that they have. He has resurrected his career."
With Marques Colston sidelined with a hand injury, Patten could get extended playing time on Sunday.
Chris Cooley was limited in Thursday's practice as he continues to work through soreness in his quad.
Cooley has said he expects to play against the Saints this Sunday.
"We're just taking a precautions with him as far as his quad irritation goes," Jim Zorn said. "I suspect he'll be fine."
Ladell Betts missed Thursday's practice due to a death in the family. He traveled home and was expected to return to Redskins Park for Friday's session.