Santana Moss could only marvel at the Redskins' defense.
"Ferocious--especially the defensive line," Moss said after Sunday morning's practice.
In a two-minute drill during practice, Moss would get off quick on his pass route, only to turn around and see the quarterback surrounded by defenders.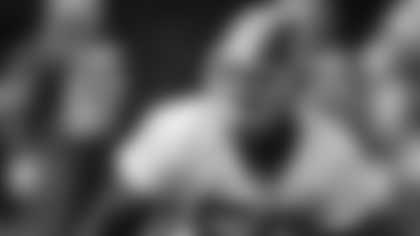 Here's the question making the rounds at Redskins Park: Is pass protection a problem, or is the defense just that good?
Head coach Jim Zorn remained optimistic about his offense, saying that coaches are installing new packages and the unit is working on new concepts.
"You put a play in, you try to take a couple reps, and then you go out and run it, and then you what the problems are," Zorn said. "You look at it on video and say, 'This [wide receiver] split is too wide. You didn't drive him off enough.' There's a work in progress there."
Zorn acknowledged, though, that going up against the Redskins' defense is a challenge.
This is a unit that finished fourth overall last year and added All-Pro defensive tackle Albert Haynesworth and a promising rookie linebacker/defensive end in Brian Orakpo.
"The defensive line alone--I just asked the coaches, 'How are we going to deal with these guys?" Zorn said.
More from Zorn on the defensive line: "We're going to get the ball back more [on turnovers], I can tell you that right now. They're very good. They're teaching our [offensive] line what it is to have to react, have great position and then stop the momentum. We're struggling with those things."
On Sunday morning, the team held its second practice in full pads amid wet, soggy conditions. The offense may have been hampered by the weather, Phillip Daniels said.
"Guys are trying to block and it's wet out there," Daniels said. "They don't know where we're going. We know where we're going. Of course, we use that to our advantage. The defense is ahead, but they're going to catch up."
Jason Campbell said competing against a great defense can only help the offense get better.
Problem is, the offense won't know if it's getting better until the Redskins compete against another team. The Redskins' first preseason opponent is the Baltimore Ravens, at M&T Bank Stadium on Aug. 13.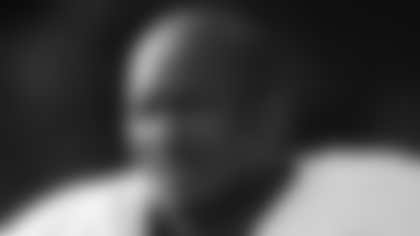 "They're here to help us get better, and we're trying to help them get better," Campbell said. "It gives us an opportunity to see things that we don't see. Our defense is one of the best, so it's great work for us."
Added Fred Davis: "It's good to go against a great defense. Makes it fun and competitive. You want to prove that you can be better than them, or prove that you can win on a block or win a route."
-- INJURIES: ROGERS, WILLIAMS, MONTGOMERY
Carlos Rogers has a mild calf injury, but he was able to participate in some drills on Sunday morning. He was held out of 7-on-7 and 11-on-11 work, though.
Rogers also sat out the Sunday afternoon session.
Rogers said that the calf is "just a little bit tight."
Zorn was asked if it was worrisome to have Rogers miss practice time.
Replied Zorn: "Every drill is important and every drill is valuable, but I'm not worried about Carlos. I'm concerned when any player loses an opportunity to get better. And we need to get him into the flow of practice and the flow of preparation.
"But we have to deal with the reality of it. A calf injury can be a little bit harder to judge when a guy can come back from it."
Anthony Montgomery sat out the Sunday afternoon practice due to a sore knee. The injury is not considered serious.
Montgomery joined Albert Haynesworth and Cornelius Griffin on the sidelines. Haynesworth and Griffin were given the second practice off to rest.
And Roydell Williams injured his finger during Sunday morning's practice and he was scheduled for X-rays.
"A ball hit his finger and we have to get it X-rayed to see if there's any damage in there," Zorn said. "He said it was hurting real bad."
-- QUARTERBACK BARRAGE
Sunday morning, the quarterbacks gathered midfield around Jim Zorn. It was time for one of Zorn's wacky QB drills.
As the quarterback dropped back to pass, Zorn and others would hurl a series of pads at him.
One time, Jason Campbell was tripped up as pads were tossed at his feet. At the last minute, another pad hit him in the back, and Campbell fell to the ground.
Todd Collins had his footwork impacted as he dropped back to pass. He stumbled, and his pass was off the mark.
Colt Brennan dropped back and did not have his mechanics interrupted at all by the barrage of pads. He maintained fluidity and completed his throw.
Jim Zorn was among those players who threw pads at the quarterbacks during the drill. One reporter suggested that Zorn looked a little too excited in the drill.
"I enjoy it every time I get to take a shot at those QBs," Zorn said, smiling. "Now we had a couple head shots, we want to stay away from that. It was fun. It was the first time that all of the guys had done that drill this year.
"I just want to give those guys a sense of the pocket collapsing or guys grabbing at them as they're in the pocket."
-- HAGANS IMPRESSES
On Sunday, Jim Zorn was asked about the development of second-year wide receiver Marques Hagans.
Zorn replied: "Yeah, he's showing up, isn't he?"
Hagans, a fifth-round draft pick by the St. Louis Rams in 2006, has had brief NFL stints with the Rams and Kansas City Chiefs. He has nine career catches for 108 yards.
At the University of Virginia, Hagans played quarterback, wide receiver, running back and even cornerback.
Based on Zorn's comments, Hagans could emerge as a frontrunner for the fifth wide receiver job, especially since Roydell Williams suffered a finger injury on Sunday.
"The thing Marques needs to do is just gain knowledge," Zorn said. "He ran a wrong route [Sunday] because he had never run it before. It was a clearing route and he took it too far over the middle.
"He really does a nice job running with the ball after the catch. He has a good, quick move. We're going to give him a shot in preseason games."