On July 19, Demetric Evans was settling in as the primary backup to his close friend Phillip Daniels.
One day later, he had been elevated to potential starter after Daniels went down with a season-ending knee injury.
Hours pass, and Evans was once again a backup, this time to newcomer Jason Taylor.
Through all the uncertainty and wild turns, Evans still might find himself in the starting lineup when the Redskins kick off the NFL season on Thursday night against the New York Giants.
Taylor has been slowed by a sprained knee the last two weeks. He worked with athletic trainers on Monday morning, but otherwise he sat out practice for the second day in a row.
"Jason came out and had a really good workout," head coach Jim Zorn said. "He is getting better. He is improving--and yet, he's not improving enough to really do anything full speed yet."
Evans had a solid preseason, giving the coaching staff confidence that he can fill the void if Taylor cannot play. Erasmus James and Chris Wilson may also rotate in at defensive end through the course of the game.
Evans is taking his new opportunity in stride.
The 7-year vet has played in 80 games with 12 starts in his career, recording 160 tackles and 9.5 sacks.
"You're only as good as the opportunity before you," he said. "I go in every week preparing like I'm a starter. I'm always prepared to go in and rotate and play a lot. This week is no different."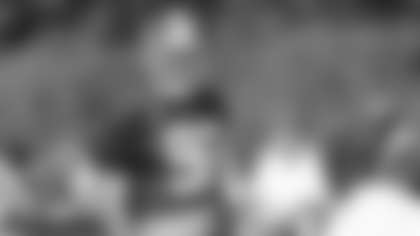 Evans joined Daniels in a power-lifting competition during the offseason.
Defensive coordinator Greg Blache has noticed a difference.
"He has gotten stronger," Blache said. "His body core is stronger from doing power-lifting this offseason. He is more powerful. If he is stronger or not, he believes he's stronger, and that makes all the difference in the world, because the mind controls everything.
"I have never had a problem playing Demetric Evans anytime, anywhere. He is what you call a true pro. He's a guy I trust. He has it all together as a person and a player."
---
-- REDSKINS ROUND OUT PRACTICE SQUAD
The Redskins signed wide receiver Devin Aromashodu to the practice squad on Monday, the team announced.
Aromashodu, 6-2 and 200 pounds, spent training camp with the Indianapolis Colts before being released on Saturday.
Aromashodu played in the Colts' final six regular season games last season, including one start. He logged seven catches for 96 yards.
The former Auburn standout was a teammate of Jason Campbell and Carlos Rogers from 2003-05.
---
-- EYE ON HURRICANE GUSTAV
The Redskins have several coaches and players who grew up in Louisiana or have ties to the area and they are keeping close tabs on the region as Hurricane Gustav passes through.
"It has been on my mind," said Greg Blache, who hails from New Orleans and still has family in the region. "You hope no one gets hit, but selfishly you hope your family is spared."
LaRon Landry's family, from Ama, La., left Louisiana and was staying at his home in Virginia.
It was three years ago this week that Hurricane Katrina caused devastation in the gulf coast region along Mississippi and Louisiana.
---
-- GOLSTON AND MONTGOMERY
Kedric Golston has moved ahead of Anthony Montgomery on the Redskins' depth chart that was released to the media this week.
Greg Blache downplayed the significance of it on Monday, saying that they would continue to compete for playing time.
"I think it's a week to week deal," Blache said. "It's even a series to series deal. We feel like we have three starters. Competition can be the best thing in the world."
---
-- LANDRY ON TRACK
Despite missing all of preseason due to a hamstring injury, LaRon Landry is expected to start for the Redskins on Thursday night.
"I feel great," Landry said before Monday's practice. "Hopefully I can come out there and make up for what I've missed in preseason."
Added Greg Blache: "LaRon is ready to roll on Thursday night. He adds a great deal to our defense and personally I'm excited to see him get out there."