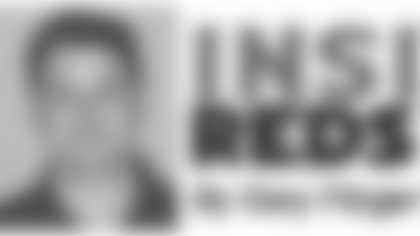 For two weeks, Anthony Alridge watched his Redskins teammates practice sitting on a bench behind the practice facility.
Athletic trainers would not even let him stand on the sidelines because they wanted his sprained toe to heal with rest.
For a running back, sitting is the cruelest fate.
"It was hard," Alridge admitted. "The worst part about it was watching your teammates out there working hard. You want to get out there and you're trying to get evaluated and you're trying to let the coaches see what you can do. And you want to let your teammates know, 'You can trust me, this is what I can do.'
Alridge finally returned to action in last Friday's preseason game against the New England Patriots at FedExField.
He showed the same flash-and-dash that impressed coaches and teammates in the early days of training camp, before the injury.
Alridge rushed for a team-high 49 yards on nine carries--an impressive 5.4-yard average. He had runs of 12, 9 and 15 yards in the game.
"I saw that explosiveness, that real quickness to the edge, that quickness through a hole, and then acceleration," Jim Zorn said. "I also thought he had pretty good vision. Once he got through, he was feeling the soft spots very well and trying to get to them as quick as he could."
Alridge entered the game feeling like he needed to stand out and remind coaches of his game-breaking speed.
With Clinton Portis, Ladell Betts and Rock Cartwright seemingly entrenched at running back, Alridge remains a roster long-shot.
"Just to show them I have a burst," he said. "Being out two preseason games, the other running backs got ahead of me. I have to make up ground real quick. That's the nickname Fred Smoot gave me--'Quick'--and that's a good thing, because I have to catch up quick."
Alridge joined the Redskins last offseason after he was released by the Denver Broncos. As an undrafted rookie out of Houston, Alridge spent the 2008 season on injured reserve with a foot injury.
Former Broncos head coach Mike Shanahan recommended Alridge to Redskins personnel officials.
It is his speed that has the Redskins taking notice.
Portis said he was talking with Betts and Cartwright about what attributes they liked in backups Alridge and Dominique Dorsey, another roster hopeful.
"The question asked was, 'Would you take the quickness of Dorsey or the speed of Anthony?'" Portis said. "Everyone said the speed of Anthony."
Alridge has displayed impressive ability to cut past tacklers on runs.
The Redskins block from tackle to tackle, so there are always cut-back lanes in the blocking scheme.
"A lot of times, defenses try to over-pursue me because they know I'm fast," he said. "When they over-run the ball, that's when I can cut back inside. I try to use my speed to my advantage, but I also try to be patient so that I can see the hole and see where I can cut."
---
-- FLETCHER TO SIT OUT JAGUARS GAME
London Fletcher plans to undergo a minor medical procedure on his foot this week.
As a result, Fletcher is not going to play in the Jaguars preseason game, Jim Zorn said.
"It's no emergency or anything like that," Zorn said. "He wasn't going to play anyway. He'll be on the trip with us. He's just not going to play."
Fletcher had a similar procedure before the 2008 regular season opener, Zorn said.
Fletcher joins Albert Haynesworth and Carlos Rogers as defensive starters not expected to play against Jacksonville.
Haynesworth missed practice this week due to a stomach illness. He will not travel with the team to Jacksonville.
Rogers also missed practice this week to rest a calf injury. He will travel with the team, however.
Kareem Moore is also unlikely to play as he returns from a hamstring injury. His availability is expected to be a game time decision.
---
-- THOMAS COULD SIT, TOO
Jim Zorn wants to rest Randy Thomas for Thursday's preseason game.
The team has been cautious with Thomas since he is returning from off-season neck and knee surgeries.
Thomas practiced on Tuesday and was lobbying to play against the Jaguars.
"He is so stubborn," Zorn said.
Chad Rinehart would likely start in place of Thomas.