D.J. Hackett doesn't need anyone to tell him where he stands with the Redskins--least of all head coach Jim Zorn.
The sixth-year pro knows what he has to do.
"I don't look at it as I have to prove anything, I just come out each time and do my job," Hackett said.
Earning a roster spot? That will take care of itself, he said.
Hackett signed with the Redskins on Aug. 5 and joined a competition for a backup job.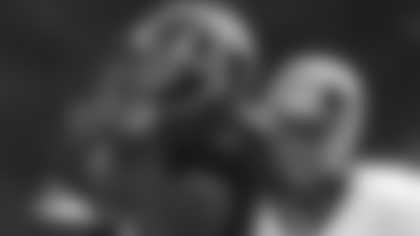 He impressed in Saturday's scrimmage, pulling in two receptions.
From 2004-07, Hackett played for the Seattle Seahawks at the same time Zorn was the quarterbacks coach there.
So Hackett, 6-2 and 208 pounds, has some familiarity with Zorn's version of the West Coast offense.
"Most of it is the same, but the depth of the routes and the splits are different," he said.
Hackett has 118 career receptions for 1,575 yards and nine touchdowns. His best season was 2006 when he registered 45 receptions for 610 yards and four touchdowns.
"What I like about D.J. is that he is kind of deceptive," Zorn said. "People think he is not running fast, and then all of a sudden he is getting behind people. He has deceptive speed and he has good hands. He knows our system."
With Santana Moss, Antwaan Randle El, Devin Thomas and Malcolm Kelly assured of roster spots, Hackett is competing to be the fifth wide receiver.
If Thomas and Kelly cannot stay healthy--they continue to be slowed by nagging hamstring injuries--then Hackett could serve a valuable role for the Redskins' offense.
Zorn would prefer tthat he fifth wide receiver play special teams, though.
"Right now, D.J. is not going to be a core special teams player, but that does not mean we cannot work him in," Zorn said.
Even if the Redskins don't use Hackett on special teams, he still has a good chance to earn a roster spot.
"If he excels at the wide receiver position, I cannot give that up," Zorn said.
---
-- MOSS, THOMAS SIT OUT PRACTICE
Wide receivers Santana Moss and Devin Thomas sat out practice on Monday as they continue to return from hamstring injuries.
Moss and Thomas worked with physical therapist Larry Hess on the sidelines during practice.
"The nicks we have are with some key guys--I am talking about Devin and Santana," Jim Zorn said. "I do not worry about Santana. He will be out there when he can.
"They want to make sure they are right and we have to be smart in getting them back. They are working and they are close, but they are not quite up to speed yet."
Offensive lineman Jeremy Bridges (sprained ankle) and running back Anthony Alridge (sprained toe) also sat out practice on Monday.
---
-- SAMUELS vs. HAYNESWORTH
Two Pro Bowlers in left tackle Chris Samuels and defensive lineman Albert Haynesworth went up against each other on consecutive plays during Monday morning's practice.
"It was two big men colliding," Jim Zorn said. "It was like two freight trains coming together."
Haynesworth has been lining up at defensive end in some packages.
Call it a draw, although Haynesworth disagreed.
"I think both times I was right there by the quarterback," he said.
---
-- MONTGOMERY MAKES A MARK
One of the surprises of training camp is offensive lineman Will Montgomery, who has played well as a backup guard and center.
Montgomery, a third-year pro who originally joined the Redskins last December, has versatility that should benefit him when it comes time for roster cuts.
"He is the fit at center, along with [undrafted rookie] Edwin Williams," Jim Zorn said. "He has done a nice job at both guard and center. He has shown some leadership and he has shown he knows what he's doing.
"I am anxious to watch him improve through the presesason."