Early Monday afternoon, there was news that the Philadelphia Eagles lost middle linebacker Stewart Bradley due to a torn ACL.
In Washington, D.C., there was news that Albert Haynesworth's knee was sore, forcing him to sit out Monday afternoon's practice.
Haynesworth's knee was under the media microscope, even though all the parties involved insisted it was a minor issue--certainly not on the scale of Bradley's season-ending injury.
"We're just trying to keep his knee, which is sore from all of the work we've been doing, so that we don't have to shut him down for more than a day or two," head coach Jim Zorn said. "I'm absolutely pleased with where he's at right now."
Is it something to be concerned about?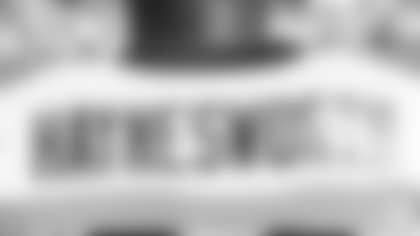 "No," Zorn said. "Not at all."
During the weekend, Haynesworth had a Synvisc injection to help alleviate swelling and protect cartilage.
"[The injection] is normal," Haynesworth said. "I had the injection last year, too. I'm all right."
He added: "If I had to play a game today, I could play."
Haynesworth said the soreness was not related to the knee injury that sidelined him for two games late in the 2008 season.
He joked: "Maybe I should just lose this leg--I would be better off."
Durability has been a concern for Haynesworth through his NFL career. He has not played 16 games in a season since 2002, his rookie year--although he has averaged playing in 13 games per season.
Late last season, Haynesworth was slowed by a knee injury and missed two games.
"[Durability] is a concern, but I wouldn't single him out," Zorn said. "This is a violent game. You just never know. What I like about a football player is that he goes hard until he can't go hard any more. That's what we expect and that's what a ball player expects from himself.
"I fully expect him to go as much as he can. Now he's not going to play 70 plays per game. He's going to play a percentage. Some of that has to do with how he feels and the rotation we have [at defensive tackle]. He is 350 pounds and to go hard for 70 plays is very difficult. So the rotation is what we're looking for."
-- ROGERS' INJURY UPDATE
Carlos Rogers continues to be slowed by a calf injury. He sat out Monday's practice and said afterwards he was unsure when he would return to action.
Rogers said he continues to feel some soreness and tightness in his calf, but it's improving.
"I'd rather take a few days and make sure it heals, rather than be out for weeks like Shawn [Springs] was last year," Rogers said.
Springs, who plays for the New England Patriots now, missed seven games last year with the Redskins after suffering a calf injury prior to Week 1.
"I don't want that to happen to me, so I want to make sure I get these treatments and make it's right," he said.
-- ZORN ON RINEHART
Second-year offensive lineman Chad Rinehart saw extended reps during Monday's practice. He responded by teaming with Stephon Heyer to open holes for Clinton Portis and Ladell Betts.
Rinehart saw action with the first team to spell Randy Thomas during practice.
"We want to watch Randy Thomas and make sure he does not get overworked or sore," Jim Zorn said. "He kind of took a shot a couple days ago where his elbow hyper-flexed. He's not taking any time off, so we have to force him to watch a little bit.
"Chad is coming on. We want mix guys in with the starting group so we can find that right formula."
-- SURGERY FOR WILLIAMS
Wide receiver Roydell Williams suffered a fractured little finger during a Sunday practice. He underwent surgery on the finger on Monday.
It is unknown how much time Williams is expected to miss due to the injury.
"They had to put a plate in there," Jim Zorn said. "It was fractured enough to have to put in a plate. We'll see what the weeks are until we can get him back."
The injury could impact Williams' attempts to earn a roster spot. He is one of several candidates competing to be the fifth wide receiver on the roster.
-- UPDATE ON ANOTHER WILLIAMS
Rookie fullback Eddie Williams, the Redskins' seventh-round draft pick last April, returned to practice on Monday after missing time due to a hamstring injury.
"Not too bad," he replied. "It was a shorter practice and we didn't have pads on. I was just getting back out there and moving around a little bit. Coaches have been very accommodating and helping me through some things I don't know. So it went pretty smooth."
Williams is also working his way back from a knee ligament injury suffered last year at Idaho. He missed the Redskins' off-season mini-camp and OTAs as he rehabbed the injury.