Stephon Heyer was back on the practice fields on Thursday, participating on a limited basis.
He has missed practice time this week due to a sore knee.
"It's day to day, and I'm working myself back in," he said. "I'm trying to do more and more every day to make sure I have a feel for what's going on."
Added Jim Zorn: "It looks like Stephon is going to be okay in the next couple of days."
Heyer is competing for the right tackle job.
Joe Bugel praised Heyer's skills at run blocking, saying he has improved in that area of his game.
"He has always been a decent pass blocker because of his long arms," Bugel said. "As a rookie, you're learning. As a second-year guy, you're learning. By your third year, you better play--or else we have the wrong guy. His third year, he is ready to start now."
With Mike Williams working his way back into playing condition, Jeremy Bridges has seen the bulk of reps at right tackle this week.
-- MOSS, THOMAS MISS A PRACTICE
Toward the end of a rainy Thursday morning's practice, Santana Moss appeared to tweak his hamstring as he slipped while running a pass route.
Moss sat out the Thursday afternoon practice.
He said afterwards that he did not think the injury was serious, but otherwise he would not comment.
"I think everything is okay," Jim Zorn said. "He felt a little jerk in his hamstring…It was raining, he slipped, got knocked down. We're just being cautious with it."
Devin Thomas also felt some tightness in his hamstring late in Thursday morning's practice, so he was held out of the afternoon session.
"It's a little knot in [Thomas's] hamstring," Zorn said. "It's not a pull, it's just sore. Based on what happened last year [with his hamstring], he's a little nervous to work through it."
-- BATTLING THROUGH INJURIES
At some point, Thomas and Kelly are going to have to step it up a notch and learn what it takes to stay on the field, Jim Zorn said after the morning practice.
"It's a learning situation for these guys when they're feeling pain," Zorn said. "They have to get to know the difference between injury and just being sore. That's something they're working on and we talk about that a lot.
"You have to listen to your athletic trainers and you have to listen to your own body because they speak to sort of verbally and non-verbally. And you just have to deal with it.
"That's what a lot of these guys are going through right now--how hard can they push to get back and not re-injure what they have got going."
-- ZORN ON DOUGHTY
Reed Doughty logged his third interception of training camp on Thursday morning, getting in position to pick off a Jason Campbell pass.
Doughty, who is coming off a back injury that sidelined him most of last season, earned praise from Jim Zorn.
"He has been impressive this training camp," Zorn said. "What he's doing around the line of scrimmage is great, too. His body feels better. He has done a tremendous job getting back after his surgery and he is working hard.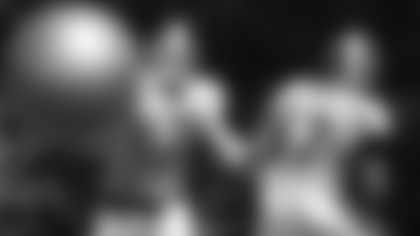 "I see him being a real part of our special teams and I think he's going to be in a supportive role [on defense], but he's going to work his way onto the field. I have confidence in him when he's out there, no question."
-- QB DODGE BALL
Time for another wacky Jim Zorn quarterback drill.
During practice, oversized pilates balls were brought over and Redskins quarterbacks--plus Zorn--took turns throwing the balls at each other, testing mobility and pocket awareness.
Jason Campbell has mastered this drill after two training camps and Todd Collins took a few hits. Colt Brennan fared well, except one that hit him in the helmet.
Said Collins: "I think we've all improved at that drill. Last year, I was getting beaned all the time. This year I've learned a little bit and I'm anticipating the throws better."