One year ago, Stephon Heyer was a little-known undrafted rookie and roster hopeful. Now it seems a given that Heyer will be a part of the Redskins' 2008 offensive line, at least as a backup.
Forced into action last year due to injuries, Heyer was solid in a late-season audition. He started at right tackle in the last five games of the regular season, and also started the Redskins' playoff game at Seattle.
Still, Heyer is regarded as a player who needs more seasoning.
This week, a reporter asked Jim Zorn about Heyer helping some of the rookies despite being a young player himself.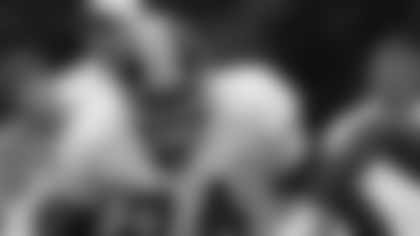 Stephon Heyer (Don Wright Photo)
Zorn had a curious look on his face.
"Who's asking him for advice?" Zorn said. "That's the guy I'd like to talk to."
Added Zorn: "I think Stephon is a great young player. He's still in that potential stage. If I was the person asking him for advice, I think I'd tell him, 'Go see Joe Bugel.'
"It's not that Stephon can't offer help, but [Heyer] should be spitting out what Joe has offered him to another guy."
For his part, Heyer said he feels comfortable waiting in the wings and learning behind veterans like Chris Samuels, Jon Jansen and Randy Thomas.
Heyer said the familiarity and friendship he has with his fellow linemen has helped him fit in among a veteran group.
"When you see the same faces every day, it helps out a lot," Heyer said. "[It helps] to be on a line where we all know each other and know everything about what we do. You are only as good as the man next to you. I think if you know that man next to you, then we will be all right."
With Samuels sidelined due to an elbow injury, Heyer has taken the bulk of reps at left tackle in training camp.
Bugel has praised Heyer, saying that he has had an outstanding camp.
Bugel even joked that a year ago, Heyer would rarely take his shirt off because he didn't have a chiseled physique. After a year of working out at Redskins Park, Heyer is proud enough of his body that he was recently seen running shirt-less on the treadmill.
"He thinks he's Tarzan now," Bugel laughed.
Heyer is expected to see plenty of action in this weekend's Hall of Fame Game against Indianapolis. He could draw the start at left tackle if, as expected, Samuels does not play.
Said Zorn of Heyer: "We are expecting big things from Stephon, especially in the preseason because he is going to be playing our left tackle spot. He has got to protect the quarterback's blind side.
"The thing that I like about him is that even when he makes an error, he just keeps coming back. He keeps concentrating. He really cares about playing. I think he is going to continue to improve. He has a big upside."
-- FINCHER SIGNED, SHELTON WAIVED
The Redskins have signed fourth-year linebacker Alfred Fincher, the team announced on Thursday.
To make room for Fincher, the Redskins waived running back Eric Shelton, who suffered a neck injury during training camp.
Fincher, who was released by Detroit on July 26, is entering his fourth NFL season out of the University of Connecticut.
The 6-1, 238-pounder has played in 24 career games, including the first seven last season before being placed on injured reserve with a concussion.
He was originally a third-round draft choice of the New Orleans Saints in 2005.
Shelton suffered a neck injury during Redskins training camp. If he clears waivers, it's possible the team could bring him back and place him on injured reserve.
The Redskins have also placed offensive lineman Kerry Brown on injured reserve. Brown was waived by the team after he suffered a shoulder injury during training camp.
-- BLACHE ON SINCLAIR
Matt Sinclair is a second-year linebacker who has impressed at times during training camp. On the first day of camp, he logged two interceptions.
Sinclair has been slowed by a shoulder injury in recent practices, but he is fighting through it.
"Matt's a tough kid," defensive coordinator Greg Blache said. "He works real hard. He is going to have an opportunity to make the football team, but he is going to really have to compete at it.
"That's going to be some tough competition at that linebacker spot. A lot will depend on how well he plays on special teams.
"It also depends on the other young linebackers--there are a group of young linebackers who are going to have an opportunity to make the football team. We'll see."
Sinclair played in four regular season games and the Seattle playoff game last year.