After two days of shorts and shells, the Redskins donned full pads and full gear for Saturday morning's practice.
The intensity level of practice definitely picked up, right along with the humidity.
"There's a stress level and an uncomfortable-ness when you put on the pads," head coach Jim Zorn said. "The level of competition goes up and the level of tempo goes up. We don't try to tackle each other, but it is live to the tackle.
"It's a great thing. We're going to be doing this a lot in the morning practices."
There was no ferocious hitting, of course, but among the highlights was a version of the Oklahoma drill in which one defensive lineman matched up against two offensive linemen.
Heading out to practice, Rock Cartwright knew it was time to "buckle up" with the pads on.
"Everyone looks good with the shorts and shells on," he said. "When you put the pads on, that's when you see guys start to separate themselves."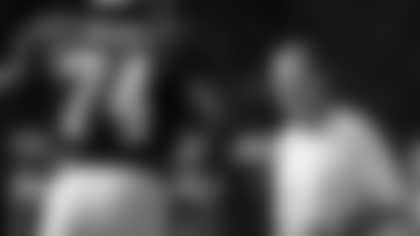 The general consensus was that the defense is ahead of the offense, particularly up front on the lines.
Does London Fletcher agree?
"Yeah," he said, smiling. "For the most part, defensively we're doing a lot of the stuff we did last year. We don't have a whole lot to learn right now. Our comfort level with what we're doing is obviously going to be further ahead than the offense. But the offense did have some success against us in a couple different areas."
Jim Zorn was asked who impressed him during Saturday's full-pad session.
He also praised players on defense.
"I think Phillip Daniels was very sharp," Zorn said. "He's just so smart. I'm trying to outsmart him a little bit, but he won't be outsmarted, which is a good thing. And he's a real leader on the team.
"I look at London Fletcher as a guy who has really stepped up, getting people in the right spot and the communication. And look at some of our DBs--Justin Tryon filled a void with Carlos Rogers out and did a great job. DeAngelo Hall--he's just real active.
"The defensive line is wreaking havoc in our backfield right now. We have to block these guys. I'm excited on one hand, and then on the other I want to get going, too."
Zorn did not seem concerned about how the offensive line was progressing.
He called the unit a "work in progress."
"I've seen some things I've wanted to see, but we're not done yet," he said. "Our guys are working hard and they're going to get better."
He said that while Stephon Heyer is working with the first team offensive line, he has not yet secured the starting job. He won't determine that until after preseason games.
"The position is open," Zorn said. "The decision will be made as we go along, but I want to wait until preseason to 'bless' the guy."
-- ORAKPO'S 'OFFICIAL' DEBUT
Fresh off his first "official" training camp practice, Brian Orakpo spoke with the media and said he was excited to begin his participation wearing full pads.
"You always hear the talk, 'We're All-Americans in shorts and helmets,' but now with the pads on, nobody's talking," Orakpo said. "Everybody is well-padded, hitting, colliding, thudding."
"It feels good, though. The thudding feels good. I finally got my first thud with C.P. [Clinton Portis], so that felt good."
How is his adjustment playing both linebacker and defensive end?
"I'm still getting used to everything," he admitted. "When your mindset is on linebacker, then all of a sudden you go to different packages and I have to switch to defensive end. It's a totally different mindset and I'm trying to get well-adjusted to it."
He admitted it's a "relief" to play defensive end because that's what is most familiar to him. That's the position he played in college.
"With D-End, it's just get up-field and make a play," he said.
-- ZORN ON BRENNAN, DANIEL
The Redskins, as one reporter pointed out on Saturday, lead the league in No. 3 quarterbacks with huge followings.
Colt Brennan is still wildly popular in Hawaii and Chase Daniel has his share of fans from Missouri. Both were prolific performers in college. Both were Heisman Trophy candidates in 2006.
Jim Zorn acknowledged that both Brennan and Daniel are works in progress. They are, he has indicated, competing to be the No. 3 quarterback behind starter Jason Campbell and backup Todd Collins.
"They have to be almost perfect on any rep they get," Zorn said. "They don't get the grace a starter would or a backup would. They are demanded to play perfectly so they can earn more reps. That's it in a nutshell.
"With Colt, his footwork has gotten so much better, so he's feeling more comfortable. He just needs to continue to rise up. And Chase, I'm not even focusing on his throws yet, I'm focused on what he's doing with his feet. He's frustrated, but he has a great attitude. He actually has a pretty good ball when it comes out."
Any way they both could make the roster?
"I'm not going to keep four quarterbacks," Zorn replied. "I can't. I will not do that. That's tough."