Malcolm Kelly need only talk to Santana Moss to learn how to build on a frustrating rookie campaign.
Moss was a rookie with the New York Jets in 2001 when he suffered torn cartilage in his left knee during training camp. After surgery, Moss returned to play in just five games, recording two catches for 40 yards.
As Kelly struggled through an injury plagued rookie season last year, Moss would pull him aside and talk about his humble beginnings in the NFL.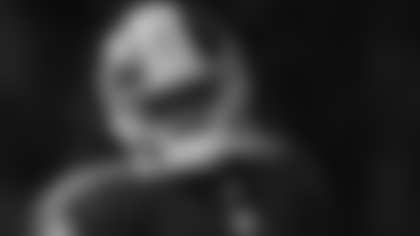 "I told him that everybody goes through something different and you can't get down on yourself," Moss said. "It's just your way of learning. You have to get through your hardships just to learn how it feels.
"I experienced that when I first got in the league. Now that I've been in the league, I look back on it and say, 'It built me to be who I am now.'"
Kelly, selected by the Redskins in the second round of the 2008 NFL Draft, had to undergo arthroscopic knee surgery in training camp that last year.
The injury lingered all season and Kelly played only five games. He caught just three passes for 18 yards.
Last offseason, Kelly said he was looking forward to the day when he could "shut up everybody" who doubted him because of his knee.
He believes that day has come.
By all accounts, Kelly has been among the standouts of Redskins training camp and preseason so far. He was slowed by a hamstring injury for a few practices, but otherwise has been a regular participant.
In last Thursday's 23-0 preseason loss to the Baltimore Ravens, Kelly led the Redskins' offense with three catches for 25 yards. His nicest catch was a 13-yard grab across the middle. He used his 6-4 frame and his athleticism to leap up in the air for the catch and stay in stride. He landed on his surgically repaired knee without incident.
Turns out that Kelly had run the route wrong, but Todd Collins was able to get the ball to him anyway.
Despite the wrong route, Kelly was thrilled to be on the field on game day.
"I've been thinking about playing in preseason games ever since camp started," he said. "To get through camp and play in the first preseason game, and not worry about my knee, it feels great."
Route-running is Kelly's biggest learning curve.
He spent so little time on the practice fields last year, he admitted to feeling a little bit like a rookie--a seasoned rookie, so to speak--in his second training camp.
Route-running is the one area in which fellow second-round draft pick and second-year wide receiver Devin Thomas has an advantage over him.
Kelly is behind Thomas and Antwaan Randle El in the competition to be the No. 2 wide receiver opposite Moss. (Randle El could see most of his playing time in the slot this year.)
"I've seen Malcolm continue to come on," Jim Zorn said. "He's catching the ball very well. He's getting better at his route-running, which is one of the things he has been behind on because of all the rehab."
Kelly said he is learning the offense by leaps and bounds, and that he is becoming familiar with the offense as a whole. "I know what some other positions are doing on plays," he said.
Playing time in preseason games is Kelly's best opportunity to prove he's ready for a greater role--and to prove that he is fully healthy.
"Last year was the first time in a long time in which I went a whole season without making a play on the field," the former University of Oklahoma standout said. "It was the first time since freshman year in high school. It surprised me. You know what you can do and you want to get out there and show people."
Said Jason Campbell: "He's doing a good job really reaching out and catching the ball. He is working hard. He is staying after practice and catching balls from the jug machine. That's something you'd expect from a guy like that.
"He has extremely strong hands and the way he can reach out and catch balls can give the quarterback a lot of confidence."
---
-- TRYON 'NOT DOWN'
In the Redskins' first preseason game in Baltimore, Justin Tryon saw action with the first-team defense.
He struggled, though. It seemed Ravens quarterbacks were targeting him on several plays because he gave wide receivers a cushion to catch passes.
This week, Tryon has remained confident.
"I'm not down," the second-year cornerback out of Arizona State said. "I know I can play better. I took last week's game as a way to get better."
Said Greg Blache: "I told Justin that I haven't lost faith in him, but I was disappointed in his performance. When we run you out with the [the first string], we expect you to act like a big dog, run with the big dogs and play like one.
"The stage was a little big for him right off the bat, but he's just a second-year guy. I guess it was a big deal for him.
"I told him, 'You're going to get a lot of heat in the press.' He said, 'Coach, don't worry about me. I can be deaf.' And that's good. That put my mind at ease."
---
-- EXPECTATIONS FOR LANDRY
LaRon Landry missed all of 2008 training camp recovering from a hamstring injury.
The injury lingered into the regular season, but Landry was able to start every game.
Only until late in the season did Landry "come into his own," Greg Blache said.
Landry finished the year with 70 tackles, two interceptions and 11 passes defended.
Now Landry is in his third NFL season and expectations are growing.
"We want him to create turnovers for us," Blache said. "We want six to eight picks, devastating plays where he gets those highlight kind of hits and breakups on the ball.
"And at the end of the season, we want him to take a trip to Miami as a Pro Bowl safety, as opposed to him being an alternate."
---
-- WHO'S OUT?
Two backup offensive linemen could be sidelined for Saturday's preseason game against the Pittsburgh Steelers.
Mike Williams sat out several practices due to a low ankle sprain and Jim Zorn called him "questionable" for the Steelers game.
Devin Clark suffered a knee injury in practice this week and his status was uncertain on Friday.
If Williams and Clark are unable to play, then Jeremy Bridges and D'Anthony Batiste could see extended playing time at offensive tackle.
Anthony Alridge is also expected to be sidelined for the Steelers game. The first-year running back has been slowed by a sprained toe.