Wide receiver Malcolm Kelly underwent arthroscopic surgery on Monday to remove loose particles in his left knee, the team has announced.
Kelly is expected to be sidelined at least two weeks.
The surgery was performed by team consultant Dr. James Andrews in Pensacola, Fla.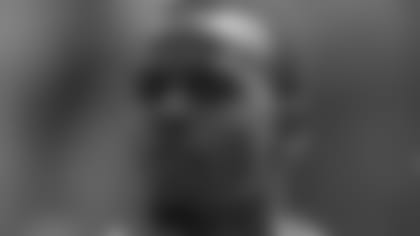 Malcolm Kelly (Don Wright Photo)
Kelly had previously been sidelined with a hamstring injury.
Kelly took part in several practices last week, but Jim Zorn noticed that he was laboring to get through drills. He was experiencing some stiffness in the knee, Zorn said.
Kelly traveled with the team to Canton, Ohio for the Hall of Fame Game against Indianapolis on Sunday, but he did not play.
Kelly was one of three second-round draft picks selected by the Redskins last April. He was chosen with the 51st overall pick in the draft.
The Redskins' top draft pick, wide receiver Devin Thomas, remains sidelined with a hamstring injury.
Zorn said he does not expect Thomas to be ready for Saturday's preseason game against the Buffalo Bills.
"I don't think Devin will be ready this week," Zorn said. "He is just getting to the stage where he can start running. For him, I just think he needs another week."
Thomas was also a second-round pick, chosen at No. 34 overall in the draft.
-- DANNY SMITH EARNS KUDOS
The Indianapolis Colts tried some trickery--an on-sides kick--at the start of Sunday night's game.
The ball bounced past two Colts players. An alert Chris Horton was there. He pounced on the ball, giving the Redskins' offense possession at the Colts' 45-yard line.
Two plays later, the Redskins scored a touchdown.
Turns out that special teams coordinator Danny Smith remembered that Indianapolis had similarly attempted an on-sides kick against a first-year head coach in a preseason game.
Smith made sure his crew was aware of the possibility for an on-sides attempt.
"This is an example of the great experience our staff has," Jim Zorn said. "I had nothing to do with that particular preparation. I didn't say to Danny, 'Hey, I'm a rookie head coach, they might do this to me.'
"I'm trying to get ready to call plays on offense."