LaRon Landry circled Sunday's game on his calendar way back in April.
It would be the first time that the Landry brothers--LaRon and his brother Dawan, a Baltimore Ravens safety--would play against each other in a regular season game.
But Dawan suffered a neck injury after a violent collision during a Ravens game earlier this season. He was hospitalized for several days.
Dawan was eventually placed on injured reserve. He finished the season with 14 tackles.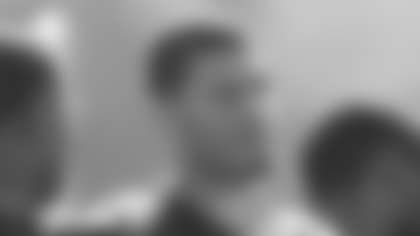 "Dawan had a great offseason for us and we were expecting him to come in and be one of the best safeties in the NFL this year," Ravens head coach John Harbaugh said. "We'll just have to wait to get him back next year."
LaRon was the Redskins' first-round draft pick in 2007. Dawan was a fifth-round draft pick by the Ravens in 2006.
The two brothers played against each other in a Redskins-Ravens preseason game at FedExField in 2007. That game ended in the third quarter due to a lightning storm.
This season, LaRon has drawn accolades from coaches. He has recorded 58 tackles, a half-sack, one interception and eight passes defended this year.
"LaRon has grown so much," defensive coordinator Greg Blache said. "He's very physical and he has great range. He competes at a high level.
"He is going to have a great career. He is going to continue to improve and get stronger each week. And I just think he'll be one of the rocks of this defense for years to come."
Landry sat out Friday's practice at Redskins Park after he was kicked in the calf earlier in the week.
He is listed as probable for the game.
-- PORTIS TAKES LIMITED WORK
Clinton Portis took limited work in Friday's practice, increasing the likelihood he will play in this Sunday's game against the Baltimore Ravens.
Portis is listed as questionable as he recovers from knee and neck injuries.
"I'm optimistic about Clinton just because he moved around a little bit," head coach Jim Zorn said. "I saw him out there running, so I expect him to play."
Portis remains a game time decision, Zorn said.
London Fletcher, Shawn Springs and Kedric Golston sat out Friday's practice. All three are listed as questionable for the Ravens game.
Zorn was optimistic that Fletcher and Springs would be available. Fletcher has a foot injury, while Springs has a recurring calf injury.
"I think London is feeling a little bit than he was last week, so we'll see," Zorn said.
Fletcher was also listed as questionable last week, but still managed to suit up and play against the New York Giants.
Andre Carter and Cornelius Griffin took part in limited practice work on Friday. Carter has a foot injury and Griffin has shoulder and abdomen injuries.
They are both listed as questionable.
Finally, Chris Samuels was full-go in Friday's practice despite a knee injury that has bothered him the last five weeks.
Samuels is listed as probable for the Ravens game.
Head coach Jim Zorn was complimentary of Ravens free safety Ed Reed this week.
Reed, 5-11 and 200 pounds, is a big reason why the Ravens' secondary is ranked second overall in the NFL. He has 24 tackles, eight passes defended and three interceptions, two of which he returned for touchdowns.
"When you watch him, you can tell he studies well because he always has an eye on where the quarterback is looking," Zorn said. "You look at him and you can't believe how deep he is, but what he's doing is he's giving himself a chance to not get fooled.
"He knows the QB only has a short time to make a play, because [the front seven] really put the pressure on. So he knows your seconds are numbered."
In watching film of the Ravens' defense this week, Zorn specifically remembered one play in which Reed tried to tackle the 6-4, 264-pound running back Brandon Jacobs in a game against the New York Giants.
"[Reed] didn't tackle him, but he still tried to bring the hurt," Zorn sad. "He came with an attitude. You love to see that out of a defensive back."
Chris Cooley, the Redskins' leading receiver with 66 for 701 yards through 12 games, said a win over the Baltimore Ravens on Sunday would provide a "huge confidence boost."
"This is an important game," he said. "We definitely need a win."
The Redskins have no chance to win the NFC East now with the New York Giants at 11-1 and holding a tiebreaker advantage over Washington.
The Redskins are in the thick of the NFC Wild Card hunt. And Cooley believes that if the Redskins can qualify for the playoffs, then anything can happen.
"It has been proven over the last few seasons that anyone can win it," Cooley said. "You can get into any Wild Card spot and win the Super Bowl. We just have to look at ourselves and see what kind of team we have.
"If it's meant to be this season, then this would be the week we would step up and make plays."
In 2006, Jason Campbell was a backup to Mark Brunell. He remembers watching how Brunell handled criticism after the Redskins got off to a 3-6 start.
In mid-November, Brunell was eventually benched in favor of Campbell.
The experienced proved to be a valuable lesson for Campbell, who is getting his first taste of intense scrutiny due to the Redskins' struggles the last month.
"You take the good and the bad, and you don't ever get too high or too low," he said. "You have to understand that this is part of the business, part of your growth in the NFL and a part of being an NFL quarterback.
"You are going to get a lot of the credit when things are going right and you're going to get a lot of the blame when things aren't going right. Last month was a tough month for us offensively, so of course I'm going to get a lot of the blame.
"But I just go out and compete. I'm a competitor, so I know I have to improve. I accept the challenge."