Jason Campbell arrived at the Redskins' sidelines and made a beeline for Jim Zorn.
Campbell had just thrown his second interception of the first half in Sunday's game against the Tampa Bay Buccaneers.
"Coach, I'm going to get it together," he told Zorn.
The Redskins had fallen behind the Buccaneers 10-0 in the first half and the offense had totaled 99 yards of total offense and 42 passing yards. Campbell was 5-of-12 for 60 yards.
For all of Campbell's struggles, Zorn and his teammates stuck with him.
"I would look at Jason's eyes as I was talking to him," Zorn said. "Does he really know what's happening to him out there? Does he really know what's happening to him? In both instances, I saw that he was trying to be competitive."
At one point during the first half, Campbell apologized to players in the huddle, Casey Rabach said.
"We were like, 'Hey, things happen up here. We're going on to the next play,'" Rabach said. "It was very uncharacteristic for Jason. He is usually very stingy with the ball. He kept battling back...It kind of shows the character that Jason has. He's resilient."
Campbell had a stellar third quarter, completing 7-of-9 passes for 110 yards and two touchdowns. His 59-yard touchdown pass to Santana Moss late in the third quarter would prove to be a game-winner. The Redskins beat the Bucs 16-13.
Overall, Campbell finished with 12-of-22 passes for 170 yards, two touchdowns and three interceptions. He was sacked three times and fumbled once.
"It was the first time in my career I had ever had three picks, even pee wee, high school, college or the pros," Campbell said. "One thing I was proud of was that my teammates and coaches never gave up on me and they kept on believing."
Campbell is in his second year as a Redskins team captain, but it is still getting the hang of being a leader.
Campbell said he was "pressing too much" in the first half of Sunday's game, trying to make big plays and keeping teammates motivated.
"I felt like I had to do more than my job," he said. "I forgot about the way that I need to do things--the way to help us move the ball--to win. That's a lesson well-learned by me. Do what you can do and don't try to take care of everybody. You can't do everybody's job."
When DeAngelo Hall picked off Buccaneers quarterback Josh Johnson early in the third quarter, Campbell felt a burden lifted.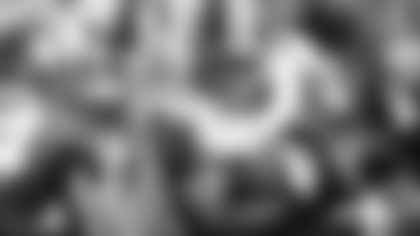 "I felt something come off of me, like a relief," Campbell said. "I felt like I was playing a little too conservative and I was a little timid at times because I had a fumble earlier in the game. I was thinking in my head I need to protect the football.
"After [Hall's interception], I said, 'That's not going to help us win. It's not going to help us get into the end zone.' So in the second half I came out and I said, 'I need to take some chances.'
"In the first half I didn't run because I wanted to stay in the pocket and throw. In the second half, I said that if [space] was there, 'I'm running unless they take it away.'"
---
-- PORTIS 'READY TO BREAK OUT'
Playing through a calf injury and sore ankles, Clinton Portis logged 98 yards on 25 carries against the Buccaneers on Sunday.
For the season, Portis has 281 yards on 71 carries, a 3.9 yards-per-carry average.
Portis has yet to get to the 100-yard mark this season. He has not rushed for 100 yards in the Redskins' last nine games.
Jim Zorn said he was not concerned, though.
"He ran hard," Zorn said. "I was really proud of how he motored. He ended up stepping on Mike Sellers' foot one time and hit the ground. He ended up stepping on Chris Samuels' foot one time and he fell down. He is ready to break out and he had some really tough runs.
"He had 98 yards--almost 100. Probably with two or three little runs, he is over 100 yards easily. He came out of the game feeling pretty good."
---
-- CAMPBELL'S MOBILITY
After a difficult first half on Sunday, Jason Campbell was able to use his mobility in the second half to pick up first downs.
Campbell's 13-yard run on 3rd-and-11 midway through the third quarter helped set up the Redskins' first touchdown.
Jim Zorn wanted Campbell to use his mobility even more, though.
"He had a couple opportunities [in the first half] in the pocket when things were collapsing in around him and he started to run, but he tried to make the throw," Zorn said. "What I want him to do is pull it down and just run. I thought that would have been a better choice."
---
-- MONTGOMERY'S STATUS UNCERTAIN
Anthony Montgomery continues to struggle with knee tendonitis and his status is uncertain. Jim Zorn indicated Montgomery could be a candidate for injured reserve if his knee does not improve.
Montgomery has not suited up for a regular season game yet. His last action was in the Redskins' preseason finale at Jacksonville.
"I'm going to talk and try to make the right decision there," Jim Zorn said. "Part of it depends on how we feel his knee can progress, how quickly it can progress. We haven't gotten to that point yet."
Meantime, Cornelius Griffin emerged from Sunday's game vs. Tampa Bay with an elbow injury. It is not considered serious, however.