Joe Bugel has coached dozens of offensive linemen through his long and storied career, so it's safe to say he has seen it all.
The Redskins' makeshift offensive line? He vowed to make it work on Sunday against the Kansas City Chiefs.
"After 32 years, nothing is difficult," Bugel admitted. "If I was a first-year head coach, I'd probably be standing in the corner shaking. We know things happen."
In Sunday's game against the Kansas City Chiefs, the Redskins started Stephon Heyer at left tackle, Mike Williams at right tackle and Will Montgomery at right guard.
In the Redskins' 14-6 loss to the Chiefs, the offensive line fared well enough to keep Jason Campbell and Todd Collins upright most of the game.
Campbell was sacked once and Collins was sacked twice, including a safety late in the fourth quarter.
Despite compiling 118 rushing yards, the offensive line appeared to struggle in run blocking. Most of the rushing yards came on one play, a 78-yard run by Clinton Portis in the third quarter.
Take out that one play and the Redskins had 19 rushes for 40 yards, just 2 yards per carry.
With Chris Samuels sidelined due to a neck injury, the Redskins had to play "musical chairs" along the offensive line on Sunday.
Chad Rinehart joined Samuels on the inactive list. Rinehart was slowed by a shoulder injury in practice last week and was listed as questionable for the Chiefs game.
It was the fourth different offensive line combination the Redskins have started in their six games this season.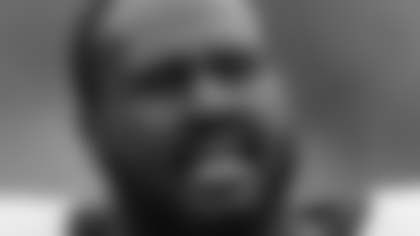 Only Casey Rabach and Derrick Dockery have started every game at one position along the offensive line.
"This is the National Football League, so injuries happen," Dockery said. "And the next guy has to be ready and has to be prepared to step in."
Added Rabach: "Every loss is tough to take. This team in the locker room knows they are better than this. We know we are better than what we produced, offensively."
On Sunday, the Redskins' two backups were D'Anthony Batiste and Edwin Williams, the undrafted rookie out of Maryland. Williams was activated for his first NFL game.
Bugel admitted there was concern with depth along the offensive line heading into Sunday's game.
"This past offseason, I thought we brought in some good kids that are going to end up being good football players," Bugel said. "I'm talking about Will Montgomery--Batiste struggled last week in the ball game. We can get him straightened out. He does a good job in practice, but sometimes in the games he gets loose hands in there.
"We've got guys that work hard, and that's all you can ask for as a coach. It's my job to develop the guys. I don't care if you get them out of the trash barrel--you've got to develop them. That's my job right there, so if we're not playing well, that's my responsibility."
The Redskins' complete list of inactive players for the Chiefs game was as follows: Hunter Smith, Kevin Barnes, Anthony Alridge, Robert Henson, Samuels, Rinehart, Marko Mitchell and Anthony Montgomery.
---
-- THOMAS STARTS AHEAD OF KELLY
Devin Thomas drew the start at wide receiver on Sunday, replacing Malcolm Kelly in the lineup.
It was Thomas's third career start. He had one start in 2008 and another in Week 4 this year when the Redskins opened in a three wide receiver set.
Kelly had started the first five games opposite Santana Moss. He saw action in a reserve role on Sunday.
Both Thomas and Kelly were held without a catch in the game.
Neither are having the kind of impact they had hoped for entering the season. Thomas has four catches for 26 yards and Kelly has seven catches for 73 yards.
Late in the first quarter, Jason Campbell threw deep to Thomas on a sideline route. Thomas made a diving grab, but he landed out of bounds.
"It was a shot we took," Thomas said. "We tried to take shots in this game."
---
-- PORTIS REACHES CENTURY MARK
Clinton Portis finished Sunday's game with 109 rushing yards on 15 carries, his best output of the season.
It was his 44th career 100-yard rushing effort, the most of any player since 2002.
Portis has had 26 100-yard rushing games as a Redskin, a franchise record.
The bulk of Portis's yards came on a 78-yard run in the third quarter. It was the longest run of his career, surpassing his previous long of 65 yards on Oct. 5, 2003, as a member of the Denver Broncos.