Forgive Santana Moss if a little part of him wishes the Dallas Cowboys still played at Texas Stadium.
Moss terrorized the Cowboys at their former playing facility in Irving, Tex.
Last year, he caught eight passes for 145 yards in the Redskins' 26-24 upset win at Texas Stadium.
In 2007, he grabbed nine passes for 121 yards and a touchdown in a 28-23 loss.
Moss posted just four catches for 69 yards in a 27-10 loss in 2006.
And then there was 2005, the game that cemented Moss in Redskins lore: he caught five passes for 159 yards, including 39-yard and 70-yard touchdown passes in the fourth quarter to lead a 14-13 come-from-behind win.
All in the past, just like Texas Stadium.
Dallas plays at the new $1.8 billion Cowboys Stadium. The facility opened this year.
And Moss admits he is excited about it.
"That's the first thing I thought about going to Dallas, 'Man, I get a chance to play in the new stadium,' Moss said. "Just to see it--I'm looking forward to seeing what it's all about. It looks nice on TV. You get mesmerized.
"I remember seeing the first game [on TV], you had cheerleaders dancing on platforms. I was like, 'Wow.' You look forward to it. You look forward to it mostly knowing that it's a rivalry game."
Moss seems to save his best for the Cowboys.
In seven career games against the Cowboys, Moss has caught 41 passes for 747 yards--an 18.2 yards-per-catch clip--and four touchdowns.
"I would wish I would play like that against everybody," Moss said. "I guess I'm one of those guys where the coaches say, 'Hey, let's give it to 89 against Dallas.' That's something I like, to get the ball, get in the flow of the game--and hopefully I can continue to do that.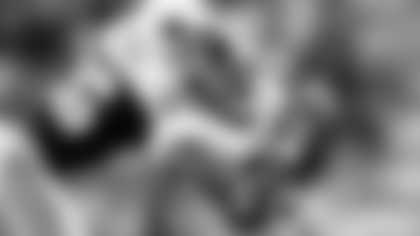 Santana Moss in 2005 vs. Dallas. (AP Photo)


"I want to be a part of the game every week, but it doesn't always happen that way. Against Dallas, they kind of run me crazy."
Will he miss Texas Stadium?
"Yeah, you could say I would miss it," Moss said. "But I'm excited about the new one. They put a lot of money into it, I'm pretty sure it's going to be something to remember. It's always exciting to go up against Dallas."
---
-- PORTIS 'VERY DOUBTFUL'
Clinton Portis did not practice on Wednesday as he continues to recover from his concussion.
He is "very doubtful" for this Sunday's game against the Dallas Cowboys, Jim Zorn said.
Portis spent time going with concussion specialists this week and coaches are very cautious about putting him back on the playing field.
"I would have to be convinced and he would have to be convinced that he could play," Zorn said. "I want to see him go more than just one play for me to let him come back into the lineup."
During an interview on ESPN 980's The John Thompson Show on Tuesday, Portis took the cautious approach as well.
"I don't think I can just rush back and have a miraculous recovery, and I don't want to have any [long-term] problems," he said. "Whatever I can do, I will do, and what I can't do, I'm not going to go out and try to pressure myself and make it happen.
"If I have any symptoms and can't finish it, I will let [coaches] know, because I don't think this is a situation that I can play with and go through and try to be careful with."
Zorn said he wanted Portis to be "symptom-free" before he plays him in a game.
"I just know that as we test him, we are going to wait another 24 hours until he is symptom-free," Zorn said. "Then we are going to test him again. I think we have a good feel with the testing and how he feels."
---
-- CAMPBELL'S MOVING UP
With an 8-yard pass to Rock Cartwright in the second quarter of last Sunday's game against Denver, Jason Campbell surpassed 9,000 career passing yards.
He joins impressive company in Redskins franchise history in that category: Redskins all-time passing leader Joe Theismann, Hall of Famers Sonny Jurgensen and Sammy Baugh, Mark Rypien, Billy Kilmer and Gus Frerotte.
Through Week 10 this season, Campbell has passed for 9,112 yards in his career.
This season, he has completed 168-of-254 passes--a 66.1 completion percentage, eighth best in the league--for 1,870 yards, 10 touchdowns and eight interceptions. His QB rating is 87.9.
Campbell was a perfect 9-for-9 passing for 92 yards in the second half of the Redskins' 27-17 win over Denver.
---
-- HAYNESWORTH'S STATUS
Albert Haynesworth sat out practice on Wednesday due to a sprained ankle and Jim Zorn called his status a "weekend decision."
"I saw his ankle and it was swollen," Zorn said. "We are just trying to get the swelling out. I will tell you this, Albert will work as hard as he possibly can to get to this game and play 100 percent in it."
Haynesworh has not played a full 16-game season since his rookie year, but he has managed to play in all 10 of the Redskins' contests this season.
If Haynesworth is unable to play, then Kedric Golston would likely start in his place. Little-used Anthony Montgomery would likely be activated for the first time this season.