Brian Orakpo knew his assignment. He had the coverage on Robbie Agnone.
But Orakpo could not help checking out what the quarterback--Chase Daniel, in this case--was doing behind the line of scrimmage.
That hesitation allowed Daniel to get the ball to Agnone, the undrafted rookie tight end, for a 12-yard pickup across the middle of the field.
"I was kind of mad at myself," Orakpo said afterwards.
If it was a mistake, then it was one mistake too many for Orakpo.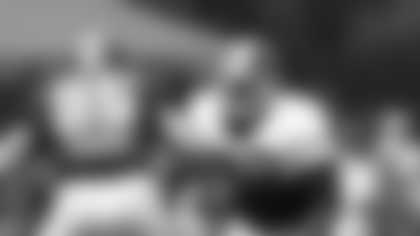 The Redskins' top draft pick has opened eyes during training camp with his physical prowess.
Thousands of fans witnessed Orakpo's skills during Saturday's scrimmage at Redskins Park. The scrimmage was part of Fan Appreciation Day at the team's facility.
Orakpo and fellow rookie Jeremy Jarmon were so quick up the field that offensive linemen had difficulty picking them both up, Jim Zorn said.
Orakpo was credited with one tackle in the unofficial stats circulated by the Redskins' public relations department, but he was regularly in the backfield and had opportunities for several sacks.
"I'm very satisfied [with my performance], but one thing about me is I'm going to put this day to rest and get back to work," he said. "I play with a blue-collar attitude and I get my hard hat on and get back to work. I can't be satisfied on just one day.
"I know I have a lot more to do to elevate my game to the next level. I'm real excited about what we're accomplishing on the defensive line and the defense is looking real good right now."
Orakpo, a defensive end at the University of Texas, is playing both linebacker and defensive end with the Redskins.
He is used to rushing the passer at the snap. Now he must learn to play in space.
"I'm feeling a lot more comfortable," he said. "Once the repetition comes, and you experience more and more days at practice, you get accustomed to different things. That's what is happening with me as far as the linebacker position.
"As a linebacker, I'm able to open my hips a lot more, I'm able to read different pass coverage, read different formations the offense is giving us, and just fly around a lot more."
During Saturday's scrimmage, Zorn called several plays designed to test Orakpo at linebacker.
"We didn't get very many yards when we ran at him," Zorn said. "He stood his ground. He has some things to learn--I think I got him one time on play action. But we want to give him those kinds of repetitions so he can learn."
All of the repetitions Orakpo has received at linebacker is opening his eyes to the defense as a whole.
"One thing about me, I'm a practice guy," Orakpo said. "Practice is the hardest thing. From my perspective, when I was playing in college, games were very easy.
"Practice was always hard because that's when you put in a new game plan and you prepare for a new offense. Then when you get to the game, you do everything you have been doing in practice, and can go out and have fun."
Orakpo's next test is the Redskins' preseason opener this Thursday against the Baltimore Ravens at M&T Bank Stadium.
-- ROGERS BACK AT PRACTICE
Cornerback Carlos Rogers participated in drills in Sunday's practice as he works his way back from a calf injury.
"I just wanted to get some work in instead of being with the athletic trainers on the side," Rogers said. "I wanted to do some of the movement that the DBs do."
How did the injury hold up?
"It's kind of sore right now, but it feels okay," he said. "I'm doing some individual [drills] and seeing how it progresses."
Rogers said he would know later in the week if he would be available to play in this Thursday's preseason opener against the Baltimore Ravens.
Meantime, Kevin Barnes suffered a hyper-extended knee during the scrimmage. The rookie cornerback was able to participate in Sunday's practice, but Zorn said he was "in a real slowed down mode."
-- BRIDGES UPDATE
Right tackle Jeremy Bridges sat out Sunday's practice due to a low ankle sprain suffered in the scrimmage.
The injury is not considered serious.
"I suspect that Bridges, if that low ankle sprain gets better in the next couple of days, he's definitely playing [in the preseason game at Baltimore]," Jim Zorn said. "He's a game-time decision, though."
The Redskins have had a rash of injuries at right tackle.
Stephon Heyer has a sore knee and Mike Williams has a groin injury, but both were able to participate in drills on Sunday.
-- ALRDIGE UNCERTAIN
Anthony Alridge suffered a sprained toe during Saturday's scrimmage.
On Sunday, he was walking with a noticeable limp.
"I don't know about [Alridge's status]" for the preseason opener at Baltimore, Jim Zorn said.
Alridge is in fight to make the Redskins' roster and he has flashed impressive speed and cut-back ability at times.
He has committed some costly fumbles, though--including one during Saturday's scrimmage.