Clinton Portis remains "50-50" for Sunday's game against Dallas as he continues his return from a sprained knee, head coach Jim Zorn said.
Portis is officially listed as questionable. He is expected to be a game time decision.
Portis was on the Redskins Park practice fields on Friday, but he did not participate in the session.
"Clinton got some mental reps just in case he has a chance to go," Zorn said.
Even if Portis is available to play against the Cowboys, he would be used in a "limited fashion," Zorn added.
Portis is the NFL's second-leading rusher with 995 yards on 200 carries. He is also fourth on the team in receptions with 18 for 150 yards.
Ladell Betts, Portis's backup, was limited in practice on Friday.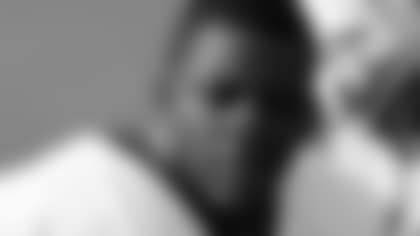 "Ladell is pushing hard to get ready," Zorn said. "We didn't do everything with him. We're just trying to get his knee ready. It's a little sore because of the work he has put in this week."
Betts is listed as probable for the Cowboys game.
Shaun Alexander would be next in line if Portis and Betts cannot play. Rock Cartwright could also see action at running back.
Since signing with the Redskins on Oct. 14, Alexander has had 10 carries for 23 yards.
The Redskins and Cowboys are among teams in a race for a Wild Card playoff berth as well as the NFC East title.
The Giants lead the NFC East with an 8-1 record, following by the Redskins at 6-3 and the Cowboys and Eagles at 5-4.
Meantime, in the NFC South, the Panthers are 7-2 followed by the Buccaneers and Falcons at 6-3. They are in the mix for the Wild Card as well.
There's still plenty of season to go, of course, but Jim Zorn still expects a "playoff-type" game at FedExField on Sunday night.
"We all have to treat this game that way," he said. "There will be a heightened awareness. There will be very hard play throughout the entire game. Both teams want this."
Add in the fact that the Redskins-Cowboys rivalry is always a highly charged affair, and it's certain to be a memorable game.
"You can feel the sense of concentration and the excitement," Zorn said. "People really know what this game is all about. There has been a lot of buildup to it."
-- SPRINGS BACK AT PRACTICE
The Redskins' secondary could be at full strength for Sunday's game against Dallas.
Shawn Springs returned to practice on Friday--albeit on a limited basis--as he works through a calf injury.
Springs has missed the last three games due to the injury.
If active, Springs would rejoin a secondary that includes Carlos Rogers, Fred Smoot and newcomer DeAngelo Hall. Rookie J.T. Tryon, the Redskins' fourth-round draft pick last April, could be active to assist on special teams.
In Week 4, Springs blanketed wide receiver Terrell Owens in the first half of the Redskins' 26-24 win at Texas Stadium. Springs aggravated the calf injury early in the third quarter.
Rogers was assigned to Owens most of the second half and provided solid coverage as well.
Rogers could draw most of the coverage on Owens again on Sunday, as Springs works his way back into the lineup.
-- STATUS OF WASHINGTON, MONTGOMERY
Marcus Washington is listed as probable for the Cowboys game. Returning from a shoulder injury, he participated fully in practice on Friday.
Jim Zorn was not as optimistic about Washington after practice, saying it was a "wait and see" situation.
If Washington is unable to play, then H.B. Blades would likely draw the start at strong-side linebacker.
In nine games with one start this season, Blades has tallied 18 tackles.
Meantime, Anthony Montgomery has been listed as out for the Cowboys game.
He sat out practice this week recovering from an Achilles injury, but did work with athletic trainers on the side.
With Montgomery out, Lorenzo Alexander is expected to see an increase in playing time as a reserve defensive tackle. Demetric Evans could also move inside to play tackle.
-- TURNABOUT IS FAIR PLAY
From 1997-2004, the Redskins lost 14-of-15 games to the Dallas Cowboys, a mark of frustration for the club's top rival.
The tide has turned, though.
From 2005-08, the Redskins have won five of the past seven meetings, including the 26-24 win at Texas Stadium earlier this season.
Jon Jansen has been a Redskin since 1999 and has experienced some ups and downs in games against the Cowboys.
"I just think we match up real well with [the Cowboys] now," he said. "That wasn't always the case. Now it just seems like it's two teams who are evenly matched--and when you win, you earn it."