Clinton Portis sat out Wednesday's practice with a sprained ankle as well as plantar fascitis in the same foot.
However, Jim Zorn seemed optimistic he would have Portis's services for Monday night's game against Philadelphia.
"He has enough time [to heal] since it's the Monday night game," Zorn said. "I suspect he'll be back."
Since the Redskins play on Monday night, the team is not required to issue an injury report until Thursday.
Portis is coming off his best game of the season. He logged 15 rushes for 109 yards, including a 78-yard run, in last Sunday's 14-6 loss to the Kansas City Chiefs.
Before practice on Wednesday, Portis was asked how he feels physically.
"I am playing football," he replied. "It's only one leg that has been bothering me. Hopefully I can keep it strong enough to finish the season."
Portis was also doing his part to maintain optimism on a team that is struggling at 2-4.
"Everybody in the locker room is showing hope," he said. "We have a tough opponent coming in this week and we know they are coming in here ready to win. We have to find a way to fight.
"We are going to be on prime time television on Monday night. We haven't done well this season--here is the time to turn it around."
Meantime, Albert Haynesworth also sat out practice on Wednesday to rest a sprained ankle.
Zorn was optimistic that Haynesworth would be available for the Eagles game.
"Albert is a little further along than Clinton," Zorn said.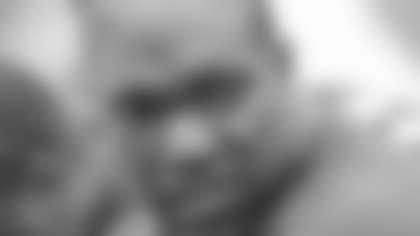 Kareem Moore and Chris Horton missed practice due to the flu and Chris Cooley was in Wyoming to attend his grandfather's funeral.
---
-- SAMUELS IN CALIFORNIA
Chris Samuels traveled to California this week to be evaluated by a medical specialist that is reviewing his neck injury.
Samuels, diagnosed with spinal stenosis in high school, suffered a stinger to his neck in the Redskins-Panthers game on Oct. 11.
He is sidelined indefinitely, Jim Zorn said.
"We wanted to make sure the doctor [in California] who was actually reading the report on his neck could actually visit with Chris," Zorn said. "So we sent him out there so we can do all the due diligence, make an intelligent decision about how long he'll be out, and figure out all the what-ifs."
For now, Samuels has been advised not to play, Zorn added.
"That's the consensus," Zorn said. "And rightly so. If you don't have all the information, there's no reason to risk it. I know he wouldn't want to risk it. We're trying to do the right thing."
---
-- PRACTICE SQUAD ADDITION
The Redskins have signed wide receiver Anthony Armstrong to the practice squad, the team announced on Wednesday.
Armstrong, 26, was with the Miami Dolphins during 2009 preseason. He spent the 2008 season on Miami's practice squad.
In 2007-08, Armstrong played for the Arena Football League's Dallas Desperados.
The 5-11, 183-pound Armstrong is a native of Carrollton, Texas and attended West Texas A&M.