Sunday morning, the Redskins wore full pads for practice for the first time since last Thursday's 23-0 loss to the Baltimore Ravens.
Time to ratchet up the intensity level.
Jim Zorn encouraged a fast pace, as he always does, and he emphasized competitive drills in which players went one on one against each other.
If players were late getting back to the huddle, they were quickly chastised by coaches and veterans alike.
"We ran some new concepts, some things that our defense had not seen, and we put them in situations they're going to see during a game, like the offense holding onto the ball for the last four minutes of a game," Zorn said.
"Putting them in competitive drills, that's where the tempers started flaring," he added. "Then there are things we need to improve on. We called out a couple of personnel groups and [some players] were late getting into the huddle. Those kinds of things bother coaches more than anything."
Zorn was disappointed with the performance of some younger players in the Ravens game, referring to their play as "soft." Sunday's practice may have served as a wake-up call for them to pick up their game.
And then there was Marko Mitchell and DeAngelo Hall.
Mitchell was in his second skirmish of training camp, this time with Hall. (He has a scuffle with Fred Smoot during the intra-squad scrimmage on Aug. 8.)
On a run play, Hall felt that Mitchell was holding him instead of blocking. They pushed each other and yapped back and forth. They had to be separated by teammates.
Mitchell admitted that he was the instigator, so to speak, of the scuffle.
"I was holding D-Hall a little bit, and he got a little frustrated and a little mad," Mitchell said, somewhat sheepishly.
Hall said he was glad that Mitchell didn't back down, though.
"That's what you expect," Hall said. "You wouldn't want him to just get hit across the head and fall down. Just to see that fight in him is good to see."
"I don't want to see our guys fighting against each other," he said. "But it does show the kind of intensity our guys are trying to step up and play with. That's the only thing I like about it.
"It was a live period, up to the tackle. And it was competitive. So that's the part I appreciate about it--the intensity. But if somebody was holding or grabbing or pulling or yanking, I'm not looking for that."
---
-- PORTIS TO PLAY vs. STEELERS?
Clinton Portis could make his preseason debut this Saturday, Aug. 22, when the Redskins host the Pittsburgh Steelers at FedExField.
Portis said the first-team offense needs to play in preseason so they are in sync for the Redskins' regular season opener against the New York Giants on Sept. 13.
"I think we're going to have the opportunity," Portis said. "I wouldn't say it's going to be [the full offense], because of course we won't have our whole playbook.
"I think working ourselves up, getting into football shape and being prepared for the Giants is the reason we need to be out there."
In the Redskins' 23-0 loss, the offense posted just 197 yards and the ground game recorded just 56 yards on nine carries.
Rock Cartwright led the way with 24 yards on six carries, while Marcus Mason had 12 yards on six carries. Ladell Betts started in place of Portis and had four carries for seven yards.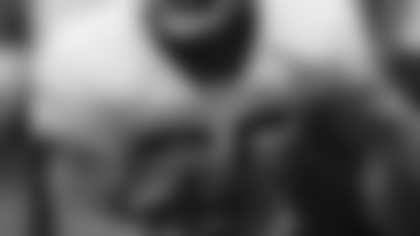 "After watching the film, you see that it was really us [making mistakes]--the [Ravens] didn't do anything spectacular," Portis said. "We missed a lot of open reads and we missed a lot of blocks.
"If we had gotten to our assignments and done the things we're supposed to do, I think that game would have been totally different."
Jim Zorn was disappointed that the Redskins' running backs missed some opportunities for big gains against the Ravens.
"We missed two pretty good-sized holes because our backs just slipped in the hole," Zorn said. "That is something that has to be corrected. It rained before the game, but both teams played [in the same conditions]. We slipped, they didn't. You just can't do that."
It won't get any easier against Pittsburgh. The Steelers boasted the NFL's top-ranked defense and No. 1 run defense last year.
---
-- SMOOT AT SAFETY
Fred Smoot was first spotted playing free safety early in training camp.
He was helping young defensive backs Justin Tryon, Byron Westbrook and Doug Dutch get lined up correctly in the defensive package.
Then Smoot was seen playing free safety in last Thursday's preseason game against Baltimore.
Coaches like defenders with versatility and Smoot could step into a swing role that Shawn Springs played last year.
"Much like we tried to use Shawn Springs last year, we're trying that same issue with Fred," Jim Zorn said. "You get a corner on the field in shorter areas, it can help you. We're just working out those things as an experiment to see who can help us there."
Smoot's knowledge of the defense should be an asset for the younger players.
"My ability to use my eyes and break on balls at the corner really helps me at free safety," Smoot told Redskins blogger Matt Terl. "Just knowing football and knowing the formation, it really helps me get a jump on things at safety."