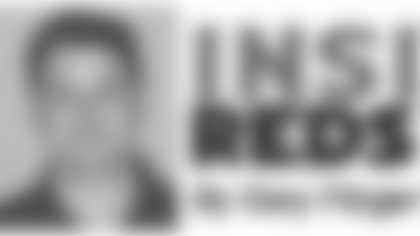 Carlos Rogers continues to be slowed by a calf injury and he is not expected to play in Friday night's preseason game against the New England Patriots.
Rogers suffered the injury early in training camp. He missed the Redskins' preseason opener in Baltimore but he was able to play in last Saturday's preseason game against Pittsburgh and record two tackles.
He re-aggravated the injury in the Steelers game and sat out practice this week.
Jim Zorn downplayed the injuryon Wednesday.
"It's not a setback," Jim Zorn said. "He has been gimping around a little bit because there is still some tenderness there. I just don't want it to become a setback. I fully expect him to be ready for the regular season."
Added Zorn: "I don't think it will be a season-long deal. My only concern is that he is not getting the reps and the looks that he needs."
If Rogers' calf shows improvement next week, then he'll see action in the Redskins' preseason finale in Jacksonville, Zorn said.
Rogers does not believe his calf injury is a long-term concern, either.
He does not want it to linger into the season, though. Last year, Shawn Springs missed seven games due to a calf injury. (Springs now plays for the Patriots.)
"It'll tell me when it feels ready," Rogers said.
Fred Smoot is expected to start in place of Rogers.
Second-year player Justin Tryon should see action as a nickel cornerback. Tryon struggled in the Ravens preseason game but rebounded with a nice effort against the Steelers.
"He played much better," Greg Blache said. "I think last week is indicative of the player that he is."
-- PORTIS ON THIRD PRESEASON GAME
Around the NFL, the third preseason game is generally regarded as the dress rehearsal for the regular season.
Preparations are similar to regular season games and starters typically play the first half.
Still, teams do not show all of their cards in preseason contests, Clinton Portis said.
"You get a longer look, but we're not game-planning like we do in the regular season, Portis said. "You're still not showing your whole playbook and you're not showing trick plays. You don't know what kind of blitz they're working on and we don't know what kind of plays they're working on.
"When you get into the season, then you know, 'This is what we have, and this is what [other teams are] going to try and do.' It really doesn't stray too far away from that."
For the Patriots game this Friday night, Portis wants to see the offense improve on third downs and short yardage plays, score a touchdown or two and come out of the game healthy.
-- CARTWRIGHT TO SIT OUT PATRIOTS GAME
Rock Cartwright continues to be slowed by a groin injury and he is not expected to play on Friday against the Patriots.
The injury has bothered him most of training camp and it worsened in the last week.
The Redskins will use a "community" approach on kick returns in Friday's game.
Devin Thomas is expected to see action in place of Cartwright on kick returns. Thomas returned kickoffs at Michigan State, but he did not get any opportunities last year as a rookie with the Redskins.
-- WILLIAMS A QUESTION MARK
Mike Williams returned to practice on Wednesday and he said he hopes to play on Friday night against the Patriots.
Williams has been slowed by an ankle injury the last week.
Jim Zorn said that, as of Wednesday, it was still uncertain if Williams would be available to play against the Patriots.