Hunter Smith has had a setback in his return from a groin injury and he is out for Sunday's game at Atlanta, head coach Jim Zorn said.
The team is expected to sign third-year punter Sam Paulescu, Zorn said.
Paulescu, formerly of the Dallas Cowboys, worked out for team officials on Thursday at Redskins Park. He beat out Reggie Hodges, another third-year punter, for the job.
Smith re-aggravated the injury during a punt in the Week 7 game against the Philadelphia Eagles.
He underwent treatment during the bye week, but the injury had not healed well enough for him to punt this week.
"It's something we haven't been able to get right," Smith said.
Smith originally suffered the injury in Week 4 vs. Tampa Bay. He missed the next two games against the Carolina Panthers and Kansas City Chiefs but returned for the Eagles games.
For the season, Smith has 24 punts for a 44.2-yard average.
Both Zorn and Smith hinted that injured reserve could be a possibility for Smith if the injury does not improve soon.
"It's very frustrating," Zorn said. "With the rest and the treatment and the workouts, we thought all along he was going to be getting better. It hasn't responded well for him. It's getting to the point where I have to make a decision.
"And yet I still want to give him another week and see if things get strong. He is trying to push as hard as he can. [Smith's absence] is hard for the whole program, it really is."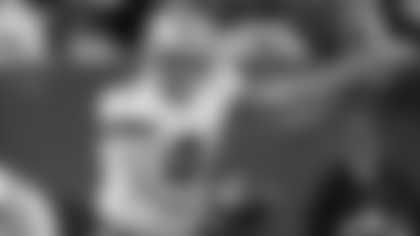 Paulescu spent the 2008 season with the Cowboys. He played in 10 games and had 53 punts for a 41.8-yard average, with a long of 70.
He entered the NFL as an undrafted rookie with the Cowboys in 2007, but he did not make the final roster that season. He signed with the Denver Broncos for one game, posting five punts for a 44.2-yard average.
Paulescu, a native of Los Angeles, played college football at Oregon State.
---
-- GOING AGAINST GONZALEZ
Chris Wilson used to regularly play longtime Kansas City Chiefs tight end Tony Gonzalez on the Madden video game.
Now he gets to compete against the real thing.
And if unreality is anything like reality, both Wilson and Brian Orakpo expect to have their hands full covering the 10-time Pro Bowl tight end.
"You can't really slow him down, you just have to give your best effort," Wilson said. "Just like in Madden, he is basically going to catch the ball if it touches his hands. We'll have to try to throw some different looks at him.
"And we'll try to get a push on the quarterback. That always works. He can't catch it if the quarterback can't throw it."
Gonzalez joined the Falcons last offseason as part of a trade with the Kansas City Chiefs, where he spent the first 12 years of his career.
Gonzalez entered the 2009 season with 916 career catches for 10,940 yards and 76 touchdowns. This season, he has 27 catches for 304 yards and three touchdowns.
Surprisingly, Gonzalez has competed against the Redskins just twice in his career. In 2001, he caught five passes for 88 yards and a touchdown in a 45-13 win at FedExField. In 2005, he had two catches for 13 yards in a 28-21 win in Kansas City.
---
-- HORTON INJURED AT PRACTICE
Chris Horton sustained a knee injury during Thursday's practice and was not able to return, Jim Zorn said.
The extent of the injury is not known, but Zorn did not think an MRI would be necessary.
"I think he just tweaked it, and we're just taking precautions," Zorn said. "I hope he's going to be fine. I hope he's going to practice [on Friday], but we had to stop him from practicing."
Horton is listed as the backup strong safety to Reed Doughty, but he started the Week 7 game at Philadelphia.