Jason Taylor sat out Sunday's practice as he continues to rehab a knee injury. It was the Redskins' first practice in preparation for Thursday night's season opener against the New York Giants.
Taylor was in shorts and his right knee was wrapped as he watched practice.
His status for the Giants game remains uncertain.
"I can't predict [if he'll play]," head coach Jim Zorn said. "Based on [Sunday's practice], there's no way. That's going to be a game time decision."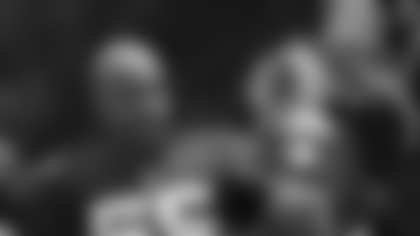 Jason Taylor (Ned Dishman Photo)


Before practice, Taylor worked with athletic trainers and did some light jogging. Later, he was seen walking gingerly as he made his way between practice fields.
Said Zorn: "He did a lot of work rehabbing the knee [Sunday] morning, so he may be gimping because of that."
Zorn said last Friday that if Taylor cannot practice at all this week, then he would likely not play against the Giants.
If Taylor is unable to play, then Demetric Evans would likely start in his place.
The Redskins do not have to release an injury report--the first of the season--until Monday, per league rules.
The only other Redskins defensive player to miss Sunday's practice was rookie safety Kareem Moore, who has a hamstring injury.
Durant Brooks found out on Saturday afternoon that he had won the Redskins' punting competition, besting Derrick Frost.
He called his parents to tell them the good news, and later talked with his mentor Ray Guy, the long-time NFL punter.
Now Brooks has to get ready for the biggest game of his football career.
Jim Zorn noticed that Brooks stepped up in Sunday's practice, booming several punts.
"It was pretty awesome," Zorn said.
Said Brooks: "I have played in big games before. I know this is a step up to the next level, but you can't be too nervous out there. You can't put all that pressure on yourself. You have got to think of it as being out there at practice."
Antwaan Randle El's left hand was wrapped as he stood in the Redskins' locker room, catching the eye of reporters.
Turns out Randle El has a fractured bone in the lower part of his hand.
It won't keep him out of the starting lineup on Thursday night, he said. He expects to wear a protective brace that allows him to catch without pain.
"It's doing fine," Randle El said. "We're going to protect it as much as we can in practice, but it's not something that's going to hold me out."
The Redskins players have elected six captains to represent the team during games.
On offense, it's Jason Campbell and Chris Samuels.
On defense, it's London Fletcher and Cornelius Griffin.
On special teams, it's Rock Cartwright and Khary Campbell.
"The players did a great job picking six players to lead them and represent them," Jim Zorn said.