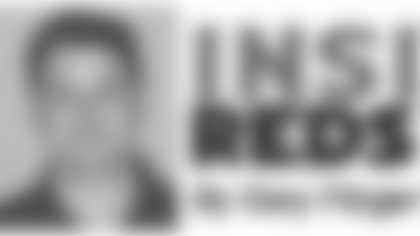 Prior to last Friday's preseason game vs. New England, it was a full year since Devin Thomas returned a kickoff.
On Aug. 28, 2008, Thomas returned two kickoffs in a preseason game vs. Jacksonville.
A year later, Thomas got another chance at kickoff returns with Rock Cartwright sidelined due to a groin injury.
Against the Patriots, Thomas impressed with his speed and cut-back ability, returning three kickoffs for a 26.3-yard average.
Thomas could get another look in that role.
"We just gave [Thomas] a couple reps," special teams coordinator Danny Smith said. "He has done it in his past and we were waiting for a situation to do that in. We were just trying it out. We'll see where we go from here."
At Michigan State, Thomas excelled as a kick returner. In two seasons with the Spartans, he established himself as the Big Ten's all-time leader with 1,136 kickoff return yards. His 29.1-yard kick return average in 2007 was ranked 11th in the nation.
Cartwright is expected to continue to serve as the Redskins' primary kick returner.
While Cartwright is adept at identifying holes and following blockers, Thomas provides more of a home run threat.
On Thomas's first kickoff return, he had a good burst of speed but he had to angle his body right to avoid a tackle. He ended up turning all the way around until he was tripped up after a 29-yard gain.
"On that first kickoff [return], if we had made one more block a little bit better, he might have been further up the field," Zorn said. "That sparked him to take every kickoff as hard as he could go and try to break one. I love that attitude."
Thomas's success on kick return also carried over into his performance in the Redskins' passing game, Zorn said.
Thomas caught three passes for 36 yards in the Patriots game.
"It transferred into his concentration level the whole game," Zorn said. "He made some significant plays."
Thomas remains in the mix for the No. 2 wide receiver job with Antwaan Randle El and Malcolm Kelly.
Kelly leads the Redskins with six preseason receptions for 58 yards. Thomas has five catches for 55 yards. Randle El, who coaches want to use more in the slot this season, has two catches for 22 yards.
No decision has been made yet on who starts opposite Santana Moss on opening day.
Zorn indicated last week that the competition could continue into the regular season.
"I think they really are even right now," Zorn said. "I've seen both Devin and Malcolm working to try to set themselves apart, and they're both climbing. So I think it's very difficult to tell.
"They both have a real strong desire to be 'the guy,' and yet Antwaan Randle El is battling in there, too. It's a little bit clouded. I don't really have a decision to make yet."
Thomas was brief in his comments to media after Sunday's practice at Redskins Park.
"Coaches are putting pressure on me to get better everyday," he said. "I'm just trying to be more efficient in everything I do, running my routes rights, catching the ball and making plays."
---
-- PORTIS TO SIT OUT JAGUARS GAME
Clinton Portis did not practice on Sunday to rest a rib injury. He suffered the injury early in the preseason game vs. New England.
Portis is not expected to play in the Redskins' preseason finale vs. Jacksonville.
The decision to rest Portis was not made as a result of the injury, though. Coaches decided to rest Portis for the finale even before the Patriots game.
"He really doesn't need to go," Zorn said. "There are certain guys that I know what they're about. I'm going to rest them for our season opener."
Marcus Mason, one of Portis's backups, also sat out practice on Sunday due to a rib injury.
Others who missed practice on Sunday were Albert Haynesworth (stomach ailment), Carlos Rogers (groin) and Kareem Moore (hamstring).