Devin Thomas has moved ahead of Malcolm Kelly on the depth chart and into the starting lineup, Jim Zorn said on Thursday.
"Right now that is a permanent move," Zorn said. "I wasn't getting enough out of Malcolm as I felt like we needed to."
Thomas and Kelly, both 2008 second-round draft picks, have struggled to make an impact on the Redskins' offense.
Thomas, who started last Sunday vs. Kansas City, has just four catches for 31 yards.
Kelly, who started the first five games of the season, has seven catches for 73 yards.
No matter who starts, both Thomas and Kelly are expected to see plenty of playing time, along with Santana Moss and Antwaan Randle El, in the Redskins' passing game.
"I like what Devin is doing," Zorn said. "I like the effort he is putting in. He is concentrating. The biggest improvement I have seen with him is the lack of errors on the field. He knows much more about the offense and he has more confidence."
Kelly impressed during preseason and won the starting job heading into Week 1.
He has struggled to get open, though.
Kelly spent most of 2008 rehabbing an injured knee, so in some respects coaches regard this season as his rookie year.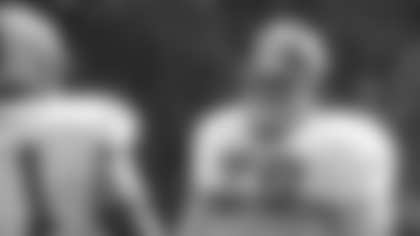 "Malcolm knows where he's headed as far as what he needs to improve," Zorn said. "He's got a great attitude. Devin kept getting better and better...I have to make a chance if the production is not there."
---
-- KEEPING UP WITH JONES
New offensive tackle Levi Jones made his practice debut on Wednesday, getting acclimated to his new surroundings and getting to know coach Joe Bugel.
"There's a lot of work that needs to be done," Jones said. "I need to learn Coach Bugel's techniques, I need to learn the plays."
Could he play on Monday night against Philadelphia?
"If they call on me, I'll be ready," Jones said.
Said Jim Zorn: "I don't know if he will be ready that fast with all the terminology but he certainly has the talent and ability."
Jones joins the Redskins after seven seasons with the Cincinnati Bengals. He was released by the club last May and remained unsigned until the Redskins picked him up to add depth to their injury-riddled offensive line.
Jones has had trouble staying healthy himself. He has had periodic back problems and he missed the last five games last year due to a leg injury.
He views signing with the Redskins as a "golden opportunity."
"I look at this team and there's a lot of talent," he said. "There are a lot of good players, there's some good coaching. Hopefully I can be part of the turnaround to get this thing going."
---
-- UPDATE ON SMITH
Hunter Smith expects to test his groin injury with several punts during Friday's practice at Redskins Park.
How he performs will determine if he's available to play in Monday night's game vs. Philadelphia.
"I'm almost out of the woods," Smith said.
Smith has not punted a ball since suffering the injury in the Oct. 4 game against Tampa Bay.
Smith took part in some drills in Thursday's practice, but otherwise was limited.
Glenn Pakulak has served as punter and holder for the Redskins the last two games. He was released by the team on Tuesday.
Meantime, Albert Haynesworth (ankle), Cornelius Griffin (elbow) and Clinton Portis (ankle) sat out another day of practice on Thursday.
Chris Horton and Kareem Moore also sat out as they recover from illness.