Randy Thomas is sitting out OTA practices this month after undergoing arthroscopic knee surgery recently, according to head coach Jim Zorn.
Thomas is expected to be full-go for the start of training camp, Zorn said.
"Randy is on schedule," Zorn said. "He had something floating around in his knee and we had it taken out. He has to be out for these OTAs, but we didn't really need to see what he's capable of. We know what he's capable of."
Thomas, who is entering his 10th NFL season, started all 16 regular season games in 2008 and was a third alternate to the Pro Bowl.
Toward the end of the season, Thomas struggled with a herniated disk in his neck and he had off-season surgery to repair the injury.
Thomas had recovered well enough from the surgery that he would have been able to participate in OTAs on a limited basis, Zorn said.
Once Thomas had the knee scope, team officials decided to sit him for the rest of the offseason.
Second-year lineman Chad Rinehart is seeing the bulk of action at right guard in place of Thomas.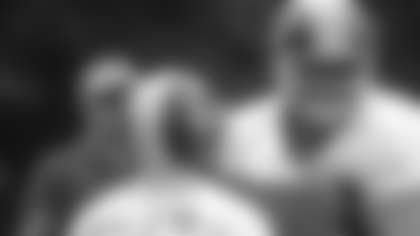 Derrick Dockery vs. Rueben Riley
(Gary Fitzgerald Photo)


Rinehart, the Redskins' third-round draft pick in 2008, has shown signs of progress, Zorn said.
"Yeah, I'd put him right there," Zorn said when asked if Rinehart could start a game in place of Thomas. "I don't know if I'd feel great about it, because he would have to show me something.
"We haven't put the pads on yet. I know that he's come a distance. I can't tell you the distance he has come until we actually see him with pads on and hitting people.
"And that's not even the judgment. It's [evaluating] over and over again and watching him adjust."
-- SAMUELS ON DOCKERY
Perhaps no other Redskins player was as excited about the return of Derrick Dockery as Chris Samuels.
Samuels earned two of his six Pro Bowls playing alongside Dockery in 2005-06. The two developed a close bond and stayed in touch the last two years after Dockery signed a lucrative contract with the Buffalo Bills.
"I think it is big for us," Samuels said recently. "I was a little worried--I didn't know where we stood in terms of our left guard. I didn't know if we were going to bring Pete [Kendall] back or go after someone aggressively in free agency. Once Derrick Dockery got released from Buffalo and I found out, I was excited."
The Redskins were aggressive in their pursuit of Dockery, signing him to a deal just one day after Buffalo released him.
Samuels expects to pick up right where he and Dockery left off in terms of their on-field rapport.
"When there's a guy in a new environment, it is going to be a struggle trying to adapt," Samuels said. "But with 'Dock' being familiar with playing with this offensive line and living in this area, I think it is definitely going to help us out tremendously."
Asked about Dockery's strengths, Samuels replied: "I think he is a powerful run blocker and a really good pass protector. We both jelled over a period of time. We were both young and we went through our growing pains together.
"Now I think we are that much better. We are fairly healthy as well. 'Dock' coming back is going to help us immediately."
-- PORTIS, SELLERS AT PRACTICE
Clinton Portis and Mike Sellers participated in OTA practice on Tuesday after missing the Monday session.
Carlos Rogers and Kevin Barnes were also back on the practice fields after sitting out Monday due to illness.
London Fletcher and LaRon Landry were still absent, however.
Jim Zorn expressed some mild concern that Fletcher was missing time working with rookie Brian Orakpo, who is seeing action at strong-side linebacker during OTAs.
"London's going to be ready, but as far as communication and camaraderie goes, he is missing something," Zorn said.