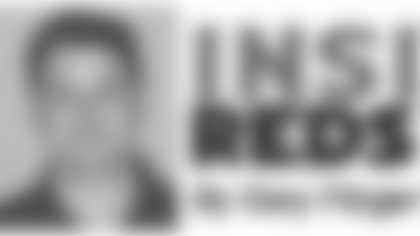 For years, the Redskins have struggled to force fumbles and interceptions. Last season, the defense was ranked 29th in the league with just five fumble recoveries and 13 interceptions.
Even in the Redskins' first two preseason games this year, the defense forced just one turnover.
In Friday night's preseason game against New England, the Redskins forced three turnovers--two interceptions and one fumble--and nearly added one more late in the fourth quarter.
The first turnover came early in the third quarter when Patriots backup quarterback Kevin O'Connell took over for starter Tom Brady.
O'Connell's third pass was to tight end Chris Baker was tipped away by Rocky McIntosh. The ball sailed right into the arms of Landry, who returned the interception to the Patriots' 27-yard line.
The Redskins could not convert the turnover into points, though. On the ensuing drive, Colt Brennan threw to D.J. Hackett at the goal line, but cornerback Jonathan Wilhite intercepted the pass and raced 99 yards for a touchdown.
Later in the third quarter, rookie cornerback Kevin Barnes stepped in front of an O'Connell pass along the left sideline for an interception.
That turnover allowed Brennan a chance for redemption. The second-year quarterback tossed a 33-yard touchdown pass to Marko Mitchell.
Midway through the fourth quarter, the Patriots were driving downfield and seemed to have momentum on their side.
Running back Chris Taylor was stuffed on a short run by H.B. Blades and Cody Glenn. The ball popped loose and Byron Westbrook recovered. Initially, Taylor was ruled down by contact, but replay revealed it was a fumble and the Redskins were awarded possession.
Late in the fourth quarter, with the score tied at 24-24, the Patriots were deep in Redskins' territory again.
Running back Benjarvus Green-Ellis appeared to fumble and the ball was recovered by Westbrook.
New England head coach Bill Belichick called a time out before the snap, so the play was nullified.
Next play, Belichick took no more chances. He sent out kicker Stephen Gostkowski, who connected on a game-winning 30-yard field goal.
The non-fumble caused some confusion on the Redskins' sideline.
"I saw the fumble, I saw the snap and I saw us recover, so I called a time out for clarification," Jim Zorn said, "instead of just letting [the Patriots] go and do their thing. Clearly Bill called time out before the ball was even close to being snapped, so it was a legal play."
---
-- THIRD AND LONG
In practice last week, Redskins' defense coaches put an emphasis on 3rd-and-long situations.
In the Aug. 22 preseason game against the Pittsburgh Steelers, the Redskins allowed four 3rd-and-long conversions, including a 24-yard pass from Charlie Batch to Hines Ward on a 3rd-and-10 play.
"[Third and long] is always a concern," Greg Blache said after the Steelers game. "We talked about it. It's a matter of doing what you're supposed to do with some consistency and we didn't do it.
"So that's a big test for us in the next few games. You can't be a good defense when you're letting people convert third downs on you because you let them get good shots on you."
How did the defense do in Friday's preseason game vs. New England? The results were mixed.
The Redskins faced just four 3rd-and-long situations in the game.
The first was midway through the first quarter. On a 3rd-and-7, Tom Brady completed a 5-yard pass to Randy Moss. But DeAngelo Hall was flagged for a face mask penalty and the drive stayed alive.
In the second quarter, on another 3rd-and-7, Brady was sacked by Andre Carter for a 1-yard loss.
In the third quarter, Kevin Barnes' interception off Kevin O'Connell came on a 3rd-and-8 play.
Finally, in the fourth quarter, the defense yielded a 22-yard run by Benjarvus Green-Ellis on a 3rd-and-10 play.
---
-- ORAKPO'S EXCITED
In the days leading up to Friday's preseason game, Redskins veterans talked about the challenges of facing Tom Brady.
Brian Orakpo? He was just thrilled to be on the same field with Brady.
"It's pretty cool," Orakpo said. "I don't know about the other guys, but I have been watching this guy for a long time, doing what he has been doing for so many years as a Super Bowl champion and MVP."
In the game, Orakpo posted six tackles.
Midway through preseason, Orakpo says he has adjusted to the speed of the NFL.
"I'm just flying around a little bit more and not being so hesitant," said Orakpo. "I'm just trying to make plays as much as I can and get my read coverages a lot quicker. That's something that game by game will progress and get better."
---
-- WILLIAMS SITS AGAIN
Mike Williams did not play in Friday's preseason game as he continued to rest a sprained ankle.
Williams missed last week's preseason game against Pittsburgh, but he was able to return to practice on Wednesday.
Coaches decided to stay cautious with him, though.
Williams absence has cost him an opportunity to compete for the right tackle job, but he remains in the mix as a backup.
Joe Bugel said he has been impressed with Williams in the limited action he has had this preseason. Still, Williams has to find a way on the field to secure a roster spot.
"I think with the nagging injuries, at some point you have to say, 'I'm playing,'" Bugel said. "Tape an aspirin to it or take an Alka-Seltzer to it and let it dissolve. You know what I mean? Just play."
---
-- LIFE WITHOUT CARTWRIGHT
With Rock Cartwright sidelined for Friday's preseason game due to a groin injury, the Redskins were able to get a look at some new kickoff returners.
Devin Thomas, who returned kicks at Michigan State in 2007 and finished 11th in the nation in that category, had three returns for a 26.3-yard average against the Patriots.
Thomas impressed with his speed and cut-back ability on several of his returns. On his first return, he tried to angle his body to avoid a tackle, but he turned all the way around and he was tripped up after 29 yards.
Dominique Dorsey also returned two kickoffs for a 17.5-yard average.
---
-- MOORE, MASON INJURED
The Redskins reported two injuries following Friday's preseason game vs. New England.
Kareem Moore suffered a hamstring injury in the first half and did not return. He made an impact on special teams early in the game, recording two tackles.
Marcus Mason suffered a rib injury in the second half and sat out the rest of the game.
Mason was having a productive evening before the injury. He had eight carries for 30 yards, including a 1-yard touchdown run in the first quarter, and he caught two passes for 23 yards.