Mike Williams is expected to move back into the starting lineup for Sunday's game against the New Orleans Saints.
Williams, slowed by an ankle injury in recent weeks, replaces rookie Edwin Williams, who started last week.
"Mike has really got himself up for guard right now, and he's performed his best football at guard," head coach Jim Zorn said. "I think he has confidence there. Hopefully we can keep him at that spot."
Right guard has been a revolving door for the Redskins.
The team has had five different starters at the position this year.
Randy Thomas opened the season as the starter but he suffered a torn triceps and was lost for the season.
It appeared Rinehart was going to step in and solidify the position, but he was replaced by Mike Williams in Week 5, reclaimed the starting job a few weeks later and then suffered a fractured fibula in Week 11.
Along with Mike Williams and Edwin Williams, Will Montgomery has also started at right guard this season.
Mike Williams started in Week 5 at Carolina, but that lasted for one game. The line had to reshuffle after Chris Samuels suffered a season-ending neck injury and Williams eventually shifted to right tackle.
He suffered an ankle injury in Week 9 at Atlanta and he was sidelined for two weeks.
The injury has healed--"I'm feeling better," he said this week--and he is ready to resume playing right guard.
"Mike's kind of a mauler type of [lineman]," Zorn said. "He feels comfortable with the guy inside and outside of him."
Edwin Williams, the undrafted rookie out of Maryland, made his first NFL start last Sunday. The reviews were mixed.
"It was pretty high emotion for my first start, especially playing for the Redskins," Edwin said. "I didn't play as well as I wanted to, but I think I made some improvements in certain areas. I still have to keep pressing. I'll reevaluate myself and try to get better."
---
-- HALL DOUBTFUL, HAYNESWORTH QUESTIONABLE
As expected, the Redskins have listed cornerback DeAngelo Hall as doubtful for Sunday's game against New Orleans.
Hall continues to struggle with a sprained knee.
"He still hasn't been able to work laterally," Jim Zorn said. "We still have 48 hours, so we'll continue to work with him."
Asked if Hall would be a game time decision, Zorn replied: "I'd like to it to be game time, which gives him 25 percent chance to play, and I think that's [a fair assessment]."
Carlos Rogers and Fred Smoot would draw the starting assignments at cornerback if Hall is unable to play.
Third cornerback Justin Tryon is listed as questionable for the Saints game with a hip injury, but Zorn seemed to think that Tryon would be available.
Defensive tackle Albert Haynesworth, who missed the last two games with an ankle injury, was limited all this week in practice.
"He went on it and got some reps [in Friday's practice]," Zorn said.
Zorn was optimistic that he would have Haynesworth's services for the Saints game.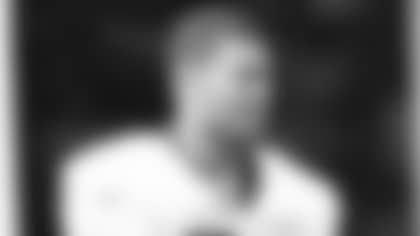 If Haynesworth is activated for the game, then he would start, Zorn added.
---
-- LANDRY TACKLES TACKLING ISSUE AGAIN
LaRon Landry grew up in Ama, La., a suburb of New Orleans, and he said he rooted for Saints as a youth.
"It feels kind of weird going up against them, but we have to do it," he said.
Landry continues to draw scrutiny for his tackling. He had a chance to wrap up Philadelphia Eagles wide receiver Jason Avant last Sunday, but he tried for a jarring hit and Avant escaped.
Asked about his decision-making on the field, Landry replied: "It all comes down to recognition, where you're at on the field, and situations. Sometimes I don't make the best decision out there and sometimes I do go for the knockout instead of the sure tackle.
"It all comes in the flow of the game. I feel kind of hyper and so enthused that I try to knock somebody out, and [the Avant play] happens. It's all about playing smart football."
Does that mean he is going to make more of a conscious effort to wrap up instead of going for the big hit?
"I'm going to play my game," he said. "That's what I'm going to do. I'm going to try to get better at those [decisions], but I'm going to play my game."
---
-- MOSS ON SHARPER
Darren Sharper signed with the New Orleans Saints last offseason after four seasons with the Vikings. He previously played eight yards with the Green Bay Packers.
Sharper has been a playmaker in the Saints' secondary, recording eight interceptions and returning three for touchdowns.
"He is a guy that just makes plays," Santana Moss said. "He reads the quarterback and he is going to make sure that if you make a mistake, he is going to get a pick. I feel like if you are a quarterback, you should want to play somebody like him because you know what he is reading and you know what he wants."
That approach has worked well for Sharper throughout his career. He has posted 62 career interceptions, tied for seventh-most in NFL history. (Former Redskin and Minnesota Viking Paul Krause is the all-time leader with 81 interceptions.)
"He is one of those guys that you have to play games with," Moss said. "You can't just eye the tiger down, you have to really show him something that he thinks is going to happen and do something different. If not, he is going to be around the ball."
---
-- DEFEATING THE UNDEFEATED
It was suggested to Redskins coaches and players this week that beating the undefeated New Orleans Saints on Sunday would be a "feather in the cap" in an otherwise disappointing 2009 season.
Not so, says secondary-cornerback coach Jerry Gray.
"To me, I don't think we're looking for any feathers," Gray said. "You have to go out there and play your game. Those guys are 11-0. We're not trying to knock them off. We're trying to win the game."
Rock Cartwright disagreed, saying that a win over the Saints would be "exceptionally exciting."
And while Santana Moss wasn't relishing playing the role of spoiler, he said pulling off an upset would be meaningful.
"It would mean something because it is an undefeated team and we are playing the role of the spoiler," Moss said. "You spoil any and everything you have in your way. They are a team that is rolling right now, so what better team to get a win on."
---
-- BARNES WANTS MORE
With DeAngelo Hall doubtful for the Saints game, rookie Kevin Barnes could be active for the second game in a row.
Barnes, who was deactivated the first 11 games of the regular season, saw action on special teams against Philadelphia last week and was inserted at cornerback after Fred Smoot and Justin Tryon suffered injuries.
By all accounts, Barnes handled himself well, although he did yield a critical third-down pass to wide receiver Jeremy Maclin.
"I have to prove myself when I am out there," Barnes said this week. "Whatever opportunity I have, I have to make the best of it."
Did he feel he did enough to warrant more playing time?
"I hope so," he said. "I mean, I didn't take any plays off. I ran to the ball as hard as I could. I played with an attitude out there, so I think the coaches did see that."