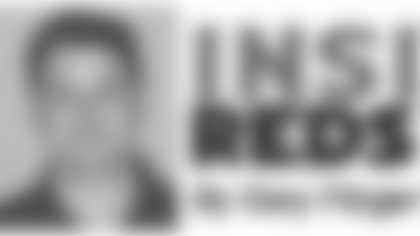 Who starts the Redskins' regular season opener opposite Santana Moss?
Truth is, he doesn't know for sure because the starting lineup could depend on where the Redskins are positioned for the first play of the game.
So it may not matter who starts because Kelly, Antwaan Randle El and Devin Thomas are all expected to see playing time in the game, Zorn said.
In preseason, Kelly started two games, Randle El started once and Thomas started once.
Kelly had seven catches for 69 yards and Thomas had seven catches for 67 yards. Randle El had fewer reps, catching three passes for 32 yards.
Following the Jacksonville game, Zorn was effusive in his praise for Kelly, saying that "he is going to be totally involved" in the game plan.
Zorn added: "Malcolm certainly showed his presence, height and strong hands as well as his ability to run a defensive back off and come back out of it. He definitely helped himself. I was impressed with what Devin did as well. He ran hard when he got the ball.
"We have a couple guys that will be in the mix. We have some weapons and I think what you are going to see the mixture we can have with the four guys and maybe a fifth guy. We could have some pretty good weapons on the field at the same time."
For his part, Kelly feels far removed from the player he was a year ago. He struggled with a knee injury last season and played in just five games, catching just three passes for 18 yards.
"It's a totally different ballgame for me," he said. "Last year going into Week 1, I knew I wasn't going to play. My mind wasn't really in it. I was worried about my knee."
Kelly is progressing fast, but he is still in learning mode.
"Things really started to click in for me in week two of training camp," Kelly said. "Then I went out and started playing against other teams [in preseason], and they threw out different defenses. You have to be prepared.
"So I'm still getting there. I'm not where I want to be. I know what I can do as a football player, but there are small things I need to work on."
---
-- 'DREAM COME TRUE' FOR WILLIAMS
Even after Edwin Williams heard the news that he had made the Redskins' roster, a part of him still could not believe it.
The undrafted rookie out of Maryland arrived at Redskins Park on Monday for the team's first practice and was welcomed with congratulations.
"I was like, 'Okay, it's real,'" William said, laughing.
Williams had doubts because he was unsure if the Redskins would keep 10 offensive linemen. When the team opted to keep just two quarterbacks on the final 53, it opened up a roster spot for Williams.
"Another week, another season, another chance to get better, because nothing is guaranteed," Williams said. "I'm thrilled to be here, but there is still a lot of work to do."
For Williams and first-year cornerback Byron Westbrook, earning a roster spot on the team they rooted for growing up is special.
Both hail from Washington, D.C.
"I'm a Redskins fan, born and raised in Washington, D.C., always watched the Redskins and always dreamed about being part of the organization," Williams said. "This is a dream come true."
Added Westbrook: "I grew up on the Redskins. I had Redskins colors my whole life, from boys and girls club, to Salisbury [University], and now here. Going out there wearing my Redskins jersey, my socks, and everything, I'm going to enjoy it."
---
-- BARNES SUBDUED
While rookies Robert Henson, Marko Mitchell and Edwin Williams were excited to earn a roster spot, Kevin Barnes was more circumspect.
As a third-round draft pick, Barnes said it was "pretty much assumed" that he would make the roster.
So there was no celebrating last Saturday night after the cuts were announced.
Despite posting one of three interceptions by the Redskins in preseason, Barnes was not happy with how he played overall.
"I was disappointed in myself because I feel like I could have played better," he said. "I talked to Coach [Jerry] Gray and he said they know that I am capable of playing here, so I just have to start grinding.
His role in his rookie year?
"Coach Zorn told me that my job has to be special teams this year," Barnes said. "So that's going to be my main focus. I'm going to focus on defense, too, but special teams is where I'm going to get on the field first."
---
-- MASON'S OPPORTUNITY
Jim Zorn said on Monday that he could not envision activating four running backs on game days.
That would leave either Rock Cartwright or Marcus Mason on the inactive list.
Both Cartwright and Mason play on special teams, but Cartwright has more experience as a kickoff returner and serving on coverage units.
"[Mason] will be on that bubble trying to get active," Zorn said. "Part of that will be up to him and how he works into special teams. We can't just have him as a fourth running back or even a third running back.
Added Mason: "I know I've got to make my mark on special teams to stay around."